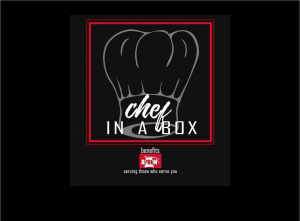 Henceforth on Saturday mornings through May, and perhaps even beyond, Food & Dining Magazine will be previewing the coming week's Chef in a Box offering.
It's a tasty fundraising project dating to the summer of 2020, which benefits APRON Inc.'s ongoing grant program.
For those just tuning in, APRON Inc. was created in 2011 to help provide financial relief to food and beverage industry workers in the Louisville, Kentucky metropolitan area who find themselves in need during times of crises. Because of the COVID-19 pandemic, APRON Inc. has stepped up with a far greater volume of assistance to local workers than ever before.
Here's how Chef in a Box works.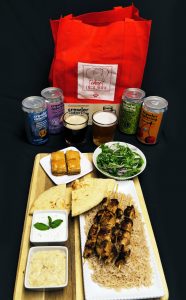 Each week up to fifty people can purchase a Chef in a Box for $50, which actually aren't boxes but reusable bags provided by APRON Inc. Participating eateries keep $25 toward expenses, while $25 goes to APRON Inc. toward its ongoing grant program.
The contents of Chef in a Bag vary according to the establishment's specialization and creativity, but you'll always be able to view the menu in advance and know what you're getting.
Typically there'll be tasting selections for two; perhaps a favorite dish of the chef's, or maybe a meal kit.  Participating eateries also are encouraged to include a gift certificate, coupon, or promotional materials.
Chef in the Box Q & A
How do I order the box? You contact the featured restaurant directly.
When do I call? You can place your order starting on Friday prior to the restaurant's featured week.
Is it pickup or delivery? Each restaurant makes that decision, but usually it's curbside pickup only.
How much are the boxes? $50.
How many boxes does each restaurant sell weekly? 50 boxes, although some have allotted more.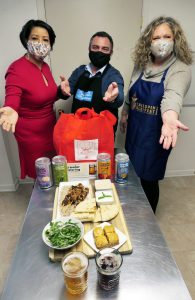 The table duly set, here's the main attraction for the coming week.
CHEF IN A BOX for Feb. 24 and 25, 2021: Crowler Catering, featuring Farrah Akkoub of Simply Mediterranean
Crowler Catering & Small Batch Events
303 South Spring Street
Louisville, KY 40206
Phone: (502) 541-8348
crowlercatering.com
Chef in a Box Menu for Two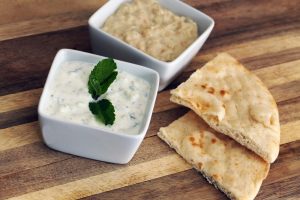 Appetizer: Toom Sauce's Baba Ghanooj  (8oz) with Lebanese Pita Bread
Baba Ghanooj is a divine dip, packed with beautiful bold flavors. The hand blended fire roasted eggplant, with fresh lemon and tahini, makes this dip smoky and tangy.
Salad: Arugula Salad
Simply made with baby arugula, red onions, extra virgin olive oil and a splash of fresh lemon juice.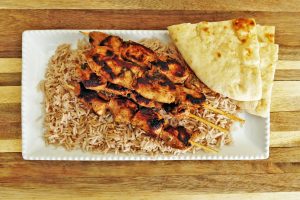 Main: Chicken Kabobs over Basmati Rice
Tender chicken skewers grilled to perfection, served on a bed of basmati rice with Tzatziki Sauce. Two Chicken Kabobs per person (four total).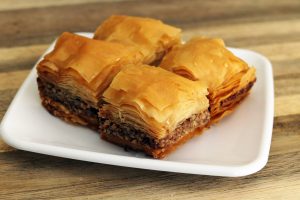 Dessert: Walnut Baklava
A flaky buttery filo dough layered with walnuts and baked to a golden color, then smothered in a fragrant honey syrup. Four squares.
Beverage: 25.4-oz Crowler of Beer
Your choice of one crowler, when ordering from a selection of beers we currently have on tap like Gordon Biersch's Winterbock (Doppelbock), New Belgium's Higher Plane Double IPA, Rodenbach Grand Cru Flemish Sour and more.
$20 voucher
A $20 voucher toward a future order (to be taken off your bill) at Crowler Catering. Valid until April 30, 2021.
To place your order, go to crowlercatering.com. Pick up at 303 South Spring Street, Louisville 40206 (corner of Spring & Payne Street) on Wednesday (2/24) or Thursday (2/25) between 1:00 p.m. – 6:00 p.m.
(Photo credits: Dan Dry)