BOURBON NEWS & NOTES – for 19 February 2021, by Susan Reigler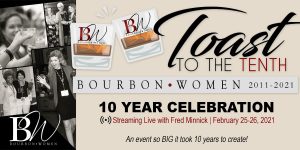 Bourbon Women Celebrates 10th Anniversary with Two Evenings of Live Streaming
The Bourbon Women Association (www.bourbonwomen.org) is commemorating 10 years with "A Toast to the Tenth," a live streaming event on February 25th and 26th with programming by distilleries and industry professionals from around the country.
Among the participants are Breckenridge Distillery (Colorado), Catoctin Creek Distilling Co. (Virginia), J Henry & Sons (Wisconsin), Garrison Brothers (Texas) and Southern Distilling Company (North Carolina). Programming each day will stream from 6:30 to 9:30 p.m. EST and is open to the public.  The behind-the-scenes tours will be in conjunction with The Fred Minnick Show.
Friday's host will be Heather Wibbels, aka The Cocktail Contessa, who is the current chair of the Bourbon Women board of directors. Recently appointed BW president Maggie Kimberl, who is also content editor for American Whiskey Magazine, will host Saturday. Tickets, which include both evenings, are $10. For much more detail and to register, go to Eventbrite: https://www.eventbrite.com/e/tickets-on-sale-now-bourbon-women-10-year-celebration-tickets-136840384273.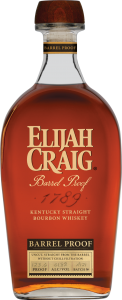 First 2021 Batches of the Barrel Strength Elijah Craig and Larceny from Heaven Hill
Heaven Hill releases its barrel proof expressions of Elijah Craig and Larceny bourbons three times a year and the first batches of 2021 are just out. The Elijah Craig Barrel Proof (Batch A121) is a 12-year-old. It is uncut, non-chill-filtered, and weighs in at 123.6 proof. The suggested retail price is $59.99.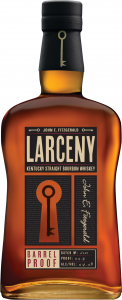 Larceny Barrel Proof, like its sibling 90 proof expression, is a wheated bourbon. Batch A121 is, like the Elijah Craig, uncut and non-chill-filtered. Last year's initial release was named 2020 Whisky of the Year by Whisky Advocate. The proof of this batch of six to eight-year-old barrels is 114.8 proof. Its suggested retail is $49.99.
For more about these and all Heaven Hill brands, https://www.heavenhill.com.
O.H. Ingram River Aged Whiskey is Now Available in Kentucky
I've written a couple of times about the O.H. Ingram River Aged Whiskey in this column, which is aged in floated rickhouse atop a barge anchored to the Kentucky shore of the Mississippi River in Western Kentucky's Ballard County. And I wrote that it had a limited distribution – Tennessee only. That has now changed.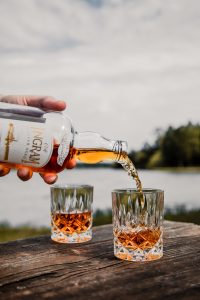 As of this month, the company's 96 proof Straight Whiskey and 98 proof Straight Rye are available in the Bluegrass State. For information about the products and where they can be found, go to https://ingramwhiskey.com.
Bourbon Bookshelf – Bourbon: What the Educated Drinker Should Know
If you are still flummoxed by the arcana of bourbon history, bourbon terminology, and the bourbon making process, a valuable guide written by Ohio State University biology professor emeritus and executive bourbon steward Tim Berra is a book you need.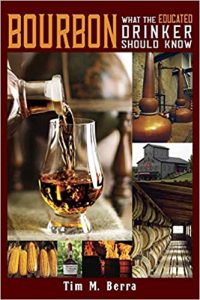 Bourbon: What the Educated Drinker Should Know contains pages filled with bourbon basics arranged as bullet points with photographic illustrations and they are presented in impeccably logical order. What else would you expect from a scientist? One might say that say Dr. Berra is the Mr. Spock of bourbon.
A section at the end of the book lays out much more detail about the bullet points should you want to go there. There's a comprehensive bibliography as well that will lead you to more whiskey references. It's published by Acclaim Press (Disclosure – Publisher of two of my whiskey books) and this hardcover book retails for $26.95.
This week's photo credits: Bourbon Women, Heaven Hill, O.H. Ingram, Acclaim Press.
******************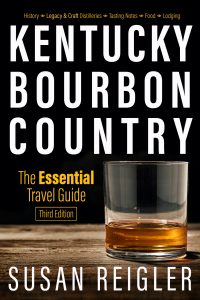 F&D Bourbon Columnist Susan Reigler is the author of several whiskey books, the most recent being Kentucky Bourbon Country: The Essential Travel Guide, 3rd edition.
Autographed copies are available from Carmichael's Bookstore. It can also be purchased on Amazon, or directly from the publisher at https://www.kentuckypress.com/9780813180311/kentucky-bourbon-country/