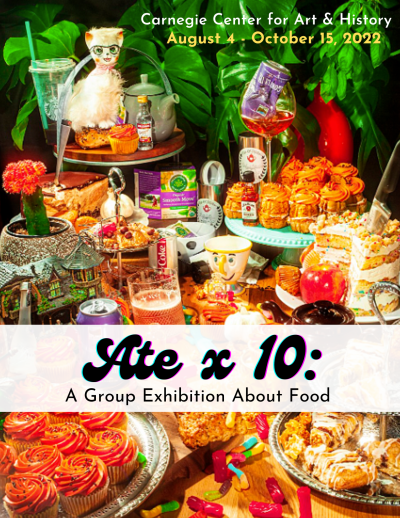 "Edibles & Potables" is F&D's weekly Sunday slot to consider eats, eateries, and the occasional "larger" issue located on the periphery of our customary coverage content.
Actually the Carnegie Center for Art and History isn't far away at all. The museum is located at 201 E. Spring Street in New Albany, across Bank Street from Monnik New Albany and a few steps away from La Catrina Mexican Kitchen.
A museum featuring contemporary art and history exhibitions, housed in a stunning historic Carnegie library building. Located in downtown New Albany near wonderful dining and shopping options.
"Ate x 10: A Group Exhibition About Food" debuts on Thursday, August 4, and will run until October 15th.
Here's the text:
Ate x 10: A Group Exhibition About Food
August 4th – October 15th, 2022
The Carnegie Center for Art and History is pleased to present Ate x 10: A Group Exhibition About Food, featuring over ten regional artists whose work relates to issues about how we see and access food, as well as information about food insecurity in Floyd County. This exhibition coincides with the 1-year anniversary of the Floyd County Library's Community Corner Food Pantry. The artists featured in this show (in alphabetical order) are:
Jabani Bennett

Jon Cherry

Brick Kyle

Olivia Lantz

Lori Larusso

Shauntrice Martin

Taylor Sander

Kacey Slone

Stashia Smyrichinsky

YOU / The Community
Related Programs and Events:
Opening Reception for Ate x 10, Thursday, August 4th from 6 PM – 8 PM; enjoy complimentary appetizers and live music from the Jamey Aebersold Jazz Quartet. This is a free, all ages event. Let us know you're coming by registering here.
Thursday Night Salon on Sept. 1st 6 PM – 7:30 PM will feature the launch of Floyd County Library's community cookbook, Feasts in Floyd.
If you decide to visit the "other" side of the river and experience the Carnegie Center's exhibition, note that while Monnik and La Catrina are the closest restaurants to the museum, but not the only ones within a short walking distance. For more information, head to Facebook: New Albany Restaurant, Bars and Breweries.