Last night Louisville learned that Cumberland Brews was going away.
Raise a parting glass to Cumberland Brews, bowing out Saturday after 19 years
Today at lunch time, following a morning filled with social media buzz, Against the Grain Brewery revealed that it will be occupying the Cumberland space at 1576 Bardstown Road. Against the Grain's co-owner Sam Cruz posted these words on Facebook:
"20 years ago I walked into Harry's House of Brews on Bardstown Road (long gone now) and ordered my first local Louisville beer. It was Cumberland Brewery Matt's Red and the bartender told me it was from a new brewery just up the road. It was fantastic and certainly piqued my interest in the fantastic local beer scene here in Louisville.
"20 years later and I'm honored at the opportunity for Against the Grain Brewery to grab the torch held by Mark and the Cumberland family to carry on the tradition of great local beer on Bardstown Road. Cheers to an amazing run and big shoes to fill!"
Against the Grain also released this brief statement in praise of the virtues of the neighborhood bar and eatery, projecting a November re-opening for "The Public House by Against the Grain."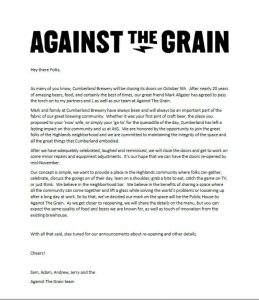 This story is breaking, and we'll probably be back to update it.