During the past few days ago Gogi 1055 quietly opened in the former Buffalo Wild Wings location at 1055 Bardstown Road. The Korean-inspired concept comes to us from the owners of Sapporo.
Gogi 1055's on-line presence is scant. However, we know that it's a cook-your-own-meats eatery, complete with gas grills at every table; a fitting concept for a restaurant that evokes the Korean word for meat.
Food & Dining Magazine's Jon Larmee (who also co-wrote this post) recently spoke with Mi Kim, owner of Gogi 1055. Asked for details, she sent these photos.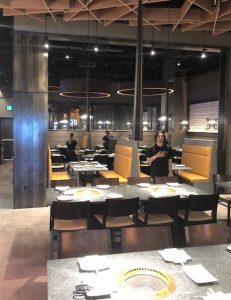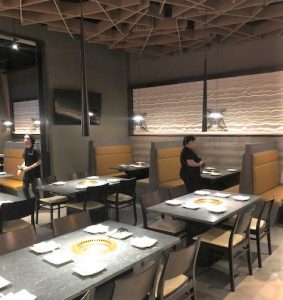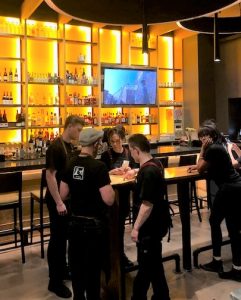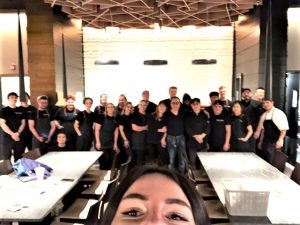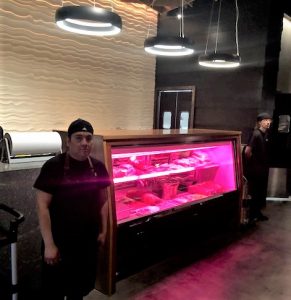 Further information can be found at Gogi 1055's unofficial Facebook page, and at the Louisville Restaurants Forum.
Meanwhile, seeing as we're on the topic of Korean BBQ, an atmospheric coda seems appropriate.
It was Tuesday at lunchtime at Joseonok, a Korean barbecue restaurant in downtown Seoul's Euljiro neighbourhood that serves galbi – marinated beef short ribs grilled over smoking coals … many Seoulites believe that Joseonok is the epitome of what Korean barbecue should be. The restaurant opened in 1937, making it one of the city's oldest restaurants still in operation. Newspaper clippings and black-and-white photographs from the eatery's 83 years of existence line the walls, but it's not just the palpable sense of history that makes Joseonok unique. Whereas most Korean barbecue restaurants place a grill in the middle of each table and let diners cook their own meat, Joseonok has shunned this relatively recent trend and stuck to the traditional way of serving galbi: having just one chef in the kitchen who cooks for everyone. This means a smoke-free dining room, a consistent level of doneness (lightly seared on the outside and pink but juicy on the inside) and an intense depth of smoky umami flavour from a well-seasoned grill.