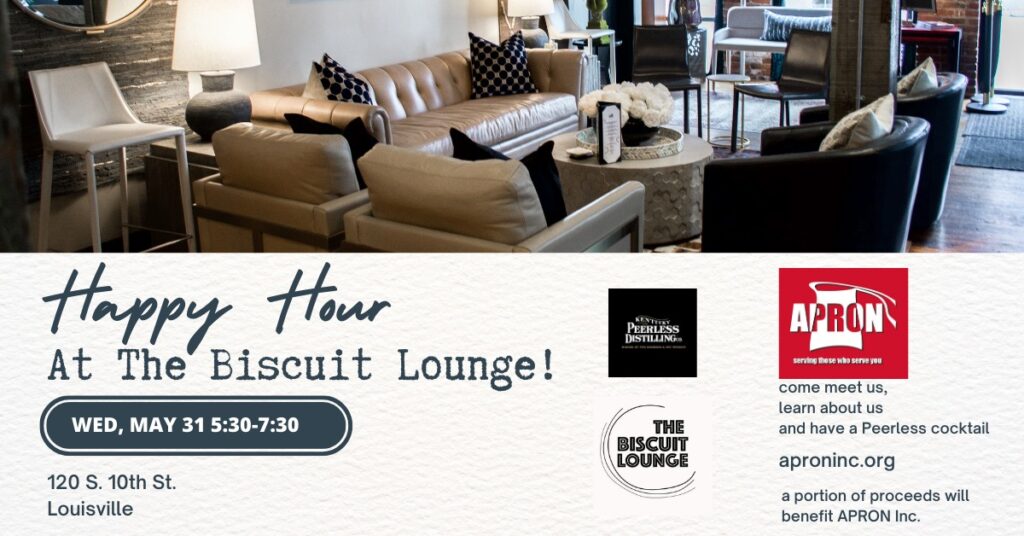 Apron Inc. is staging happy hour "friend-raisers" at different locations on the last Wednesday of each month. The next one takes place on Wednesday, May 31 between 5:30 and 7:30 p.m. at Loft at The Biscuit Lounge (120 S. 10th St.)
The prospectus:
$8 Kentucky Peerless Distilling Co. Old Fashioned cocktails
$8 Kentucky Peerless Distilling Co. Bourbon Espresso Martinis
$8 BW Martinis
Kentucky Peerless Distilling Co. will present a complimentary tasting
Spin the wheel for prizes and swag
Small bites for purchase, curated by Chef Rico
A portion of the proceeds go to Apron's grant fund, providing financial assistance to restaurant workers in need.
APRON Inc. was created in 2011 to help provide financial relief to food and beverage industry workers in the Louisville, Kentucky metropolitan area who find themselves in need during times of crises. Because of the COVID-19 pandemic, APRON Inc. has stepped up with a far greater volume of assistance to local workers than ever before.