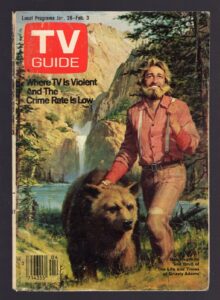 F&D's digital editor celebrated another birthday last week, and without revealing the exact number of trips I've taken around the sun to date, allow me just one observation.
I'm so old that I can remember when television comprised The Big Three networks (with public broadcasting and bits of indie shrapnel), and when temperatures rose, it was the time for a few "summer replacement" series, and a great many reruns. 
Back when there were defined seasons, absent the contemporary ubiquity of air conditioning and the like, people didn't repose in front of their television sets during better weather. They went outside and did outdoor kinds of things, and because Dick Tracy's 2-Way Wrist TV was still the stuff of weird fantasy (imagine life prior to VCRs), serious television viewing was delayed until September, when school resumed and the Big Three's new shows debuted.
Most of them died by Christmas, although that's another story.
(The preceding is intended as a few oysters on the half shell (with horseradish-heavy cocktail sauce) prior to the main course.)
Today at "Edibles & Potables" I'm serving up a rerun with a twist, as it's a repeat from my own web site, where an autobiography is being written according to the "when I have time" installment plan. Publication began in 2022, so strictly speaking I've arrived at 41 years in beer. Narcissism or entertainment? Let the reader (that's you) be the judge. Here's an excerpt to encourage further reading; you can peruse the chapters to date here.
40 Years in Beer, Part Thirty-Two: Vienna's "Old Whisky Malt Waltz," a precursor of beer revolutions to come
While imbibing at Kahlenberg, I studied my glistening new edition of the Schuster & Schuster Pocket Guide to Beer, a slim volume with tiny print written by Michael "Beer Hunter" Jackson, taking a comparative look at the old-school paper city map that was available free of charge at any Vienna hotel or tourist office, and proclaiming to Don that there was indeed a new-wave brewpub down in the valley, by the river, in the Nussdorf neighborhood.
From there we could take a tram back into the city center, but only after judiciously sampling the liquid wares, which Jackson praised.
Don probably thought I was crazy, but neither of us minded a vigorous walk, which proved to last around 45 minutes headed straight downhill through a beautiful vineyard-strewn, semi-rural setting amid the terrain of Vienna's famous Heurigen, or wine taverns (we stopped at only one) until the urban sidewalks began emerging, and soon enough we were at the door of the Brauhaus Nussdorf.