Governor Andy Beshear keeps calm and carries out: "Ordering take out helps our small businesses through this tough time."
https://www.facebook.com/AndyBeshearKY/photos/a.836734383059455/2905177046215168/?type=3&__xts__%5B0%5D=68.ARC7oveZd52NYwgfMg7UJFBoWNqMOUcNui5-EEUaOZOrNb-3gDvpbdbAeL_11YmbYpn8wOBcStog2PkNr_hnjCTSC0wqTO9wKcpKbyQB1t5qS0quEb6-rvmbKyx-Tr5oP7n1s4gGep2n5KhSXsN5P_6HSC0wcEVDYpEXzuRpmcwmvRAzIhThXnHSKckOy_1ZVubgjDFUZm0n6MQqEsY2HKYt3XD2pT_fjQhPKCeZMVqXM3khVk4UbjJvVjahwAAMnYKkRWITt_bXcaGKdiEuxEjGUFsejvml13iMlhjd7sqHB2ZuB9YuK8ZoEDzkXrkWoGSTYdXF6kueCq-V4qIQnOZ0LQ&__tn__=-R
Josh Noel writes about beer, food and business for the Chicago Tribune.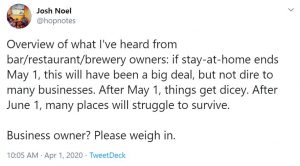 Stacy Roof covers the waterfront at the Kentucky Restaurant Association. The question is simple: Is 30% to 40% enough?
We are now two weeks into the mandatory dining room closure for Kentucky restaurants and revenues are falling significantly.

The Kentucky Restaurant Association (KYRA) told me that operators are making 30% to 40% of what their revenues were before the coronavirus pandemic. Additionally, about a third of the state's 200,000 restaurant staffers are now unemployed or furloughed, said KYRA President and CEO Stacy Roof.

"I think most [restaurants] will be in survival mode most of 2020," Roof said. "Losing and moving events like Derby completely changes their year."

In the U.S., the restaurant industry has lost more than 3 million jobs and $25 billion in revenue since March 1, according to a survey conducted by the National Restaurant Association. More than 40% of restaurants across the country anticipate closing temporarily, while 11% expect to close permanently within the next 30 days.
Our cover: Dakshin South Indian Restaurant.