The Spring 2020 issue of Food & Dining Magazine hit the streets a month ago (it only seems like last century) and almost immediately our mission expanded to daily updates aimed at informing readers about those restaurants remaining open for carryout and delivery amid the current realities of COVID-19.
Louisville Restaurants Offering Carryout and Delivery (Updated Frequently)
To refresh our memory, here's the cover of the Spring release, featuring Dan Dry's mouthwatering photograph of Chef James Moran's Verlasso Salmon at SOU! Southern Kitchen & Bar (9980 Linn Station Road).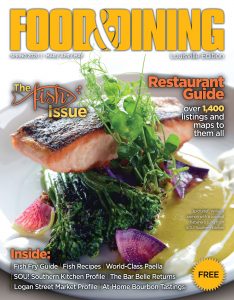 When on-premise service was halted in the interest of flattening the coronavirus's curve, Moran and business partner Ashley Sayler did what so many others have had to do, paring their operation to the essentials overnight and inaugurating curbside pickup from 4:00 p.m. through 8:00 p.m., Tuesday through Saturday (502-614-6499).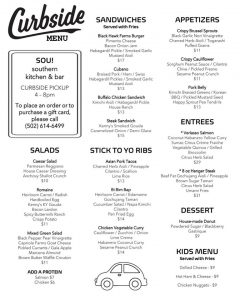 SOU! is posting daily specials at Facebook. F&D's Spring profile of the restaurant tells you more, and it's a fascinating tale.
PROFILE | SOU! Southern Kitchen & Bar
Over the course of his 25-year career, Chef James Moran has become known among insiders as a Chef's Chef. Now, with business partner Ashley Sayler, his restaurant SOU! is wowing Louisville diners.