Something from here, and a bit from there, falls nicely into place at the Anchorage Café — an upscale (or is it traditional?) coffee shop in the heart of "downtown" Anchorage.
A creation of Bruce Lake and his wife Courtney, the Anchorage Café began two Derbies ago as an espresso bar with a little lunchtime fare — and some darned good coffee. The coffee's still terrific, but the café soon added breakfast, and now light dinners are served out on the terrace under the stars.
"We spent a lot of time talking to people about what they would like us to be," says Lake, who found his potential customers wanted a neighborhood kind of place — but smartly done.
So the outside grounds are manicured and the interiors are beautiful. The stoves gleam and steam. But the food — as much as possible — is locally grown, blooming straight out of the soil of farms nearby. Even the coffee, sort-of.
The back-story of how the Lakes got to Louisville explains a lot about how Anchorage got its café — and what kind of café it got. It's the final product of a dream a long time coming — with something from here, and bits from there.
Bruce Lake attended the University of Virginia and Courtney the College of William and Mary. But the story begins in Kentucky.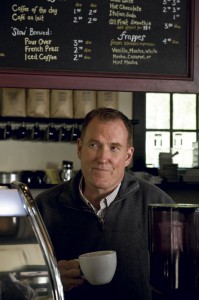 "We didn't meet until after college at the Officer's Club at Fort Knox," says Lake. "I was in tank command, and she was detached to the post in finance. We had our first date — this would have been in 1988 – at this hot new place in town. The Courier-Journal had an article about this place that had been around a long time, and been resuscitated and was the really new hot thing, called Jack Fry's.
After leaving the Army, the Lakes began civilian business careers that took them to the Northeast — Courtney with The Hartford, in Connecticut, and Bruce with Pepsi-Co, and then Coca-Cola, in New York City. They settled in a village in Connecticut. That's when the café dream began.
"We were living in a 200-year-old house in Redding, Conn., a bucolic town not too dissimilar to Anchorage," says Lake. "That's when we sort of hatched the idea of doing something like this. But because Redding had this 2-acre zoning thing, everything was at least 20 minutes away from town. We couldn't find anything zoned commercially.
"So we had the idea in our pocket, the genesis. We'd gone so far as a business plan up in Connecticut, but had to shelve it."
Then Courtney was offered a corporate insurance position with Humana, in Louisville. "We hooked up with a realtor, and Anchorage was the last neighborhood we visited," says Lake.
The Lakes moved into a country barn restyled as a home in Anchorage. "Courtney calls it a 'contemporary,' because we moved from a 200–year-old post and beam house in New England to this one built in 1905," Lake says.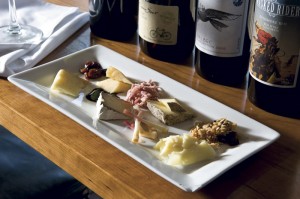 Then came the café. The Lakes considered more urban locations, but liked the Anchorage site for the same reason they liked living in Anchorage.
"We had to think about it," says Lake. "It's a pretty location, but it's kind of off the beaten path. You're kind of hidden out here. If you take some place that's off restaurant row, you're going to have to think about how to get folks out there."
Lake says the success of the Village Anchor Roost and Pub fine dining restaurant next door has been a big help for the Anchorage Café, making a sort of a two-restaurant row. "As we started to connect the dots, we thought this would be pretty viable — a first-rate espresso bar with the element of a traditional coffee house."
Lake says talented personnel make the idea click.
"We knew we would need to find a really skilled baker and pastry chef, in keeping with that traditional café mode. Because we're not a full-service restaurant. Nor do we aspire to be."
Lake found just the baker/pastry chef he was looking for in Loryn Kipp. Kipp and husband Finn McDonald, of Louisville, had previously managed the well-known Captain Fairfield Inn, in Kennebunkport, Maine — and the Lakes had met them there.
Lake also made a study of coffee. He put himself through a barista school in Portland, Ore., which gave him a chance to try out specialized equipment before he began buying machines for the café.
"We got our espresso bar in place, and our baker in place, but as we got the sense we might be around for a while, we knew we needed a talented chef to spread our wings creatively." says Lake. A year ago Lake added chef Andrew Myers as the final piece of the plan. Lake says Myers, a native Kentuckian who was formerly with Bellini's in Lexington, brings creative horsepower to the kitchen. And Myers affirms the Anchorage Cafe's commitment to "slow food," and locally grown ingredients.
"Andy brought his own network of farmers and sources and contacts," says Lake. "He hooked up here with Sarah Fritschner of the Louisville farm to table initiative." The café participates in "Kentucky Proud," a partnership with the Kentucky Department of Agriculture that supports Kentucky farmers.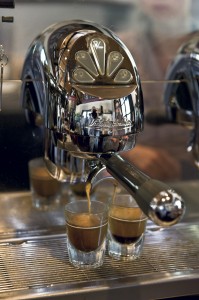 "It took me a while to come to grips, as Andy has, that you're going to make some menu sacrifices," says Lake. "He just won't serve a waxy imported tomato in the off season, for example. If you want people to go 'Wow!' when they try a BLT – with homegrown tomatoes and Loryn's amazing bread, with house-made mayonnaise and Benton Farm's bacon – you can't keep the BLT on the menu in the dead of winter, with some tomato that's blahhh."
Instead, Myers and the Anchorage Café snag local food at its peak season. In summer, for example, the vegetable panini boasts a portabello mushroom. But it's anchored with butternut squash in the fall. This spring the menu is laced with strawberries and asparagus that are coming in at David Garey's farm, nearby.
Garey also raises the chickens for the Anchorage Café's chicken salad sandwich. Another local ingredient in the chicken salad is a bit of Barren County Blue from Kenny's Farmhouse Cheeses.
Lake says he reaches out for Louisville specialties, such as pretzel rolls from Klaus, the German baker.
Coffee, too.
"Of course, there aren't too many coffee beans grown around here," Lake laughs. "But there are local coffee roasters, and we've partnered with a wonderful one, Matt Argo and Argo Sons Coffee."
Art and Architecture
The Anchorage Café shares a front courtyard with the Village Anchor, with the actual anchor, for which the town is named, residing in its stand nearby.
The town's old interurban station (moved a bit) houses the Village Anchor, while the Anchorage Café is in a new building that references the Anchorage railroad station. The copper rain gutters carry a patina that looks like they've been hanging around since the last L & N passenger train rattled by on its way to Cincinnati. But the building is new.
The best is inside, where architect Dan Fultz left black-painted steel ceiling beams exposed, with a wood paneling up to the skylights. The walls are light-colored and with dark wood trim. Much of the functional furniture is red-hued cherry, in-between light and dark in color. That's an unusual (and expensive) wood for a 21st century restaurant. But cherry is the cabinet-furniture hardwood of choice in Kentucky, going back to pioneer times.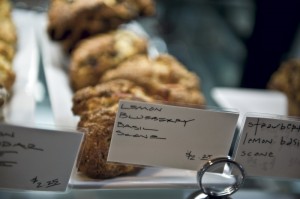 Anchorage artist Susan Tolliver and her pupils provide the artwork throughout the building. Many of the paintings depict scenes of the town and nearby countryside environs, with barns and fences and some horses in that field over there.
The floor is concrete checkerboard squares, alternating polished and painted. Like the rain spouts outside, the floor looks as if it's been around a few decades. Then downstairs, a series of six huge wood and glass doors lead out onto a stone-paved terrace.
"One thing I like about the way Dan did this room," says Lake, swinging each door open, "is when you open all six of these, it changes everything in the room. Kind of gives it the feel of a country porch. So we put tables out here and do the candlelight thing on weekends. And more people ask about these doors than anything. We've had folks who are recreating these doors in barns."
Neighbors and Neighborhoods
Back upstairs, barista Nikki LaChance is brewing fresh Argo Sons coffee in a big stainless steel professional espresso machine. "Oh, the customers love to ask about this machine," says LaChance, a Rhode Island native. "They really don't know what it is from the backside. So we'll talk about it."
And it is clear she approves. "The other shops I've worked in usually have tiny old machines that are temperamental. This one," she says, snapping her fingers, "is perfect to work on."
And, she adds, it makes terrific coffee. "I think the combination of having such a nice machine — a professional machine — plus good coffee, local coffee, makes all the difference."
The barista, of course, is first face one sees in the Anchorage Café.
"Most of our customers are regulars," she notes. "They live right here in town. Bruce knows them all. Their kids go to school over there. They come off the trail. We see the same faces every day, which is nice. I feel like I know at least half our customers by name. I know whose kids are whose. Other coffee shops I've worked in would be like at a busy intersection, with the whole city coming in. I didn't necessarily have this kind of relationship with the customers."
From the start, Lake knew the neighborhood would be the foundation of the Anchorage Cafe's customer base.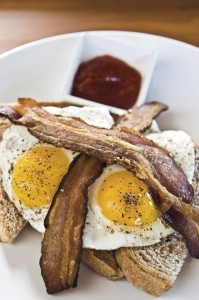 "We get more and more people every month, but we knew we would have to be a destination for the local residents," says Lake. "It's not unusual that we get three generations of a family in here in a day — maybe granddad for breakfast, then mom or dad during the day, the family in for dinner at night.
"As we talked to folks in town there seemed to be a pretty clear demand for a casual option, for folks to come in right off the walking trail. Just a traditional café model."
All the Anchorage Café needed after that was a baker, a chef, an architect, a farm-to-table menu — and some darned good coffee.