My primary aim this afternoon is to link you to an evocative article by beer writer Joe Stange, written about a brewery of which you've probably never heard (I sure hadn't), located in the Bavarian countryside near the Austrian border.
There are many other breweries in Bavaria, but this particular brewhouse is manned by an American expatriate brewer (!) who is crafting gorgeous traditional lagers. Given Stange's praise, the Schönramer brewery quickly has grabbed a slot high up my bucket list, to be saved for the time when such aspirations once again are capable of being pursued.
First, a few beer news items closer to home.
Noting that Bock is a delicious (generally dark) seasonal lager style, I have bad and good news. The NuLu Neighborhood Association's annual Bock Day Celebration is officially off for 2020 after having been moved from March 21 to May 23.
The fest's goat races are the draw for some, but for me it's the beer. Fortunately, according to an information release, "many of the participating breweries will have their bock beer available for purchase and curbside pick up," presumably at their bricks and mortar locations, including these:
Against the Grain Brewery-16 ounce 4 pack cans available
Dry Ground Brewing-Yard Bird Dobbelbock-Growler and Howlers available
Falls City Brewing-Traditional Bock-Growler and Crowlers available
Goodwood Brewing-Bock-Growlers available
Gravely Brewing-Blitzkrieg Bock-Growler and 22 ounce Bombers available
Holsopple Brewing-Honest Bock-weizenbockGrowler and Crowlers Available
Mile Wide Beer Co.-Zugbock-16 ounce 4 pack cans available
Monnik Beer Co.-Fabstinence-Weizenbock-Growler and Crowlers available
Old Louisville Brewing-Bock Growler and Crowlers Available
The author intends to carefully weigh acceptance of any care packages that arrive on his porch bearing samples of any/all of these beers. Thank you in advance.
COVID-19 may have canceled an appreciation of Bock, but it also has enabled a "social distance collaboration" between Falls City and 3rd Turn: 'Beers with (Andy) Beshear' Five O'Clock IPA, so named in honor of the Kentucky governor's daily news conferences.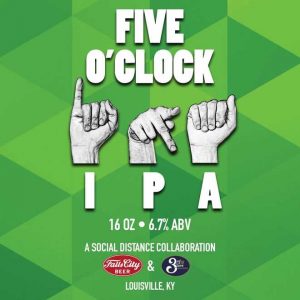 Speaking of chats, there are no recorded instances of Against the Grain's Sam Cruz dodging a chance to talk about beer, hence his recent conversation with Haley Cawthon at Louisville Business First. I won't give anything away, except to suggest that if you see Sam idling nearby in the parking lot at the grocery, don't leave your empty cart situated on the tarmac.
And, to be filed under "This Is How Supporting Local Really Works": Headliners Music Hall exists for live musical performances, which of course have been banned since mid-March. Monnik Beer Company is donating 20% of its curbside growler sales to Headliners, as well as encouraging the public to give to the Headliners Employee Relief Fund at Go Fund Me.
—
Now, back to Joe Stange and the Schönramer brewery.
It is forever challenging to describe in mere words the differences between lager and ale. Drinking them and looking for clues is far more enjoyable.
Lager and ale are the two major families of beer making. Recipes are the same, using malt, hops and water. Lager and ale differ in the choice of yeast, with finishing characteristics derived from varying fermentation temperature (cooler for lager, warmer for ale).
Lager and ale also carry more than a little cultural baggage; cask-conditioned Extra Special Bitter ale in England and a liter glass of Oktoberfest lager from Munich both are to be called "beer," but their human milieus remain distinct, even today.
For knowledgeable beer drinkers during my lifetime, lager often has constituted a Jekyll-Hyde proposition. Thirty-five years ago, the American mass-market way of doing lager (fizzy and flavorless) was the original impetus for the "craft" beer rebellion. At the same time, touring the Central European heartland always provides bountiful examples of how satisfying lager can be when traditional thought processes and methodologies are retained.
I've been fortunate to have toured quite a few "classic" lager breweries during the course of Euro-wandering. It's true that since the 1980s and early 1990s, much has changed in the European brewing business, as throughout the world. "Classic" may be an elastic term, but to me it hasn't become any less meaningful.
These breweries might be big (Heineken in Amsterdam, or Carlsberg and Tuborg in Copenhagen) or small, as with the historic breweries in Czech Republic (Herold, Vysoký Chlumec) and Bamberg (Heller-Trum, Mahrs, Spezial) — or Schönramer itself.
Again and again, the conditions of modernity have decreed that breweries of sufficient size, finding themselves folded into corners of large cities, determine it is expeditious to (a) take advantage of skyrocketing property values by (b) giving up prime inner city real estate for adaptive reuse so as to (c) move increasingly automated beer factories into industrial zones in more rural areas. Heineken and Carlsberg both did this. Pilsner Urquell and Budvar (both in Czech Republic) and Dreher in Budapest haven't … yet.
Enough of the ruminations. Here's the Schönramer story. I've drooled each of the three times I've read it.
Is anyone ready for a road trip?
Greatest Drinkability: The Bavarian Brewer's Art, by Joe Stange (Beer and Brewing)
In the foothills of the Alps, Schönramer Brewmaster Eric Toft is a tinkerer and fine-tuner of highly addictive lagers.
… There are now more than 1,500 breweries in Germany, and the Private Landbrauerei Schönram is not one of the big ones; it brews about 94,000 barrels a year. Meanwhile the village of Schönram has only about 380 residents. The brewery sells 90 percent of its beer within a 40-mile radius.
More than three-fourths of that is the same kind of beer: Schönramer Hell.
It's a daily staple. If you lived there, you could have it brought to your house. "We self-distribute nearly everything," says Brewmaster Eric Toft. "We have four trucks that do home delivery, like the milkman." You don't even need to be home. Leave a key with the driver and some euros on the table; they'll make change, put beer down in the cellar, and take away the empties. See you next week.
Another illustration: The Schönramer brewery built the small church across the street in 1853, largely for its employees—including those at the maltings, now defunct—but also for all the locals who walked for miles to fill the brewery's pub on Sundays. The priest received compensation in the form of beer—156 liters per month.
Today, in keeping with tradition, Schönramer's 55 employees—like those of many other German breweries—get a monthly beer allotment in addition to their take-home pay. It's not as much as it used to be. Today, they receive "only" 120 liters. That's the equivalent of roughly 56 American 6-packs. Per month…
advertising content
advertising content