Generally speaking, beer isn't the place for a Green New Deal. If you'll accept your beer colored green, is there any limit to the madness?
What's next, dry-aged Wagyu drenched in curry ketchup? Beethoven's "Appassionata" performed on a kazoo? Sunbathing in balmy Chernobyl without a Geiger counter?
Non-alcoholic gin, for heaven's sake?
My thoughts are not occasioned by the lamentable St. Patrick's Day institution of adding green food coloring to mass-market lager, because after all, flavorless is flavorless in all the colors of the rainbow.
Rather, it's a different riff on St. Paddy's as destined to capture my attention: Shamrock Shake City, a "Peppermint Milkshake IPA" from 350 Brewing Company in Tinley Park, Illinois.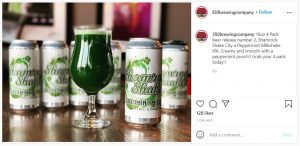 Yes, I know. Times are hard, and if these fellows can make bank on creations like this, so be it. It's a matter of survival, and a geezer's permission certainly isn't required, but allow the purist in me to suggest that as brewers move inexorably away from beers that actually taste like beer, and deal instead with what the Brits somewhat delightfully call "alco-pop," it just may lead to the slipperiest of slopes. Forty years I've spent teaching what real beer should taste like, and now beers taste like breakfast cereal, cocktails and Reese's.
Don't get me started on seltzer, or I may need a soothing Best Bitter before noon. Rather, let's recognize that greenness has a limited place in the grounded world of real beer, in the form of Berliner Weisse, the tart, sparkling indigenous ale from Germany's capital city, which is traditionally served with a shot ("schuss") of raspberry or woodruff syrup.
And, woodruff turns Berliner Weisse green.
"Woodruff is an herb," writes John Holl, "also known as master of the woods (Waldmeister in German) or sweet woodruff. It has a sweet, hay-like, earthy aroma and taste, and the littlest bit helps to cut the acidity associated with the Berliner-weisse style."
Here's what a "Berliner Weisse mit Schuss" looks like in its natural habitat (photo credit). I'll have mine with Buletten, thanks.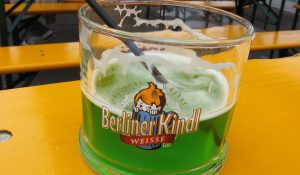 Enough of that. Looking to the west, last year's huge wildfires in California revived anxiety among regional winemakers about the possibility of smoke-tainted wines.
As the name implies, smoke taint can impart smoky flavors and aromas to a wine that render it unpleasant and unmarketable. Wines impacted by smoke taint are not harmful to drink, but they're not pleasant. At high levels, the taste has been variously described as campfire, ashtray and char.
Stan Hieronymus recently considered smoke taint at his Appellation Beer website, speculating that hops, just like grapes, could be affected by the residue of wildfires. He quoted a hop grower who said he earnestly hoped there wouldn't be a rush to make Rauchbier (smoked beer) from smoke-tainted hops.
Say what? Is this a bad thing? Just send all those Rauchbiers straight to me, especially the rare ones from Poland and Texas that Stan proceeded to describe (that lucky dog).
There is a time, however, that smoke and hops belong together. So returning to one of my favorite topics, I've recently tasted two very excellent smoked wheat beers, a style that through the years has been known both as Grodziskie and Grätzer. 
100% oak-smoked wheat ale at a session-strength gravity? Don't mind if I do, and I'll save the peppermint for the next round of Girl Scout cookies or Baskin Robbins.
We close today with two items of local interest.
In a submission to the Courier-Journal, Lennie Omalza spoke with Sam Cruz (Against the Grain), Don Mahoney (Atrium) and Roger Huff (Gallant Fox): "How these Louisville breweries are surviving the pandemic and optimistic about the future."
And, brewer Larry Horwitz of Ten20 Craft Brewery was selected to serve as an at-large member of the Brewers Association's Board of Directors. Congratulations, sir.
Cover photo: Hops festival parade in Poperinge, Belgium (2017).
---
Roger Baylor is an entrepreneur, educator, and innovator with more than 35 years of hands-on experience and expertise as a beer seller, restaurateur, and commentator. As the co-founder of New Albany's Sportstime Pizza/Rich O's Public House (which later became New Albanian Brewing Company) in the 1990s and early 2000s, Baylor played a seminal role in Louisville's craft beer renaissance. Currently he is the beer director at Pints&union in New Albany. Baylor's "Hip Hops" columns on beer-related subjects have been a fixture in F&D since 2005, and he was named the magazine's digital editor in 2019.