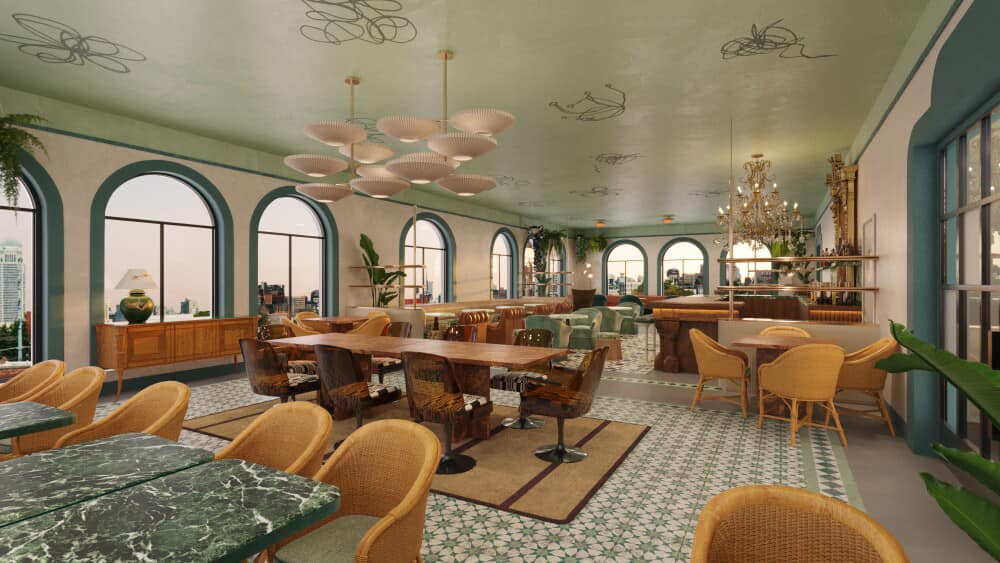 Let's begin by inviting the Hotel Genevieve (730 E. Market St. in NuLu) to introduce itself. Note that "Bunkhouse" refers to the hotel's corporate parent in Austin, Texas.
The hotel's name is inspired by a regional type of limestone, Saint Genevieve, a key ingredient in bourbon production. Limestone is also prevalent throughout Texas, providing a throughline from Bunkhouse origins to this new chapter in Kentucky. Saint Genevieve is also the patron saint of Paris, celebrating both the French origins of Louisville and the many women that worked to bring the hotel to life.
Hotel Genevieve will be open for business in time for the Kentucky Derby, with several options for sustenance available to guests (and the community at large).
Rosettes is the venue for breakfast, lunch, dinner, and weekend brunch.
Bar Genevieve (afternoon and evening hours) offer cocktails and light fare inspired by Mediterranean-influenced French street food. Indoor and outdoor seating come with a view.
Lucky Penny is billed as a "hidden" speakeasy bar, open at night for cocktails and snacks, and available to those "fortunate enough to find it."
Mini Marché (opening date TBA), the hotel's mini-market, will vend coffee and grab-and-go items for breakfast and lunch.
Hotel Genevieve's culinary director is Ashleigh Shanti. At Wikipedia, Shanti's influences are explored.
Shanti's cuisine often explores Black Appalachian food, Southern food and soul food. Her modern interpretations of early Black American food also incorporates West African, Japanese, European and American cuisine.
Examples of dishes created by Shanti includes hummus made with black-eyed peas and sesame; okonomiyaki inspired by her mother's salmon and cabbage fritters; buttermilk cornbread soup, the latter based on her grandmother's recipe; collard greens salad with fried plantain and sumac; farro-vegetable hash with chermoula; cornmeal pancakes with strawberry compote; and benne-seed biscuits with local country ham and hollandaise.
Shanti's bio at the James Beard Foundation is also instructive, albeit dated, leaning more heavily on her CV.
Ashleigh Shanti – Good Hot Fish, Asheville, NC
Ashleigh Shanti is an Asheville, North Carolina–based chef with a culinary voice rooted in Black foodways, specifically Southern microregions. Following her culinary studies at Baltimore International College, she honed her skills across a variety of cuisines and as a culinary assistant for JBF Award–winning chef Vivian Howard on A Chef's Life. In addition to being a 2020 James Beard Rising Star Chef of the Year semifinalist while chef de cuisine at Benne on Eagle, she was also named one of the New York Times's 16 Black Chefs Changing Food in America and competed Top Chef: Houston in 2022. She is in the process of opening her first restaurant: a quick-service fish fry concept called Good Hot Fish. Ashleigh is a member of the Beard Foundation/State Department collaborative American Culinary Corps.
There's more at Louisville Business First. Here's the link (I've rewritten the header to better reflect the most meaningful aspects of the story): Ashleigh Shanti, Hotel Genevieve's new culinary director, has a "fusion" approach rooted in Black foodways.
Previously at F&D: When Shanti joined Lawrence Weeks for a special evening in Lexington in February, 2020.
Join Honeywood in Lexington for a five-course Black History Month celebration on February 27