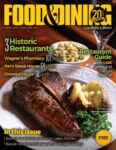 The Spring 2023 issue of Food & Dining Magazine is now available in all the familiar places: Louisville area eateries and food shops, newsstands and online.
Mesa, A Collaborative Kitchen's small business/start up incubator program (216 Pearl Street in New Albany) has incorporated a new resident eatery: OhChae, Korean Fusion Cuisine, described as a "Korean restaurant with traditional and fusion Korean cuisine."
Fusion items include Bulgogi subs, a Korean burger and Gamja fries. Among the traditional dishes are Kimchi soup, Bibimbap and LA Galbi (marinated short ribs).
The text:
Mesa would like to welcome our NEW Incubator OhChae, Korean Fusion Cuisine to our space.
Here is their information and hours. Like their page and check them out. Their food is delicious!
Brunch is now available. We're serving brunch 7 AM – 2 PM on Friday and Saturday, and 10 AM – 2 PM on Sunday and Monday.