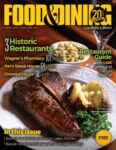 The Spring 2023 issue of Food & Dining Magazine is now available in all the familiar places: Louisville area eateries and food shops, newsstands and online.
"Comida urbana mexican una experiencia diferente unico ensu estilo," loosely translated: "Urban Mexican food a different experience unique in its style."
There's a new bricks 'n' mortar Mexican restaurant in Southern Indiana called A Toda Madre Comida Urbana Mexicana. It comes with a sprinkling of a back story, at least for those of us who reside in the neighborhood.
2116 E. Spring Street is a mere ten city blocks from the digital editor's house in New Albany. The 1970s-era building at 2116 had been a Dairy Queen for many years, and by 2021 it was becoming noticeably dilapidated.
In late spring of that year the owners of the Hing Wang Chinese Restaurant, a fixture for two decades directly across the street at 2123 E. Spring, began extensively refurbishing the structure. Their build-out took more than a year, and in June 2022 Hing Wang Cajun Seafood & Sushi opened.
Alas, at some point early in 2023, the recent arrival closed without fanfare, and almost immediately there were banners announcing the arrival of A Toda Madre Comida Urbana Mexicana, which to my monoglot's mind reads as "Mom's Place." As of this week, the new place is open for business.
According to Google Maps, our walking time to the new restaurant is 18 minutes, which isn't bad, although strolling the other direction toward downtown New Albany brings us to Israel's Delicias de Mexico Gourmet in only seven minutes.
Speaking as someone who has been living between these two latter day options since 2003, it is simply wonderful to have choices.
(Note that Israel Landin is taking a brief holiday break, with his eatery reopening on Wednesday 12 April at 11:30 a.m.)
A Toda Madre Comida Urbana Mexicana's current listed hours of operation:
Tuesday through Thursday: 11:00 a.m. to 10:00 p.m.
Friday through Saturday: 11:00 a.m. to 11:00 p.m.
Sunday: 11:00 a.m. to 10:00 p.m.
Closed on Monday