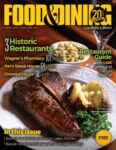 The Spring 2023 issue of Food & Dining Magazine is now available in all the familiar places: Louisville area eateries and food shops, newsstands and online.
To paraphrase the great Indianapolis sports commentator Kent Sterling, a New Albany High School graduate, let's talk about beer—beer is who we area and it's what we do.
However, first a digression into century-old movies.
"Duck Soup" is the cinematic masterpiece bequeathed to us by the four Marx Brothers. Groucho Marx plays Rufus T. Firefly and Harpo Marx is Pinkie, a prospective spy. Film reviewer Tim Dirks picks up the story, as quoted by Carter B. Horsley.
To identify himself to Firefly, Pinkie rolls up his sleeve and shows him:
a tattoo of his curly-haired face on one forearm
a bikinied dancing lady on his other flexing forearm
her phone number tattooed on his right side
his residence – a dog house tattooed on his stomach. When Firefly looks closely and meows, a live barking dog emerges
Firefly is incredulous: "I bet you haven't got a picture of my grandfather?" Pinkie is ready to turn around and pull down his drawers, but Firefly has had enough and suggests he'll see it some other time.
More recently, an acquaintance of mine was explaining the strange disappearance of a mutual friend. The conversation went something like this:
Acquaintance: "Our friend is holed up writing his autobiography. He says it's for his son."
The columnist: "But he doesn't have any children."
Acquaintance: "Precisely."
Alas, your friendly correspondent boasts neither tattoos nor kids, and when recently asked the probing question "Who do you think you are, anyway?", I was compelled to think long and hard before replying: "Maybe I'm Bo Donaldson & the Heywoods."
Wait, say what?
The Cincy band didn't even write this classic 1974 hit song themselves?
I guess it's all just skittles and flippancy, so let's talk about beer.
—
Monday, March 27 was beer writer Michael Jackson's birthday. Jackson, who died in 2007, would have been 81 years old. To celebrate the Beer Hunter's birth, All About Beer has a solid compendium of 10 favorite columns by Jackson, who memorably visited Louisville in 1994.
Hip Hops: When Michael "Beer Hunter" Jackson came to Louisville in 1994 (part one)
I'm saddened to report that Floyd Rosenbaum, longtime brewer at Bloomington (Indiana) Brewing Company, has died. As Floyd's obituary attests, he was multi-talented and the true definition of a craftsman.
In 1997 Floyd began another long special relationship when he began brewing beer with Bloomington Brewing Company, later acquiring the title of Brewmaster. He won many awards and medals for his brews. He would be a fixture in the brew area at BBC/Lennie's and many locals would watch him hone his craft through the glass door at the brewery.
While I didn't know Floyd all that well, he was forever approachable and personable. My condolences to family and close friends.
It's still a long way off, but the Kentucky Craft Bash is on the post-Derby horizon.
Join us on Saturday June 24th, 2023 at Louisville Waterfront Park. The Kentucky Guild of Brewers will be hosting the sixth annual Kentucky Craft Bash. Only pouring beers from breweries within the Commonwealth, the Craft Bash hosts over 50 local breweries and serves more than 150 different varieties of beer.
Likewise, the third edition of the Frazier History Museum's Summer Beer Fest returns on Saturday, July 29. LEO Weekly has the story.
Ouch. Take it from me: Digital editors cannot be trusted. On second thought let's try WDRB-41 instead.
Summer Beer Fest will return this summer to the Frazier History Museum in downtown Louisville. The block party will be held July 29 in front of the museum at Main and 9th streets. The festival will feature more than 200 specialty beers, food, live music and games.
In conclusion, and returning to the pressing question of who the hell I think I am, anyway, as of 27 March 2023 this very first "40 Years (now 41) in Beer" post (from January 2022) at my website has been completely rewritten to introduce the narrative more effectively.
I've checked the links and I believe they're all connected, so one part of the story leads to the next, right up to the current (22nd) episode.
40 Years in Beer, Part One: Fun in Hi Skule (RogerBaylor.com)
I quickly learned that the more frigid cheap beer could be rendered, the less flavor it would have, and hence the greater quantity I could consume. My zealous mission in life became Zen via the art of cooler maintenance, to take the least expensive Styrofoam cooler I could find, nurture it, protect it from harm, and most importantly, to keep it filled with ice. If I could keep the bottom from falling out and find a safe place to stash it, we could save a buck or two the following weekend.
Some readers will recall that the ultimate goal of these personal beer history sketches is a book, which of course I'm sufficiently self-aware to realize has little chance of ever being published off-line, but why let minor impediments stand in the way of 125,000 (or more) words?
Long ago, beer was very much an acquired taste for me, but I found my way to Carnegie Hall (and Russian River Brewing Company, today's cover photo). Ever since then, it's been neither uphill nor downhill.
It's been sideways.
As always, thanks for reading. It's who we are, and it's why we write.
---
Roger Baylor is an entrepreneur, educator, and innovator with 41 years of beer business experience in metropolitan Louisville as a bartender, package store clerk, brewery owner, restaurateur, writer, traveler, polemicist, homebrewing club founder, tour operator and all-purpose contrarian.
As a co-owner (1990 – 2018) of New Albanian Brewing Company Pizzeria & Public House in New Albany, Indiana – founded in 1987, 1992, 2002 and 2009 – Baylor played a seminal role in metro Louisville's contemporary beer renaissance. He currently is beer director at Pints&union in New Albany.
Baylor's "Hip Hops" columns on beer-related subjects have been a fixture in Food & Dining Magazine since 2005, where he currently serves as digital editor and print contributor. He is a former columnist at both the New Albany Tribune and LEO Weekly, and founder of the NA Confidential blog (2004 – 2020).