Santa Rosa is a fabled destination for lovers of California wine; think Sonoma, Napa and all the hedonistic joys of vineyard crawling. Naturally when I visited there some years back, my first stop was the Russian River … Brewing Company, one of at least ten breweries now operating in Santa Rosa, which in 2017 was declared by the ratings site RateBeer to be the "Microbrew Capital of the U.S."
I never made it to a single winery.
This is my "sideways" of reminding readers that while Louisville's obsession with bourbon whiskey is sensible and well-deserved, we've also become a great beer town, of which there'll be ample proof during the Louisville Beer Week's 2019 run (October 25 – November 3).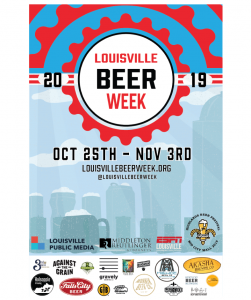 Writing at LEO Weekly, Kevin Gibson offers prelude and preview in the form of a thoughtful consideration of what it means being beer in a bourbon town.
Like the bourbon industry, Louisville and Southern Indiana's brewers have been reborn — more than 20 have opened, and the beer scene is thriving, including world-class festivals and internationally recognized beers.

Yet, the tourism bureau devotes only a couple of pages to beer in its tourist guide, and GotoLouisvile.com has a page listing the city's breweries, with a bit of history attached. Otherwise, the brewing profile in Louisville has remained well behind that of bourbon.

That is slowly changing as the the city — and even distilleries — begin to recognize the value of promoting Louisville's beer scene, and they are now working more with breweries.
A "beer week" is a locally-oriented tribute to, and a celebration of, all things beer. The idea is that breweries, pubs, restaurants, beer bars and package stores hold events: beer tastings, beer dinners, brewery tours, beer and food pairings and tap takeovers (to name just a few common activities). Individual establishments organize their own events, and collectively a governing committee tries to spread the word.
Accordingly, Louisville Beer Week kicks off on Saturday, October 26 at the Highlands Beer Festival, sponsored by ValuMarket at the Mid City Mall (1250 Bardstown Road). The Louisville Beer Week page at Facebook has details of promotions and events that are part of this year's observance.
Returning for another year, Louisville Beer Week is a 9-day celebration of Louisville, KY's historic and growing craft beer community. With over ten brewery collaborations, multiple taproom events, and the support of our industry and commercial sponsors, this year's Louisville Beer Week is excited to welcome all beer drinkers to appreciate how local brewery businesses impact the Louisville community both economically and otherwise.