Those who recall ink smudges accompanying their morning lox likely will appreciate the arrival of Early Edition, a breakfast-oriented (and newspaper-themed) restaurant in downtown Jeffersonville. It opened today (Monday, December 30; 7:00 a.m. – 2:00 p.m.) at 149 Spring Street in Jeffersonville — you know, where Ann's By the River used to be.
Early Edition's owners are Beau and Lindsey Kerley and Tim and Angela Smith, with Tim Smith also serving as executive chef. The Kerleys and Smiths, who are food and drink veterans, own 812 Pizza Company in Georgetown, Indiana and The Standard Plate & Pour in downtown New Albany. Soon there'll be another restaurant in their portfolio: Dos Gringos, a Mexican-themed eatery aiming for a late January start in the same 149 Spring building as Early Edition.*
In October we took a glance at the run-up.
Dos Gringos is one of two restaurants coming to 149 Spring in Jeffersonville
Here's the decidedly classicist menu for breakfast and brunch.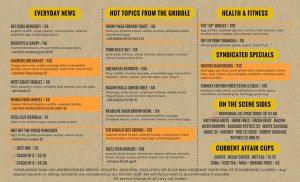 Perhaps owing to the traditional morning symmetry between the front page and French toast, the News and Tribune in Jeffersonville has been closely covering Early Edition's gestation.
The fluffy, golden waffle can be upgraded with fried chicken and hot sauce honey, the Front Page French Toast — brioche bread stuffed with vanilla custard, whipped butter and powdered sugar — can be topped with house made Banana Foster sauce.

The Breaking News Breakfast Burrito is a dish (chef) Smith has been perfecting for years. It starts with a 14-inch flour tortilla, filled with onions, peppers and chorizo. It's topped with a chipotle queso, sour cream, fresh pico de gallo and cilantro.

"The breakfast burrito is something I've been doing a long time and people swear by it," he said.

The diner will also serve locally roasted Cadillac coffee, juices and expect to add brunch cocktails after the owners get their liquor license in January.
—
* In a transaction that seems to have escaped notice, the Kerleys apparently took control of Tucker's American Favorites (2441 State Street, New Albany) in September.