For us, the arrival of Fall whets our appetite not only for food, but for fun, cocktails, and the high-spirited camaraderie and friendly rivalries that create lasting friendships and bring people together.
Every tailgater has his or her favorite recipes – and some of those recipes endure as family traditions that last for generations.
But this season, we wanted to explore some new ideas. So we invited three of our favorite chefs with quite different culinary backgrounds to a recent tailgate party. And we asked them to create menus based on their own approach to the joys of pop-up communal cooking.
Of our three chefs, only one grew up as a tailgater. But all of them have experienced the joys of gathering outdoors for a festive casual meal with family and friends. Each chef gave us the kind of "A Game" recipes that might well become new traditions for us in the future.
Allen Sims, who became Executive Chef at Buck's last December, chuckles when asked about his tailgating history. "We never could afford to go tailgating," he says of his childhood in western Michigan. "But I grew up like Tom Sawyer. I could walk to Lake Michigan and Mona Lake and take a fishing pole. You'd eat what you'd catch that day, and if you didn't catch anything you didn't eat."
Though Sims' family didn't tailgate, they would hit the beach, fire up a grill, and cook their catch. His memories of those beach parties are the inspiration behind this grilled Michigan-style take on a traditional clambake accompanied by an Old Bay-inflected green bean and watermelon salad. As for sports, Sims says that he roots for both UofM and MSU – as long as they're not playing one another…. When they clash, though, he's a University of Michigan partisan.
Seelbach Executive Chef Paul Sant grew up about as far from Michigan as is possible, in the coastal city of Melbourne, Australia. That's not exactly a hotbed of U.S.-style tailgating – something Sant first experienced when he moved to New York City and started attending New York Jets games.
Australians are famously devoted to the art of the barbecue. So Sant is not unfamiliar with the principles of pop-up outdoor dining. His menu celebrates two dishes that exemplify Australian cuisine. Butternut squash (known Down Under as butternut pumpkin) is one of the country's defining vegetables. "People use it all year-round – for everything," he says. "It's quite sickening," he says with a laugh. But that's definitely not the case with his delightful roasted butternut squash salad with cranberries, walnuts, and goat cheese serves as fine foil for the main course. His grilled lamb with chimichurri is a perfect evocation of the ways Australia's rich agricultural heritage intersects with the diversity of its modern cosmopolitan cuisine.
Sarino Chef Carmelo Gabriele is no stranger to tailgating. He's a life-long UofL Cardinals fan whose tailgating history goes back to Trinity-St. X games he attended as a youth. "I loved tailgating," he said. "It was so cool to have a party in the parking lot before a game. I used to have a gold Toyota 4Runner. I always loved tailgating in that truck."
His menu is a model of classic tailgate cuisine: spicy Italian sausages with sautéed onions and peppers and a multi-colored Sicilian salad bursting with flavor.
Remember: Food may be the center of a tailgating party, but it's not the only thing that matters! Your goal is to create a great social experience that brings people together. Below we offer some tips for making that happen.
And, of course, we offer a cocktail designed specifically to kick off your tailgating season!
---
Allen Sims | Buck's
Michigan Shrimp, Mussel and Clam Bake
(Serves 6-8 casual fans or 2 professional tailgaters)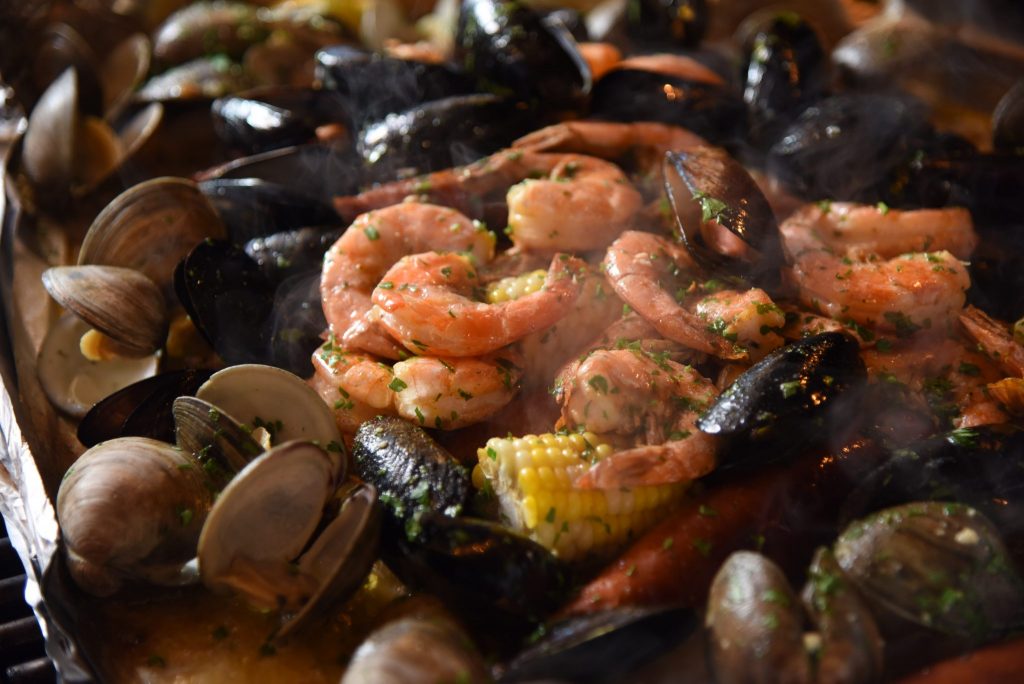 ¼ cup olive oil
12 medium new potatoes, halved
4 ears of corn on the cob, halved
2 pounds Polish sausage
2 pounds deveined shrimp (with shells still on)
2 pounds mussels
2 pounds clams
1 pound butter, divided
1 pound pecans in shells or mesquite wood chips, soaked in water for at least 3 hours
½ cup parsley
¼ cup Old Bay
1 roll of paper towels
Butcher paper
Remove rack from grill, cover with foil, and brush with olive oil. Arrange the ingredients on the rack in a mound with potatoes on the bottom (face-down); then corn, sausage, and finally the shrimp and mussels on top. Place the clams around the mound.
Melt the butter. Place half of the melted butter in a bowl and place 8 paper towels in the butter to soak. Once the grill has reached a temperature of 350°, place the paper towels over the mound. Place pecans or wood chips over your coals to start the smoke. Place the mound on the grill. Cover with lid and cook for 20 to 25 minutes.
Remove paper towels and ladle the remaining butter on top of the bake, letting it cook for an additional minute. Sprinkle parsley and Old Bay before removing the mound from the grill and transferring it to the butcher paper to be served.
---
Allen Sims | Buck's
Green Bean and Watermelon Salad
(Serves 6)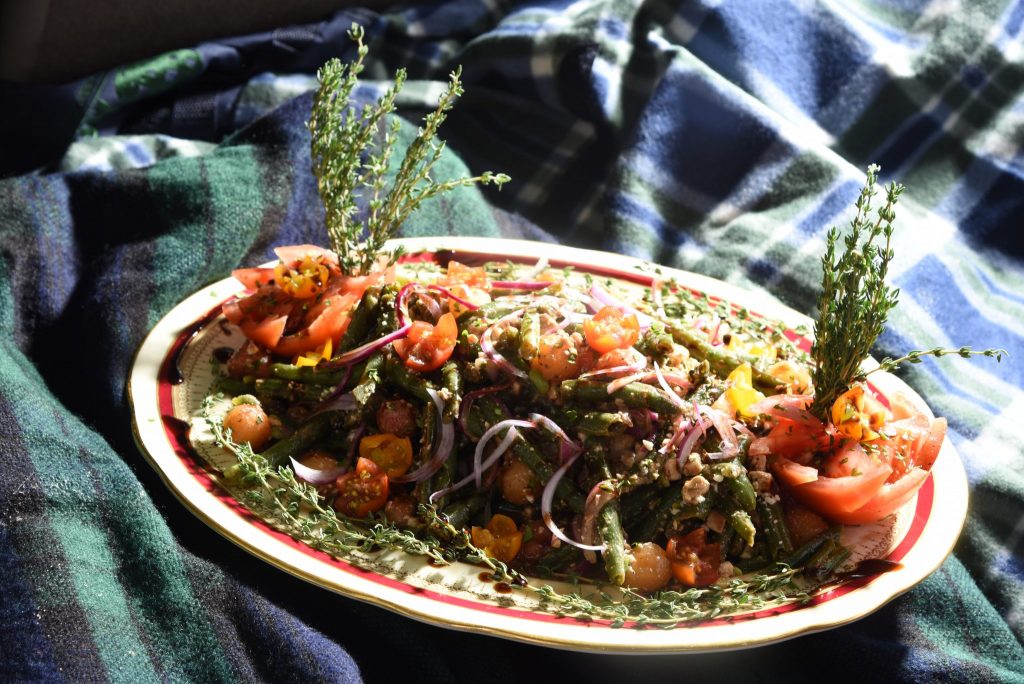 1 pound green beans, trimmed and halved
6 ounces watermelon, balled
1/2 medium red onion, julienned
4 ounces feta cheese, crumbled
12-15 cherry tomatoes, cut in half
6 tablespoons balsamic glaze (commercial, or see instructions below)
¼ cup parsley, chopped
¼ cup Old Bay Seasoning
Salt and pepper
Fresh thyme sprigs (for garnish)
Blanch green beans in salt water at a medium boil for 5 minutes, pull and chill in ice bath until cold. Drain, pat dry, and place in large mixing bowl. Add watermelon balls, red onions, crumbled feta cheese, parsley, balsamic glaze, Old Bay and a pinch of salt and pepper. Toss until thoroughly mixed. Adjust seasoning to taste.
For the Balsamic Glaze
3 cups of Balsamic vinegar
1 orange, juiced
1 cup sugar
1/2 cup honey
Combine ingredients in a small pot. Reduce over a low heat until volume is reduced by about half (about 35-45 minutes).
---
Carmelo Gabrielle | Sarino
Sicilian Summer Insalata (Salad)
(Serves 10)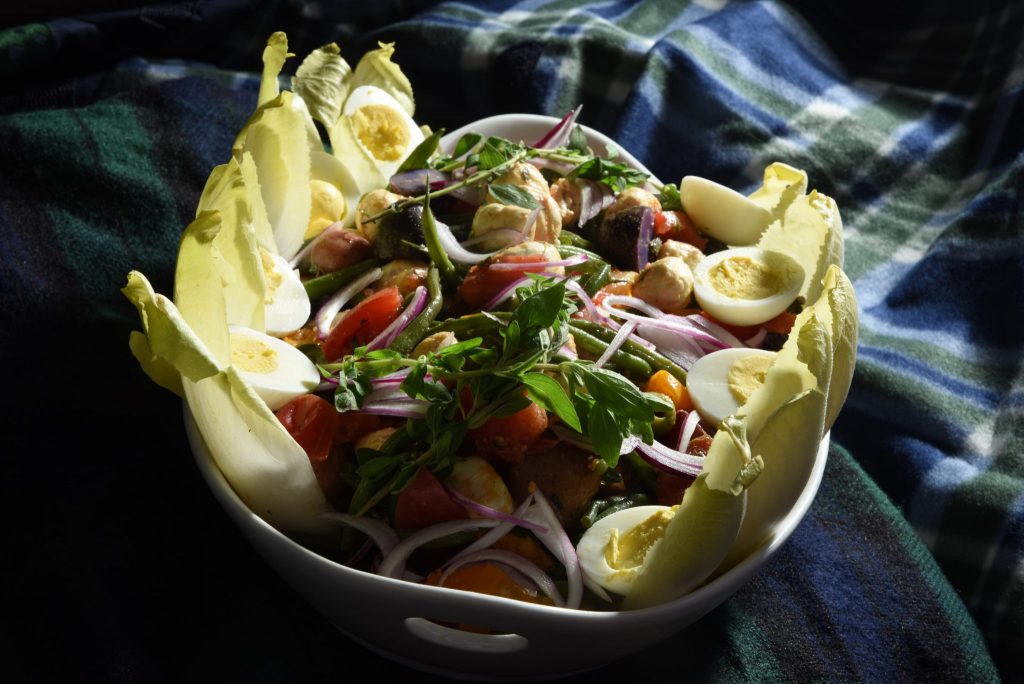 4 pounds mixed marble potatoes, boiled and peeled
2 pounds haricot verts, blanched
4-5 large heirloom tomatoes, quartered and cut in half
1½ cups Sicilian olives
2 cups fresh mozzarella balls (ciliegine or bocconcini)
5 sprigs of fresh oregano
3 cups extra virgin olive oil
1 cup red wine vinegar
Salt and pepper to taste
2 heads of Belgian endive
5 hard-boiled eggs, halved
1 red onion, julienned
Toss the potatoes, haricot verts, heirloom tomatoes, Sicilian olives, and ciliegine mozzarella balls together in a mixing bowl. Season with leaves from 2 sprigs of oregano, olive oil, red wine vinegar and salt and pepper. Toss again.
Fill a serving platter with contents from the mixing bowl, lining the outer edge with the Belgian endive and hard boiled eggs. Top with red onion and the remaining sprigs of oregano.
---
Carmelo Gabrielle | Sarino
Spicy Italian Sausage
(Serves 6)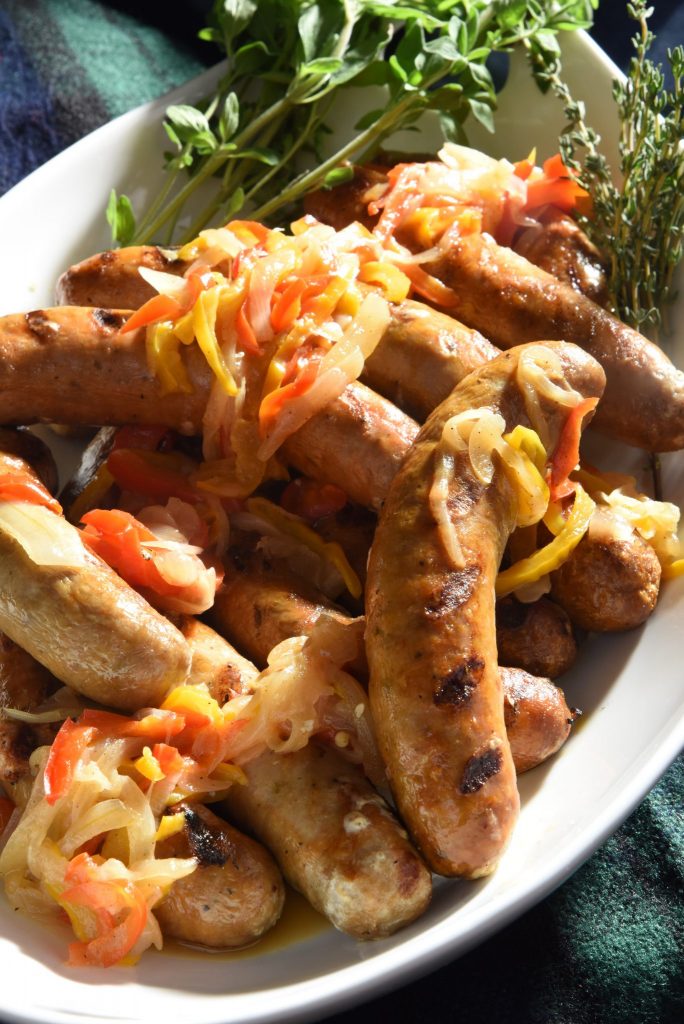 12 Hot Italian sausage links (Carmelo makes his own (recipe below), but if you go with store-bought, he recommends Johnsonville.)
2 white onions, julienned
3 red bell peppers, julienned
3 yellow bell peppers, julienned
Grill the sausage links until they are firm and have reached an internal temperature of 160°F. While the links cook, sauté the white onions, red peppers and yellow peppers in butter until the onions are caramelized.
For Sarino's house sausages
1 4-pound skinless, boneless pork shoulder (Boston butt), cut into 1–2″ pieces
2 tablespoons kosher salt
1 tablespoon fennel seeds, toasted
1 teaspoon freshly ground black pepper
2 teaspoons cayenne pepper
2 teaspoons paprika
1 teaspoon smoked paprika
1 teaspoon crushed red pepper flakes
2 teaspoons finely grated garlic
3 tablespoons dry red wine
1¼ inch fresh collagen casings
Chill all grinder parts and a large stainless-steel bowl in the freezer until very cold, about 1 hour. Place pork in a single layer on 2 lined baking sheets; cover and freeze until meat is firm but not frozen, about 1 hour.
Combine salt, fennel seeds, black pepper, cayenne, paprika, smoked paprika, and red pepper flakes in a small bowl; set aside. Grind pork on high speed, 3–4 pieces at a time, into chilled bowl. If grinder clogs (meat will look pink, not red and white), clean die and cutter before continuing.
Add garlic and mix gently by hand. Sprinkle reserved spice mixture evenly over pork and knead — while rotating the bowl — until the spices are distributed and a light film has formed on the side of the bowl. Add wine; knead until mixture holds together and is very stiff (it will spring back when pressed). Take care not to over-mix or the sausage will be crumbly.
Press ¼ cup sausage mixture into a palm-sized patty. Extend hand with meat, palm facing down. If meat sticks for at least 5 seconds, it is sufficiently mixed. If not, continue to knead in 15-second intervals until it sticks. Wrap patty in a small sheet of foil; cover and chill remaining mixture. Cook foil-wrapped patty in a small skillet (not nonstick) over medium-low heat until meat is cooked through, about 4 minutes per side. Let rest 2 minutes.
Unwrap patty and cut in half; it should hold together. If not, save for another use and try again. Place casings in a large bowl under cold running water and let sit, allowing it to overflow and flush through the casings until softened, about 2 minutes. Slide 1 casing onto stuffer nozzle, leaving a 6″ overhang (do not tie). If casing is too long or tangles, cut in half and work with 1 piece at a time.
Pack a handful of sausage mixture very lightly into stuffer. Working with a partner and with stuffer on high speed, use plunger to push meat through, gradually filling casing; gently sliding filled casing off nozzle onto a baking sheet as you go.
Fill casing firmly but don't overstuff (mixture will tighten when links are twisted, causing overfilled casings to burst). As casing fills, lightly prick air bubbles with sausage pricker. Leave at least 6″ of empty casing at the end.
---
Paul Sant | Seelbach
Grilled Lamb with Lemon Mint Chimichurri
(Serves 6)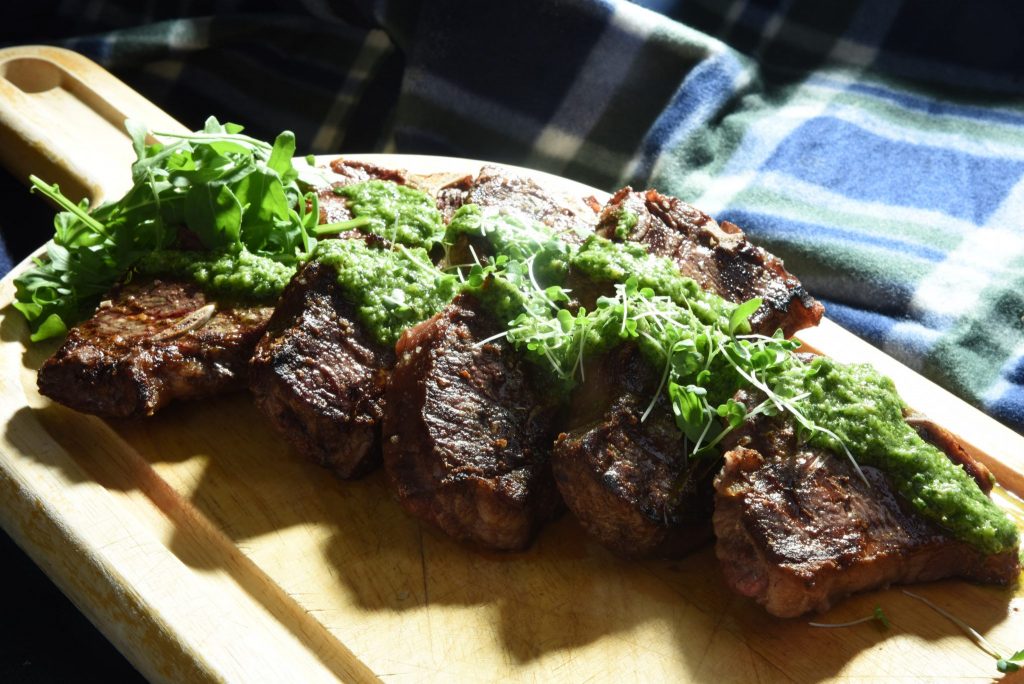 For Lamb
12 ¾"-thick lamb porterhouse (Paul uses Freedom Run Farm's which can be found at most Krogers)
½ tablespoon black pepper
2 tablespoons sea salt
2 tablespoons extra-virgin olive oil
Remove lamb from the refrigerator and let rest for 15-20 minutes to reach room temperature. Coat all sides with olive oil and season with salt and pepper.
Heat a pan over the grill until it is nearly smoking. Once the pan is ready, sear the lamb for 3 minutes on both sides for a perfect medium-rare.
For the Chimichurri
2 cloves garlic, chopped
1 cup fresh mint
1 cup fresh Italian parsley
2 tablespoon red wine vinegar (optional)
½ teaspoon kosher salt
1⁄8 teaspoon red pepper flakes
¼ cup olive oil
Lemon zest
Place garlic in the bowl of a food processor and pulse until chopped. Add the mint and parsley leaves and pulse until finely chopped. Remove to a medium bowl.
Add the vinegar, salt, and red pepper flakes to the mixture and stir until the salt has dissolved. Stir in the olive oil. Finish with the zest of one lemon to add brightness. Sauce keeps in the refrigerator for several days.
Once the lamb has been plated, spread the chimichurri as liberally as you prefer.
---
Paul Sant | Seelbach
Roasted Butternut Squash, Cranberry and Walnut Salad
(Serves 6)
1 butternut squash
2 tablespoons olive oil
Fresh baby arugula
1⁄3 cup dried cranberries
1⁄3 cup chopped pecans (glazed optional)
Goat cheese
1 medium red onion, sliced
Preheat oven to 325 degrees. Cut the butternut squash lengthwise down the middle, removing and discarding seeds and stringy pulp from the center. Carefully peel off the outer skin and cut the squash into 1-inch cubes.
Toss the cubes with olive oil in a bowl until coated. Transfer to a prepared tray and bake until the squash is cooked, approximately 15 minutes.
Once the squash has cooled, gently mix it, the baby arugula, dried cranberries, pecans, onions and goat cheese together in a serving bowl. Serve chilled.
---
Tim Laird
The Red Zone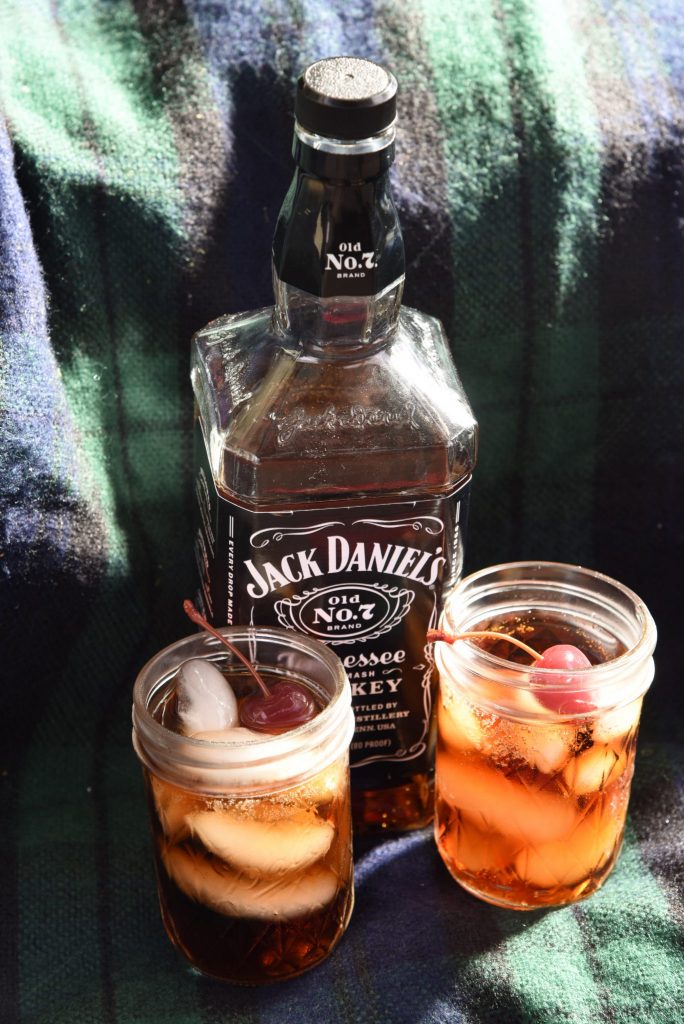 In a rocks glass, add
1½ ounces Jack Daniel's Old No. 7
2 ounces cranberry juice
1 ounce lemonade
Stir and garnish with a cherry. F&D
advertising content
advertising content