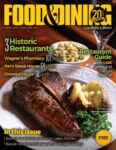 The Spring 2023 issue of Food & Dining Magazine is now available in all the familiar places: Louisville area eateries and food shops, newsstands and online.
St. Patrick's Day in America is a time for partying—good, bad or indifferent. So be it, but for me, being somewhat serious minded whether I like it or not, the annual Irish holiday provides an opportunity to learn about Ireland and its people.
As an aside, I've never really believed in a "right" to be entertained. But I accept a personal responsibility for being informed, which implies a level of participation and engagement. I appreciate humor, but when everything's played for laughs, nothing is funny any longer.
Consequently, I resisted the urge to dye my laptop green, although naturally there has been audio accompaniment to my studies: Lankum, Martin Hayes & Dennis Cahill, 70s-era Dubliners and a wee bit of Thin Lizzy. I may or may not be ready to admit liking Inhaler's new release (Bono's son is the singer).
As such, my coursework began at the beginning of March. First came Fintan O'Toole's excellent memoir "We Don't Know Ourselves," then a video documentary about the fabulously corrupt Fianna Fáil politician Charles Haughey. I read Roman Burtenshaw's interview with Mary Lou McDonald, current leader of Sinn Fein.
These preceding three syllabus items are concerned primarily with the Republic of Ireland, as opposed to Northern Ireland.
Northern Ireland was created in 1921 when the British government split Ireland into two autonomous territories.  It comprises six of the nine counties of Ulster (one of the four ancient Irish provinces), with the remaining three (Monaghan, Cavan and Donegal) staying in what is now the modern day Republic of Ireland. For this reason Ulster is a popular colloquial alternative name for Northern Ireland.
Appropriately, next on my list was an eight-hour, seven-part video documentary series called "Spotlight on The Troubles: A Secret History" (2019), which has helped me to contextualize the strife between Protestants and Catholics in Northern Ireland, largely abated now, and yet a sad and constant presence from the 1960s through 1990s.
This brings us full circle back to St. Patrick's Day, and perhaps a little known point hereabouts.
St. Patrick" is symbolic in the United States of Irish Roman Catholicism and all it stands for. But the Protestants of Ireland, usually called "Scotch Irish," take a very different view. The national apostle and founder of Irish Christianity is claimed by Irish Protestants as well as by Roman Catholics.
Verily, as the social media relationship status signifier reminds us, it's complicated. We can be fascinated by Ireland while expressing an inability to make sense of the island's life and times.
However we can return yet again to our oft-expressed certainty that food and drink brings us together. Following are three links specifically exploring the cuisine of Northern Ireland.
The food and drink of Northern Ireland, by Chloë King (Great British Chefs)
The unifying theme of Irish food has to be the quality of the produce and the unpretentious grace of its serving – two hallmarks, surely, of every world-class cuisine. Whether Irish food will be recognised as such is a point to discuss, but it is unarguably going through a renaissance right now.
I'd never pondered the difference between the classic Full English Breakfast Fry-Up and the Ulster Fry. It's potato bread.
20 weird local foods everyone should try at least once in Belfast, at Planet Radio
Our weekends are now spent checking out the latest coffee shop or food truck, just moving from one venue to the next. It's fantastic to see local businesses using local produce, especially when we can grow so much here in Northern Ireland. There are some interesting snacks and drinks that make sense to us locals, but seem wild to others. Even the names seem a little bizarre.
In closing, the distinctive Northern Ireland foodstuff closest to my own heart, the eels of Lough Neagh (today's cover photo credit):
I serve them with hot smoked salmon and a panna cotta of fresh cream and home grown horse radish with pickled shallots and mixed leaves. The smoked eels have a high fat content which adds to the flavour.