Last week I was thumbing through back issues of Food & Dining Magazine and came across our Winter 2011 edition (Volume 34), which contained my "Hip Hops" profile of a then-newly opened Against the Grain Brewery & Smokehouse (AtG).
Math isn't my strong suit, but neither calendar nor hydrometer is necessary to manage the calculation that AtG turns ten this fall. Why wait? Let's celebrate AtG's birthday now.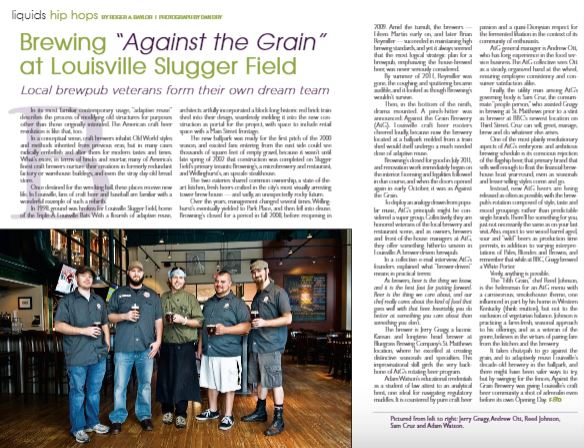 Yes, the Indyucky brewing community's enfant terrible has achieved stately, stable and respectable middle age, although it still brews a beer called Brown Note with label imagery redolent of an unfortunate accident — and runs through quite a lot of it, actually.
Nowadays AtG's familiar beers for distribution include Citra Ass Down, Kentucky Ryed Chiquen, Pile of Face and the high-gravity and infinitely mutable Bo & Luke imperial stout series.
Believe it or not, a decade in the brewhouse qualifies AtG as one of the oldest area breweries in terms of continuous production. New Albanian Brewing Company dates to 2002, and Bluegrass Brewing Company's (BBC) brewpub at 3rd and Main in Louisville opened in 2010. Apocalypse and Gordon Biersch came along in 2012, just after AtG. Am I forgetting anyone?
(There's a special asterisk category over at the corner of Clay and Main, where brewing has been constant since 1998, when Pipkin Brewing opened, yielding in 2001 to BBC's production brewery and taproom, which changed ownership shortly thereafter and then rebranded as Goodwood in 2015.)
When the Bardstown Road family-owned staple Cumberland Brews (2000) closed for good in 2019, AtG stepped into the building and opened Public House by Against the Grain, which ironically became AtG's only outlet for food and drink in July 2020 when the pandemic compelled the temporary closure of the company's original Slugger Field brewery and restaurant.
Brewing has continued apace at AtG's production and packaging facility in Portland, which first went on line in 2015, and it is expected that AtG's home base at Slugger Field will resume operations later this year.
Preludes concluded, following is my "meet the AtG boys" column from F&D in 2011, which has not been reprinted previously in this corner of the interwebz.
For the sake of clarity, there are a few footnotes. Over the years the pedantic purist in me has rolled his eyes at some of AtG's antics, but let's be clear: I love these contrarian risk-takers for doing it their way in a city that doesn't always reward originality, and respect immensely what they've accomplished during the past decade.
Ten down, and lots more to go.
—
Brewing "Against the Grain" at Louisville Slugger Field
Local brewpub veterans form their own dream team
In its most familiar contemporary usage, "adaptive reuse" describes the process of modifying old structures for purposes other than those originally intended. The American craft beer revolution is like that, too.
In a conceptual sense, craft brewers inhabit Old World styles and methods inherited from previous eras, but in many cases radically embellish and alter them for modern tastes and times. What's more, in terms of bricks and mortar, many of America's finest craft brewers nurture their creations in formerly redundant factory or warehouse buildings … and even the stray day-old bread store (1).
Once destined for the wrecking ball, these places receive new life. In Louisville, fans of craft beer and baseball are familiar with a wonderful example of such a rebirth.
In 1998, ground was broken for Louisville Slugger Field, home of the Triple-A Louisville Bats. With a flourish of adaptive reuse, architects artfully incorporated a block-long historic red brick train shed into their design, seamlessly melding it into the new construction as portal for the project, with space to include retail space with a Main Street frontage.
The new ballpark was ready for the first pitch of the 2000 season, and excited fans entering from the east side could see thousands of square feet of empty gravel, because it wasn't until late spring of 2002 that construction was completed on Slugger Field's primary tenants: Browning's, a microbrewery and restaurant, and Wellinghurst's, an upscale steakhouse.
The two eateries shared common ownership, a state-of-the-art kitchen, fresh beers crafted in the city's most visually arresting tower brew house — and sadly, an unexpectedly rocky future.
Over the years, management changed several times. Wellinghurst's eventually yielded to Park Place, and then fell into disuse. Browning's closed for a period in fall 2008, before reopening in 2009. Amid the tumult, the brewers – Eileen Martin early on, and later Brian Reymiller – succeeded in maintaining high brewing standards, and yet it always seemed that the most logical strategic plan for a brewpub, emphasizing the house-brewed beer, was never seriously considered.
By summer of 2011, Reymiller was gone, the coughing and sputtering became audible, and it looked as though Browning's wouldn't survive.
Then, in the bottom of the ninth, drama mounted. A pinch-hitter was announced: Against the Grain Brewery (AtG). Louisville craft beer rooters cheered loudly, because now the brewery located at a ballpark molded from a train shed would itself undergo a much needed dose of adaptive reuse.
Browning's closed for good in July, 2011, and renovation work immediately began on the interior. Licensing and legalities followed in due course, and at the time of this column's writing, malt, hops and yeast had been delivered, and brewing was underway, with an expected opening date to the public coming some time in September (2).
To deploy an analogy drawn from popular music, AtG's principals might be considered a super group. Collectively, they are honored veterans of the local brewery and restaurant scene, and as owners, brewers and front-of-the-house managers at AtG, they offer something hitherto unseen in Louisville: A brewer-driven brewpub.
In a collective e-mail interview, AtG's founders explained what "brewer-driven" means in practical terms:
As brewers, beer is the thing we know, and it is the best foot for putting forward. Beer is the thing we care about, and our chef really cares about the kind of food that goes well with that beer. Invariably, you do better at something you care about than something you don't.
The brewer is Jerry Gnagy, a laconic Kansan and longtime head brewer at Bluegrass Brewing Company's St. Matthews location (3), where he excelled at creating distinctive seasonals and specialties. This improvisational skill girds the very backbone of AtG's rotating beer program.
Adam Watson's educational credentials as a student of law attest to an analytical bent, one ideal for navigating regulatory muddles. It is countered by pure craft beer passion and a quasi-Dionysian respect for the fermented libation in the context of its community of enthusiasts.
The task of AtG general manager is taken by Andrew Ott, by virtue of long experience in the food service business. The AtG collective sees Ott as a steady, organized hand at the wheel, ensuring employee consistency and consumer satisfaction alike.
Finally, the utility man among AtG's governing body is Sam Cruz, the consummate "people person," who assisted Gnagy in brewing at St. Matthews prior to a stint as brewer at BBC's newest location on 3rd Street. Cruz can sell, greet, manage, brew and whatever else arises (4).
One of the most plainly revolutionary aspects of AtG's embryonic and ambitious brewing schedule is its conscious rejection of the flagship beer, or that primary brand selling well enough to float the financial brewhouse boat year-round, even as seasonals and lesser-selling styles come and go.
Instead, new ATG beers are being released as often as possible, with the brewpub's rotation being composed of style, taste and mood groupings rather than predictable single brands. There'll be something for you, just not necessarily the same as your last visit. Also, expect to see wood-barrel-aged, sour and "wild" beers as production time permits, in addition to varying interpretations of Pales, Blondes and Browns, and remember that while at BBC, Gnagy brewed a White Porter.
Verily, anything is possible.
The "Fifth Grain," chef Reed Johnson (5), is the helmsman for an AtG menu with a carnivorous, smokehouse theme, one influenced in part by his home in Western Kentucky (think: mutton), but not to the exclusion of vegetarian balance. Johnson is practicing a farm-fresh, seasonal approach to his offerings, and as a veteran of the genre, believes in the virtues of pairing fare from the kitchen and the brewery.
It takes chutzpah to go against the grain, and to adaptively reuse Louisville's decade-old brewery in the ballpark, and there might have been safer ways to try, but by swinging for the fences, Against the Grain Brewery was giving Louisville's craft beer community a shot of adrenalin even before its own Opening Day.
—
Footnotes
(1) "Day-old bread store" was a reference to my own NABC Bank Street Brewhouse in New Albany (2009 – 2019).
(2) The eventual opening came in October, 2011.
(3) BBC St. Matthews, arguably Louisville's iconic brewery of the founding craft beer generation, opened in 1993 and closed in 2017. 
(4) Almost from the beginning my dear friend Sam assumed the role of AtG's front man and face to the community, and impeccably so. 
(5) Chef Johnson left Against the Grain in 2013.