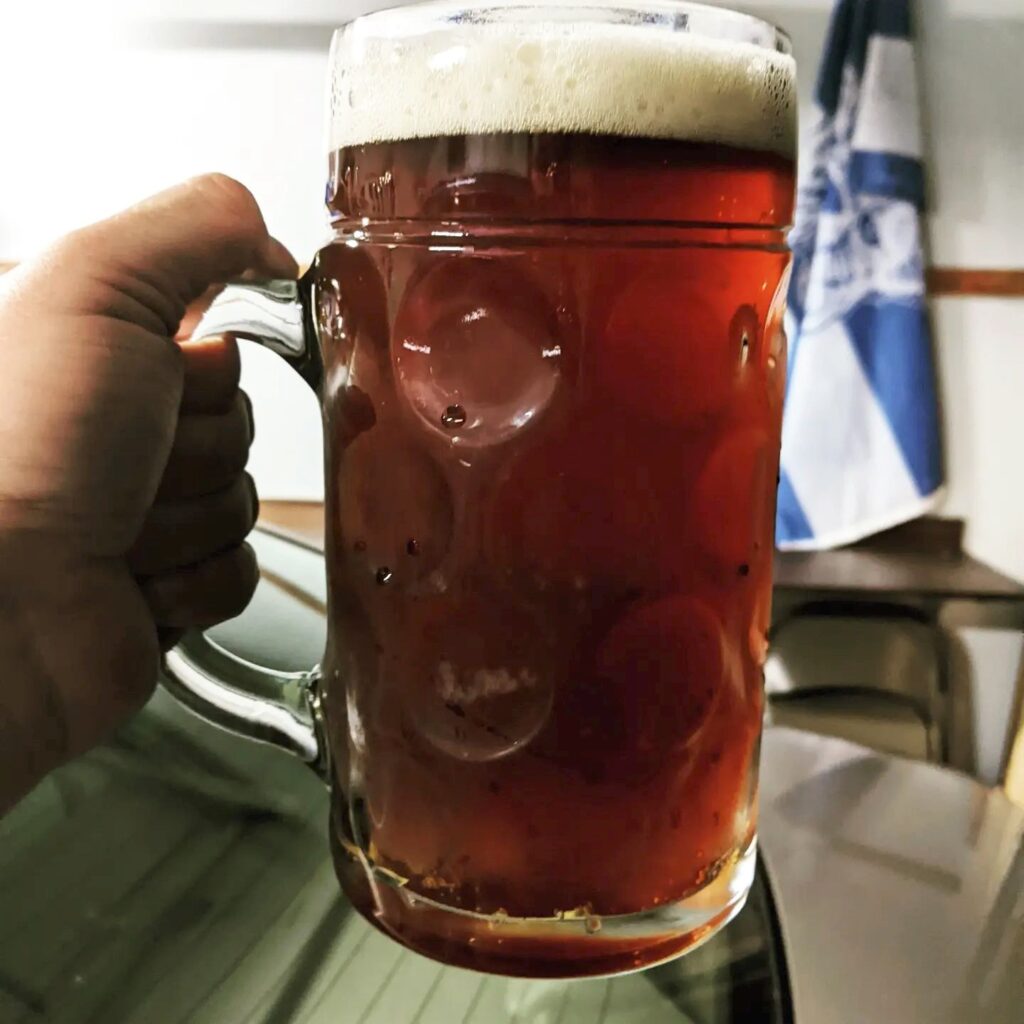 My friend and much-decorated homebrewer Shane Caple conjured an old-school Märzen for Oktoberfest, and the result is shown above. Compare it with the appearance of Weihenstephaner's new-school Festbier, pictured below.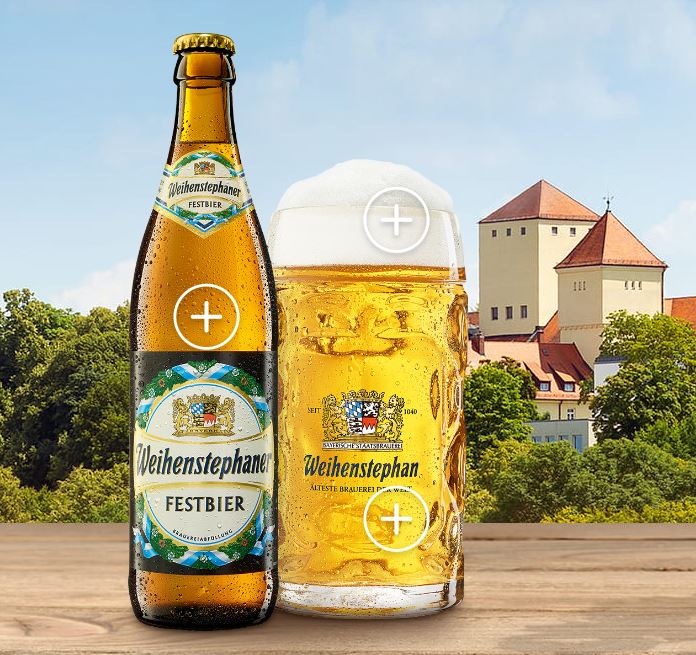 They're both Oktoberfest lagers. Märzen is the older and more traditional approach, while Festbier has come to embody modernity—say, the past 40 or so years of adaptation, with the style redefined to suit changing tastes, even in conservative Bavaria.
As a reminder, while lagers like these are released in America in late July, Oktoberfest in Munich actually begins in September (this year it's the 17th), and usually only the last two or three hangover mornings extend into the festival's namesake month.
Why? For one, northern European summers historically were shorter than ours, and harvest celebrations might begin as early as the end of August (insert climate change game-changer here).
In Munich, a 19th-century royal wedding fete coincided with the usual fall revelry, providing a sufficiently convenient excuse to fix an early start for October's fest, as intended to innovate some quality autumnal beer drinking time annually for the next two to three centuries. Now that's looking ahead.
Many beer styles we know today are of European origin, evolving over the ages according to slow, rural, agricultural rhythms. Before refrigeration, it was too hot to brew in high summer, and so brewing schedules were tailored to accommodate. Oktoberfest-style lagers intended for autumn consumption were brewed in late winter and early spring, then aged (lagered) until needed, which is why they're often called Märzen, from the German word for March.
Nature has its way, humans have theirs, and as beer styles, Märzen (the original fuller-bodied version) and (Oktober)Festbier, the ubiquitous toned-down modern variant, suit both season and occasion. Compared with everyday golden lager, they're both marginally stronger in alcohol and slightly heavier in the mouth.
Märzen typically is more complex in design, and colored in tawnier shades of amber, brown and orange, while Festbier looks little different from an attractive golden Dortmunder. Both are crisp, clean and offer malty flavor profiles with the discreet, yet firm presence of classic Bavarian "noble" hops. Märzen and Festbier are an epicure's sheer delight, pairing as well with loaded pizza or enchiladas as the fowl, beef and pork devoured at Bavarian harvest galas.
American craft-brewed versions of Oktoberfest can be Märzen or Festbier depending on an individual brewer's whim. Some are rigorously true to style, others not so much, although usually American-brewed Oktoberfests fall somewhere within the identifiable spectrum, and it's been a good while since I experienced a head-scratcher. My own mental cheat sheet reminds me to revel in the differing guises of American Oktoberfest, and enjoy them just the way they are.
Your bullet points:
Old School Märzen: Märzen is the traditional style. It's fuller and maltier, hops minimal, with an amber to brown color.
New School Festbier: Festbier (or Wiesn, after the "meadow" in Munich where the fest is held) is a rich golden color, milder than Märzen, fuller than Helles, crisp, clean and very drinkable.
American Oktoberfest: American Oktoberfest most often is a fun style hybrid, sometimes leaning Märzen, other times Festbier.
Now go forth and forage.
—
It's been so long since there were two German states, co-existing side by side, that in 2022 you'd have to be somewhere around 40 years old to have any active memory of the post-WWII period of Germany's division, when a maze of fortified walls and fences separated the two halves.
Like anyone, I've made some good calls in my life, and hatched more than a few duds, but one of the best decisions I ever reached was to spend a month in East Germany in 1989 before the Berlin Wall fell and everything changed. Obviously I had no way of knowing these changes were coming, which reinforced the glorious serendipity of the exercise.
It will surprise no one to learn that beer was consumed during this period of landscaping and tourism. I've written a series in three parts explaining how I came to visit the German Democratic Republic as a volunteer worker, including a closing chapter about beer and brewing in the country.
It's admittedly late notice, owing to my sensitivity in using this platform to tout my workplace, but tonight (Wednesday 24 August) at 6:00 p.m. upstairs at Common Haus Hall in Jeffersonville I'll be giving a talk called "Beer in the GDR."
There'll be a sampling of beers brewed in the former East Germany (Pilsner, Schwarzbier) along with certain historical styles from the region (Gose, Lichtenhainer, Berliner Weisse, Grodziskie) now brewed elsewhere. The sampling costs $5 and naturally you must be 21.
---
Roger Baylor is an educator, entrepreneur and innovator with 40 years of hands-on experience and expertise as a beer seller, restaurateur and commentator. As the co-founder of New Albany's Sportstime Pizza/Rich O's Public House (which later became New Albanian Brewing Company) in the 1990s and early 2000s, Baylor played a seminal role in Louisville's craft beer renaissance. Currently he is the beer director at Pints&union in New Albany and Common Haus Hall in Jeffersonville. Baylor's "Hip Hops" columns on beer-related subjects have been a fixture in F&D since 2005, and he was named the magazine's digital editor in 2019.
advertising content
advertising content