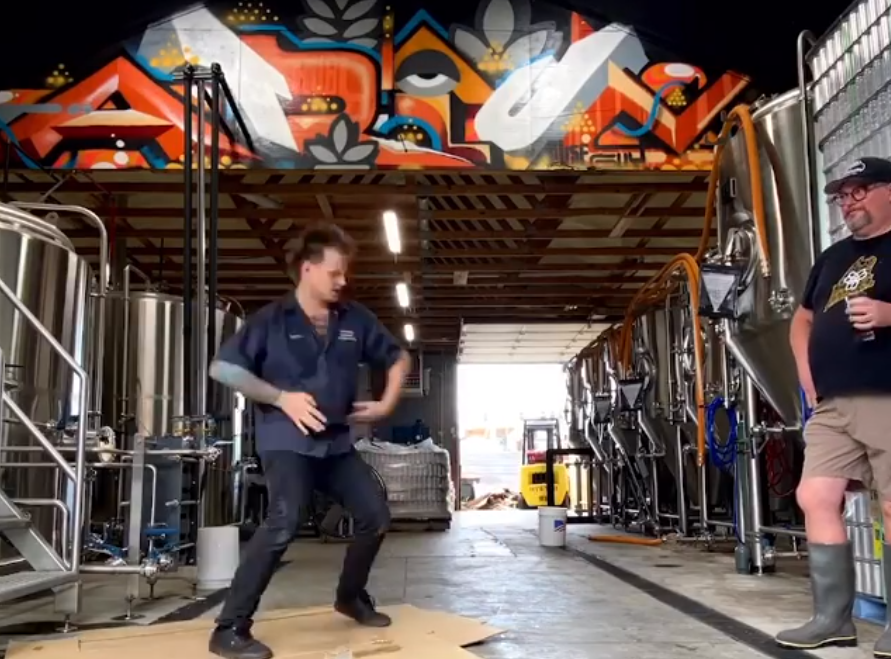 Atrium Brewing Company is celebrating its third anniversary with a series of beer events in September.
Atrium was founded on September 25, 2020, which you'll recall was a challenging time to visit the post office, much less launch a brewery and taproom. Now Atrium has two locations: Logan Street Taproom (and brewhouse) at 1154 Logan Street in Shelby Park, and Norton Commons Taproom at 11205 River Beauty Loop in Prospect.
Co-owner Princeton Hurst is quoted in an information release (thanks to Simply PR KY).
To commemorate this milestone, we are organizing a jubilant celebration brimming with exciting events, delightful collaborations with local businesses, and a heartfelt commitment to giving back to the community that has embraced us. It is with immense gratitude that we acknowledge your invaluable contribution to our success, as you voted us the top brewery in Louisville. We eagerly anticipate your presence at the festivities as we raise a glass in celebration, toasting to the shared love of craft beer and the incredible journey we have embarked upon together. Cheers!
Here's the Atrium anniversary event schedule.
Saturday, September 16: Atrium Oktoberfest
3:00 p.m. to 7:00 p.m. at the Logan Street Taproom, with Festbier and Märzen releases (both taproom locations), stein specials, live music from Squeeze-bot, smoked brats and other German menu items from the resident Daryk's food truck, games and an Oktoberfest dress-up contest.
Friday, September 22: Atrium-North Lime Coffee & Donuts Collaboration Extravaganza
An all-day event. A collaboration beer inspired by North Lime's donuts will be released at both Atrium locations, while at the Logan Street Taproom only there'll be a donut eating contest (free to enter) hosted by North Lime at 6:00 p.m., as well as a special "donut burger sandwich" from Daryk's. Sign up for the contest in advance by e-mailing LSTaproom@atriumbrewing.com; the two entrants who can eat half a dozen glazed donuts the fastest will be declared winners, with a $50 Atrium gift card for first place and a $50 North Lime Coffee & Donuts gift card for second.
Thursday, September 28: Blessings in a Backpack Beer Release and Fundraiser Bingo
Atrium Brewing and Blessings in a Backpack have teamed up to create a beer, increase awareness about food insecurity, and raise funds for Logan Street Taprooms's neighborhood school. The beer release lasts all day, with bingo at both of Atrium's taprooms beginning at 7:00 p.m. and lasting until 9:00 p.m. (or later depending on participation). Blessings in a Backpack will be selling bingo cards for $1, with all proceeds benefiting the organization. For every four-pack sold on the 28th, Atrium Brewing will donate $2 ($1 for every draft pour) to Blessings in Backpack to benefit Shelby Park Elementary.
—
Like Atrium, Gallant Fox Brewing came into being during those hard times in 2020, and both these enterprises deserve praise for soldiering through COVID and emerging intact.
Gallant Fox has announced a new collaboration program with the Bernheim Arboretum and Research Forest. It's called Bernheim Brews and is intended to underline the commitment of both participants to "sustainability, utilizing locally-sourced ingredients while fostering a love for the outdoors and nature."
(Today's cover photo depicts Beth Reitmeyer's spontaneous art installation "Wonderland," scheduled for one night only at Lake Nevin during CONNECT at Bernheim this Saturday, August 26. For more information, go here.)
An information release details the collaboration, with props to Louisville Ale Trail, the PR provider.
Gallant Fox Brewing will create 4-8 exclusive beers in the Bernheim Brews series annually, starting with the first launch (on August 26) at CONNECT, Bernheim's annual art and music festival. Each beer release will feature fresh ingredients foraged directly from Bernheim's 600+ acre Arboretum and Edible Garden.
First up is Wonderland Wit, brewed with mountain mint and lemon balm, slated for release on Saturday, August 26 at CONNECT as well as at Gallant Fox's taprooms in Louisville (2132 Frankfort Ave.) and Mt. Washington (155 N. Bardstown Rd.) The brewery will donate a portion of sales from each Bernheim Brews release (totaling a minimum of $5,000) to the Bernheim Arboretum and Research Forest to support its programs in ecology, arts, and education.
Here's a prescient assessment from Renee Frith, Bernheim Forest's Director of Horticulture and Sustainable Landscapes.
Nature and craft beer are conversation starters for many. Keeping the conversation flowing and turning it into a collaboration is the natural next step. Using sustainably foraged regenerative ingredients simply means that we forage for enjoyable beer while leaving enough plant material in the ground to support pollinators and wildlife.
—
As a parting thought today, one perfectly aligned with the present position of Louisville area thermometers, consider the great Jeff Alworth's recent essay at his Beervana blog: The Sweaty Summer of Our Discontent.
This particular passage, which addresses the currently tattered condition of beery nomenclature in the aftermath of AB Inbev's recent spare-brewery dump to the Canadian company Tilray, presages what is sure to be my New Year's resolution on 31 December 2023: "The word 'craft' is to be excised from my thinking on the topic of beer."
The Brewers Association can call its members whatever it wants, but we in the media need to divest ourselves from this language. It's pure spin now, and now contributes to consumer confusion. The US contains roughly 9,000 breweries, and they all make beer. Some of this beer falls into the "craft" segment, which constitutes every kind of domestically-brewed beer not described as "mass market lager."
My hot take here is observing the irony of this situation. Redhook and Widmer Brothers, breweries that took on a minority stake from ABI and lost their status as "craft breweries," have regained their status now that a foreign multinational has acquired them. Tilray, according to the BA, qualifies as "independent" and "small." Okay then.
I'll be back in two weeks following a long overdue return to Madison, Wisconsin for a few rounds of skittles and New Glarus.
---
Roger Baylor is an entrepreneur, educator, and innovator with 41 years of beer business experience in metropolitan Louisville as a bartender, package store clerk, brewery owner, restaurateur, writer, traveler, polemicist, homebrewing club founder, tour operator and all-purpose contrarian.
As a co-owner (1990 – 2018) of New Albanian Brewing Company Pizzeria & Public House in New Albany, Indiana – founded in 1987, 1992, 2002 and 2009 – Baylor played a seminal role in metro Louisville's contemporary beer renaissance. He currently is beer director at Pints&union in New Albany.
Baylor's "Hip Hops" columns on beer-related subjects have been a fixture in Food & Dining Magazine since 2005, where he currently serves as digital editor and print contributor. He is a former columnist at both the New Albany Tribune and LEO Weekly, and founder of the NA Confidential blog (2004 – 2020).