As the valuable concept of institutional memory pertains to Louisville's food and dining scene, Robin Garr is one of a handful of local observers who can answer most questions.
Mr. Garr, didn't Mai's Thai originate in Louisville?
"Mai's Thai (got) its start in the back of an Old Louisville neighborhood grocer in 2000 before moving to its current quarters in Jeffersonville the year after."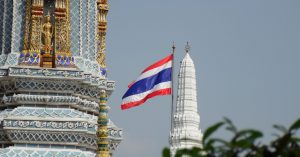 There you have it (the words are from Robin's upbeat 2018 review), which means Mai's Thai will celebrate its 20th anniversary in Jeffersonville this year. Owner and namesake Mai Kungkran Meyers is a beloved Southern Indiana legend, and I speak for many in expressing appreciation that she chose to bring her culinary skills to the Right Bank of the Ohio at a time when global flavor options were few in number.
In an October 27 special to the Louisville Courier Journal, writer Lennie Omalza spoke with representatives of three Louisville-area Thai restaurants to see how they were faring amid COVID-19 challenges. Samai Morris spoke for Mai's Thai.
Mai has a big heart and gives to local community charities and organizations and gives back to her country by helping restore temples and schools in Thailand every year with funds from her annual cooking class that happens the first Saturday in January every year. With the pandemic currently ongoing, we will not be able to have the class this coming January, which is disappointing to us and our customers.
Matters then took an unfortunate turn for the worse, which was explained a few days ago at Facebook by an unattributed Mai's Thai staffer:
"We are closed at this time. We want you to know that Mai truly is sorry for any inconvenience this may cause. Her husband passed away December 4th and she flew home to Thailand on January 7th to prepare his arrangements. It has been extremely hard this past year to keep the restaurant running with limited staff due to COIVD restrictions but we have done our best to keep providing fresh delicious food and good service that you deserve and that you have become accustom to.
"Please take notice that we have made the decision to close until she is back in the states as we only have had one cook in the restaurant making wait times more long and causing more stress on staff than we would like. Please know that we value your continued dedication and support for Mai's Thai and we hope to see you in the coming months. She is expected to return the end of February however she will have to quarantine when she returns and will have to prepare to restock our kitchen by prepping before we can reopen. Please continue to keep an eye on our FB page and website for reopening dates. Stay safe and well friends! God's blessings always!"
These are trying times for Mai's Thai, but this is a refreshing example of forthright communications, mercifully free of corporate-speak gobbeldygook, and indicative of the customer-as-family feel of an independent operator.
Mai's Thai is a SoIN icon, and we'll be keeping an eye out.
(Photo credit: Clark-Floyd Counties Convention-Tourism Bureau)