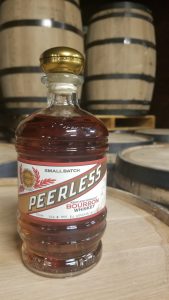 It's been over ten decades since Peerless has sold a bourbon, and this Saturday will mark the first time Peerless bourbon will be available without a prescription since Prohibition. The distillery, 120 North 10th Street, will host an event Saturday, June 22, from 10 a.m. until 5 p.m. where there will be complementary tastings every half hour. According to Head of Retail Peyton Beall, there will be close to 2,000 bottles available for $79 each with a two bottle per person limit. The first 100 people in line will get a special numbered bottle that says they were one of the first to own a bottle, and Master Distiller Caleb Kilburn will be on site to sign bottles.
"We're releasing four year, and then we will release five-year and then hopefully get up to ten year," said employee Jarrod Rampy, who said they expect about 1,000 people to show up. "We will be releasing single barrel bourbons as well."
Peerless is a small distillery who uses a sweet mash and produces about 8 barrels of rye and 12 barrels of bourbon each day compared to larger distilleries that produce thousands per day. Their history dates back to 1889 when Henry Kraver first opened a distillery in Henderson, Kentucky. World War I and Prohibition forced the closure of the distillery, but their whiskey was still available as medicine that required a prescription. In 2015, Kraver's great grandson, Corky Taylor, revived the brand with his own son, Carson Taylor.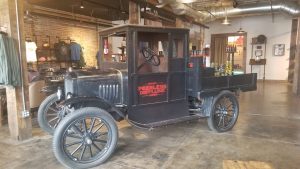 Beall mentioned that they still receive a lot of inquiries about the Lucky brand flavored moonshine they offered when they first opened in Louisville, but the line has been discontinued. Their sole focus now is on their whiskeys, and the focus has paid off. Their two-year small batch rye was named in the Top 20 whiskies in the world list by Whisky Advocate Magazine. It was both the only craft whiskey and the only rye whiskey to be awarded. Their single barrel rye whiskey varieties have creative names and flavor profiles like Brunch, Cherries Jubilee, Cocktail Shaker or Cinnamon Crumble.
"Every so often, Caleb will go through the rick house and pull out barrels with an interesting flavor profile and we'll put up front at the distillery," said Wadell. "These are barrels and flavor profiles we can't replicate and we rotate them as they sell out. There are some expressions we will put out around the state with a few cases at various restaurants. Those are kind of a seek and find."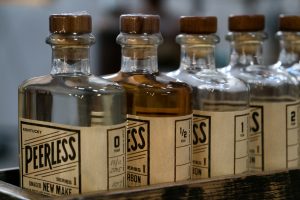 Although this four-year bourbon is their first bourbon to be individually bottled and sold in 102 years, they began releasing bottles included in the Series I set a few years ago. There are only 300 of the $1,000 set that includes seven bottles in a specially made stand. Those seven bottles show the changes bourbon undergoes as it ages, and the bottles are filled with fresh unaged bourbon that is totally clear, six-month old bourbon, one-year, two-year, four-year and five-year. The four-year bottle for the set will be released this December, and the five-year will be released in December 2020. These are only available as a set at the distillery.
Their spirits are available at select retailers, in restaurants and in their gift shop at the distillery. Tours are available Monday through Saturday at various hours and can be booked online or by calling (502) 566-4999 ($10 for veterans and under 21, $20 for over 21; active military is free).