Bart Watson, chief economist at the Brewers Association, recently conducted a survey of the nation's craft brewers. The results have opened eyes.
"The survey found that 2.5% of respondents said they were planning to close. Watson noted that there are currently around 8,150 active breweries in the U.S."
"If 2.5% of those breweries close, that would mean about 200 closures, 12.7% about 1,035 closures, and 46.4% about 3,785," (Watson) wrote. "Based on recent trends, it was likely that 4-5% of the breweries in the country would have closed in 2020 prior to this shock, so while some percentage of these closures and potential closures reflect business that were already struggling, most are brought on solely by this event."
Of course, the event in question is COVID-19, or more specifically, measures being taken by state and local governments to combat the virus' spread. For a deeper dive, go here:
Brewers Association Survey: 46% of Craft Breweries Say They May Be Forced to Close Within 3 Months, by Justin Kendall (Brewbound)
In Louisville the nervousness is palpable. Haley Cawthon of Louisville Business First undertook her own survey of local craft brewers: 'Nearly catastrophic': How the coronavirus crisis has impacted Louisville's breweries.
She spoke with the owners of Against the Grain, Goodwood, Gravely, Mile Wide and Monnik.
Late last week, I was interviewing Sam Cruz, co-founder of Against the Grain, for an upcoming profile piece. I started off by asking about the elephant in the room: "How are you guys doing right now?

"To be frank, it has been nearly catastrophic for our business," Cruz said.
In recent years, there has been a cyclical trend in craft brewing, with many brewers returning to a local taproom model emphasizing the on-premise experience, rather than trying to push beer through traditional (and saturated) wholesale distribution channels.
In short, maximum financial return comes when the middlemen are removed, and a customer enjoys a pint or two at the taproom, has a meal sourced from the evening's food truck, and leaves satisfied with packaged beer for home consumption and perhaps a t-shirt or other gear.
My friends at Daredevil Brewing in Indianapolis encapsulated their situation in two tweets.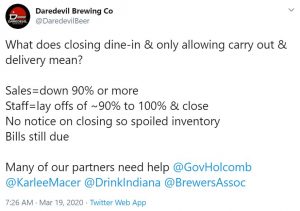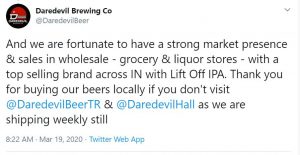 Daredevil is able to compensate (barely) for the loss of on-premise trade with a stronger market presence in canned beer than most breweries in Indiana have achieved; draft is down, too, because even though growler pours are temporarily legal in Indiana, there's a cost for establishments to acquire containers, and a lower margin on them than for on-premise pours.
Back in Louisville, AtG's Cruz had something very interesting to say to Cawthon:
"We're taking a good hard look at what we are doing in the interim to provide service to the community and potentially test out some business models that may be necessary going forward. The world is a different place now. I do not believe that we will go back to normal after all of this."
Our cover photo is from Monnik Beer Company, where family members and remaining employees all have been pitching in to get the canning done. The current objective for Louisville area craft brewers is to survive long enough to see what the "next" normal is going to look like.