Tim and Lori Laird are Food & Dining Magazine's officially designated Entertaining Editors-at-Large, co-writers of our "Easy Entertaining" column.
Brunch, the best of breakfast and lunch combined, makes for a great party. It can be celebrated any time for any occasion, but Derby Day seems the quintessential reason for brunch. Bring together local friends and out-of-town guests for a mid-morning meal before going to the track. Everyone can mingle and trade their best betting tips, tell tales about past races and compliment each other's hats. Fortified with good food, a few modest drinks to start the day and plenty of good cheer, it's off to the races!
Derby Day Brunch can be easy and affordable and can be adapted for a small, intimate group or a large party. It also gives you the perfect opportunity to bring out all your Derby-themed party gear — invitations styled to look like parimutuel tickets, your Derby glasses collection, horseshoe-shaped serving trays, jockey silk coasters, and fresh red roses.
For brunches, we like to set up a Bloody Mary Station, and for Derby Day Brunch, we like to serve Bourbon as the spirit of choice (but you can offer vodka, too, for traditionalists, or tequila for those who like Bloody Marias). Your guests can build their own with a selection of flavors and spices. Country ham is fashionable at a Derby Party, and the pâté we suggest is a way to incorporate it into the menu with a minimum of expense. Easy Hollandaise sauce goes with our crab cakes with poached eggs. Brunch mushrooms is a recipe that has been a family favorite for years. Poached salmon is always a hit and can be made the day before and served at room temperature. Our easy make-ahead dessert is a frozen lemon-lime mousse, a refreshing end to a decadent meal.
Enjoy your brunch with a few close friends or turn it into an open house with a buffet.The options are endless.
(Originally published in the Spring 2015 issue of Food & Dining)
Bloody Mary Station
Set out a pitcher of basic tomato juice or Bloody Mary mix, along with Bourbon (or vodka) and any or all of these garnishes:
Horseradish
Steak sauce
Finely grated Parmesan or blue cheese
Celery ribs, trimmed to fit glasses
Celery salt
Pickled mushrooms
Pickled asparagus spears
Pickled string beans
Pickled green tomatoes
Olives stuffed with garlic or blue cheese
Shrimp, cooked, peeled and chilled
Hot sauce
Jalapeño peppers
Pepper flakes
Balsamic vinegar
Lemon and lime wedges
Our favorite Bloody Mary recipe
In a glass with ice, add:
1½ ounces Old Forester Bourbon
5 ounces Bloody Kentucky Mix
Squeeze of lime
---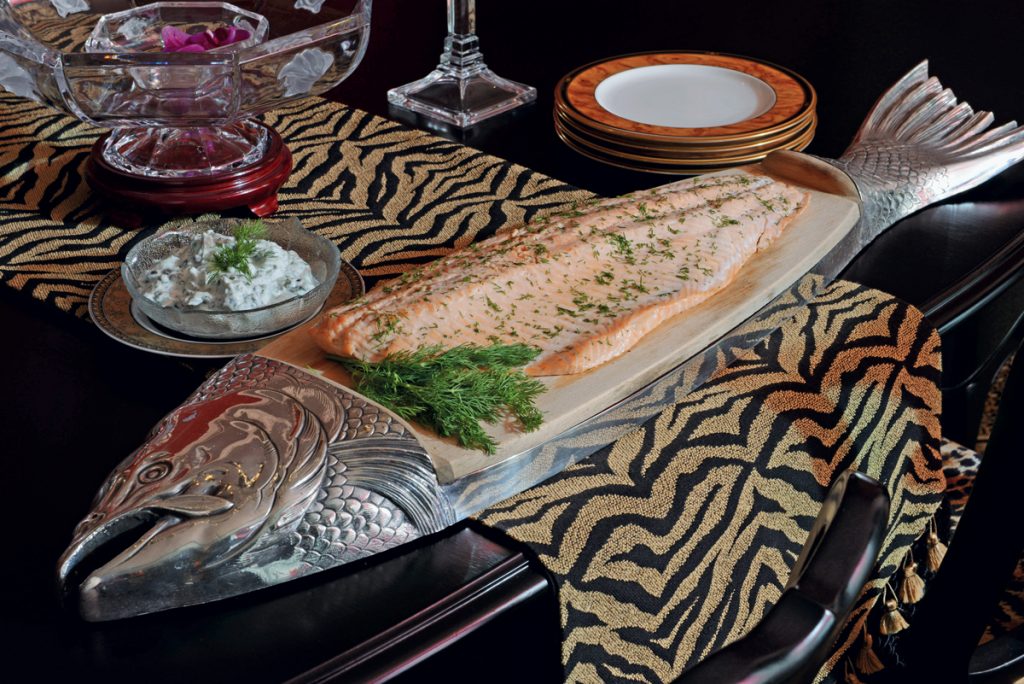 Poached Salmon with Herb Sauce
(Serves 12)
While a fish poacher is ideal for this recipe, a large deep roasting pan covered with heavy-duty foil can be used instead. Salmon can be poached earlier in the day and kept in the refrigerator until serving.
3-4 pound, top half of salmon, skin removed
Water
1 lemon, juiced
Black pepper
4 whole cloves
¼ onion, sliced
8 dill sprigs, 3 reserved for garnish
5 flat-leaf parsley sprigs
½ cup white wine, such as Chardonnay
Spray oil
Combine the water, lemon juice, pepper, cloves, onion, dill, parsley and wine in the bottom of the fish poacher. Liquid should just reach the bottom of the poaching rack. Place the fish poacher on your stove top, covering two burners. Bring to a boil. Coat the rack with spray oil. Place the salmon on the rack, skin side down, cover, lower heat to simmer and poach for approximately 10 minutes per inch of thickness of salmon. An instant-read thermometer should read 140° in the thickest part. Salmon can be served by sprinkling with pepper and snipped dill, with the Herb Sauce on the side.
Herb Yogurt Sauce
8 ounces Greek-style yogurt
1 tablespoon fresh parsley, finely chopped
1 tablespoon fresh dill, finely chopped
1 teaspoon fresh tarragon, finely chopped
¼ cup capers, drained
Kosher salt
Black pepper

In a small bowl, add the yogurt, parsley, dill, tarragon and capers. Stir to combine, then season to taste with salt and pepper. Cover and chill. (Will hold for up to two days.)
Steamed Asparagus

Trim off the woody stem ends of two to three pounds of fresh asparagus, and lightly scrape the thicker spears with a vegetable peeler. Place on a rack over an inch or so of water in a large pot, cover and bring to a boil. Steam for five minutes or until just tender and still bright green.
---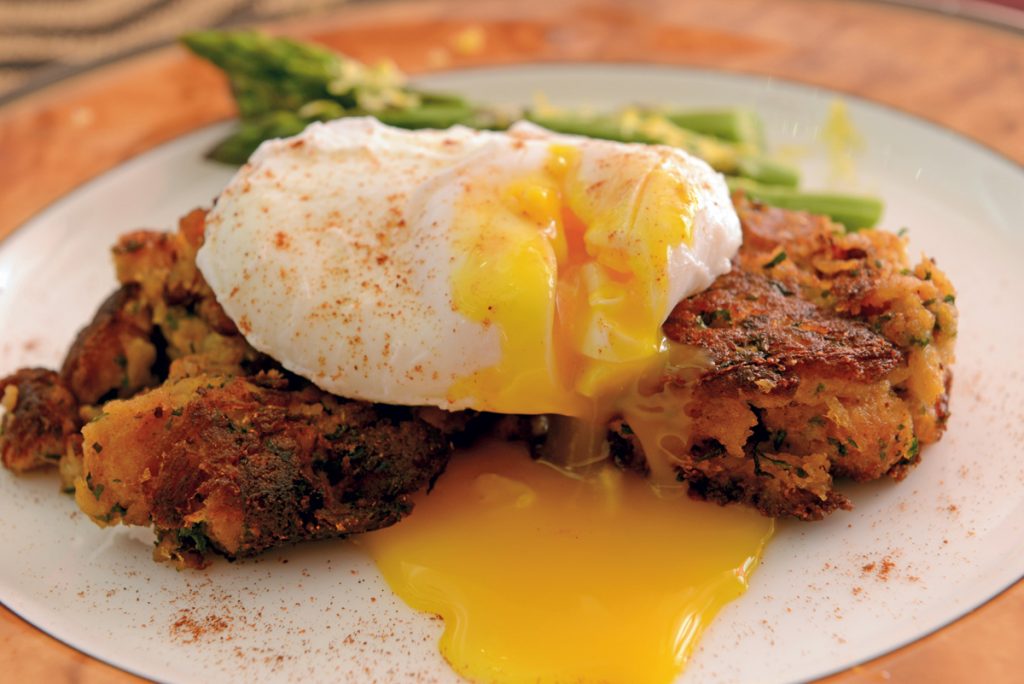 Crab Cakes with Poached Eggs
(Serves 6)
We buy pre-made crab cakes. Our favorite comes from Highland Fish Market in Middletown. Eggs can be poached a day ahead of time and kept in the refrigerator in a bowl of cold water. Reheat before serving by dipping them in a pan of slightly boiling water.
6 crab cakes
Water
2 tablespoons white vinegar
6 eggs
Paprika

Pour about three inches of water into a pan. Add the white vinegar and lightly salt the water. Bring to the boiling point. Break eggs into a cup first, then carefully slip them into the water one at a time.
Simmer eggs for three to four minutes or until set. Remove with slotted spoon, drain and pat dry with a dish or paper towel.
Cook the crab cakes until crisp on each side. Top with a poached egg and optional Easy Hollandaise Sauce (below). Sprinkle with paprika. Serve immediately.
Easy Hollandaise Sauce
2 egg yolks
1 teaspoon fresh lemon juice
8 tablespoons butter (1 stick), cut into tablespoon-size pieces
¼ cup boiling water
Dash salt
Dash cayenne pepper
In the top of a double boiler, whisk egg yolks and lemon juice. Add three tablespoons of the butter. Place double boiler over simmering water. Cook, whisking constantly, until butter melts and sauce begins to thicken. Add three more tablespoons of butter, whisk until butter melts, then add remaining two tablespoons of butter. Slowly whisk in boiling water. Continue cooking over simmering water and whisking, until mixture thickens, two to three minutes. Remove from heat. Stir in salt and cayenne pepper.
---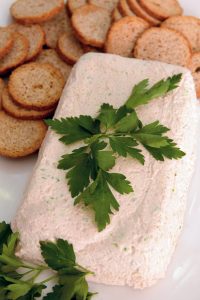 Country Ham Pâté (aka Ham Loaf)
(Serves 6)
From the book, "Country Ham: A Southern Tradition of Hogs, Salt & Smoke," by Steve Coomes.
1 7-ounce package fully-cooked country ham, minced
2 8-ounce packages cream cheese, softened
1 bunch green onions, chopped
Dash liquid smoke
Dash Worcestershire sauce
Dash garlic powder
Dash hot sauce
Blend all the ingredients together until fully incorporated. Serve on bread or crackers.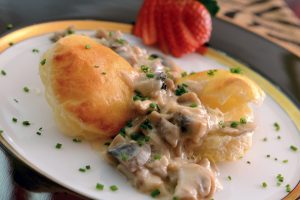 Brunch Mushrooms
(Serves 6)
For a more upscale version, use shiitake mushrooms or use a combination of your favorite wild mushrooms.
12 tablespoons butter (1 ½ sticks)
1 cup shallots, chopped
1 pound white button mushrooms
1 cup Chardonnay or dry white wine
2 cups heavy whipping cream
6 puff pastry shells or toasted bread slices
Chives, finely chopped
In a large sauté pan, melt the butter over medium heat. Add the shallots and sauté until just translucent in color. Add the mushrooms and cook until they are just caramel in color. Push the mushrooms and shallots to one side, de-glaze the pan with the wine, and boil gently until wine is reduced by half. Add the whipping cream, stir to combine, and cook slowly until reduced to a thick consistency. Serve over puff pastry shells or toasted bread. Garnish with chopped chives.
---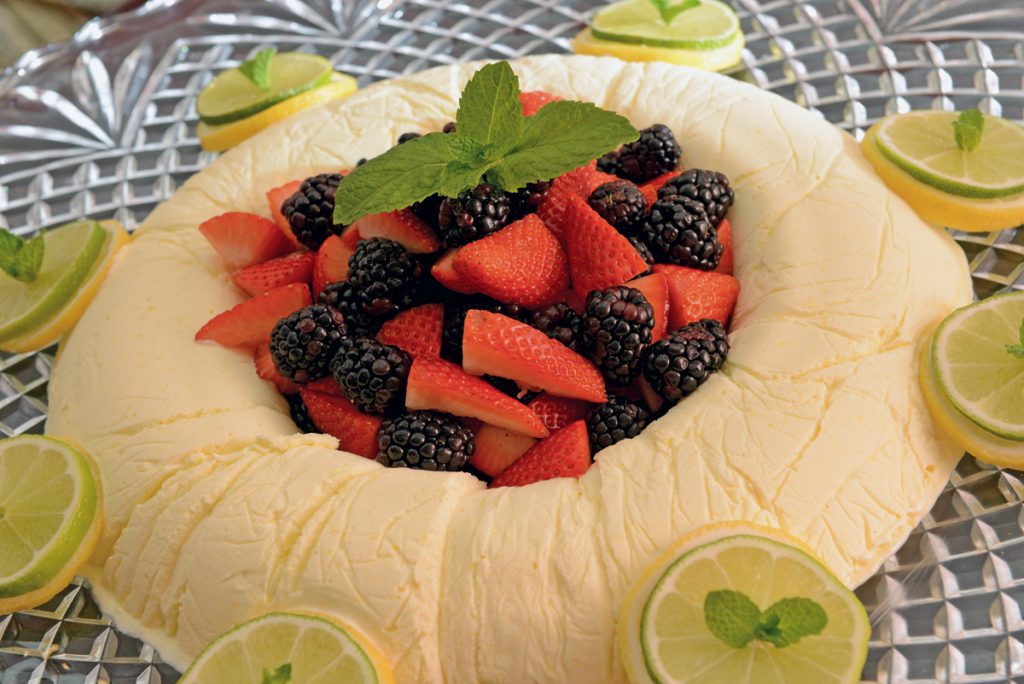 Frozen Lemon-Lime Mousse with Berries
(Serves 12)
The mousse can be made a week in advance and kept in the freezer.
1½ cups sugar
8 egg yolks
1⁄3 cup fresh lemon juice
1⁄3 cup fresh lime juice
5 tablespoons butter, cut into tablespoon-size slices
2 teaspoons lemon zest
2 cups heavy whipping cream
Blackberries
Strawberries, sliced
Lemon, sliced
Lime, sliced
Mint sprigs
Line a 12-cup ring mold with plastic wrap, allowing plenty of plastic to overhang the edges as this will be folded over to cover the entire mold. In a large metal bowl, whisk the sugar, egg yolks, lemon juice, lime juice, butter slices and lemon zest. Set the bowl over a pan of simmering water (do not let the bowl touch the water). Whisk about six minutes, until the temperature reaches 180° Fahrenheit on a candy thermometer. Remove the bowl from the heat, and using an electric mixer, beat until cool and thick, about eight minutes.
In another large bowl, beat the whipping cream until stiff peaks form. Fold the whipped cream into the egg mixture. Spoon into the mold, smooth the top and cover with the excess plastic wrap. Cover and freeze overnight.
To serve, unwrap the frozen mousse and turn out onto a serving platter. Peel off the plastic wrap and mound the berries in the center. Garnish with lemon and lime slices and mint. F&D