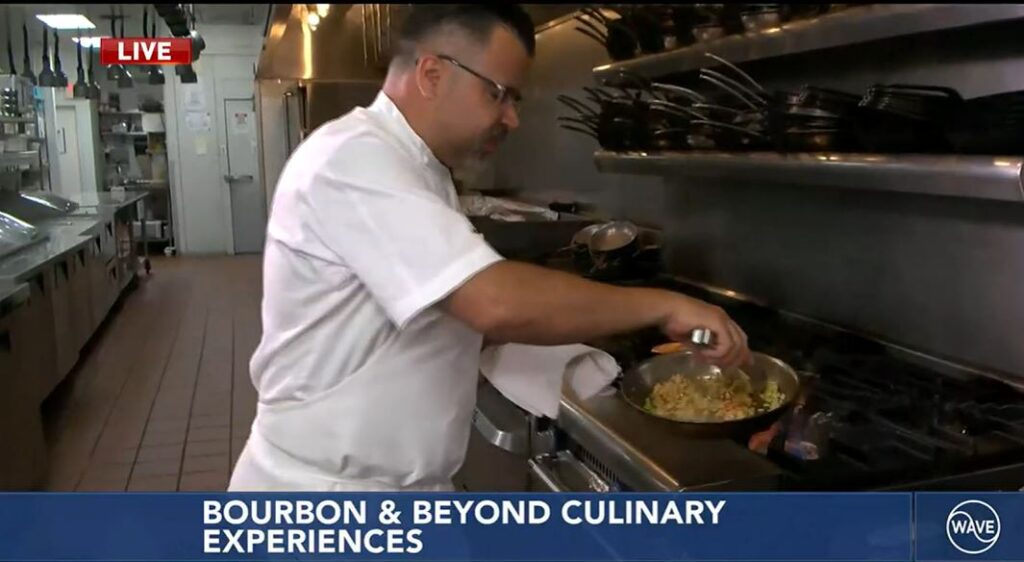 Watch Anthony Lamas at work at WAVE-3.
Welcome to the second of three Food & Dining Magazine previews of Bourbon & Beyond, the world's largest bourbon-themed music festival, which takes place right here in Louisville from Thursday, September 15 through Sunday the 18th at the Highland Festival Grounds (i.e., the Kentucky Exposition Center, 937 Phillips Lane).
Saturday, September 10 … Bourbon & Beyond: The Bourbon
Seemingly no stone has been left unturned in planning Bourbon & Beyond, and it's a very pleasing sensory overload just reading the information release or perusing the web site. General admission and VIP passes in a variety of configurations are available at Bourbon & Beyond.
Website: BourbonAndBeyond.com
Facebook:@bourbonandbeyond
Instagram: @bourbonandbeyond
Twitter: @bourbonNbeyond
Hashtag: #BourbonAndBeyond
The full culinary schedule appears below.
Kentucky Venues Culinary Stage presented by Kentucky Proud and GE, hosted by Ed Lee & Chris Santos
Leading the Culinary Atelier demonstrations on the Kentucky Venues Culinary Stage presented by Kentucky Proud and GE are hosts Ed Lee and Chris Santos of respective Top Chef and Chopped fame. They will be joined by renowned chef personalities including Amanda Freitag, Antonia Lofaso and Damaris Phillips, among others. In addition, James Beard nominee Anthony Lamas of Louisville's Seviche will be providing a fine dining experience for Beyond VIP and Rocks Room presented by Zelle guests throughout the festival weekend.
Thursday, September 15
4:35 – 5:05 PM: Big Green Egg's James Peisker x Chris Carter
The dynamic duo, James Peisker and Chris Carter, have cultivated the butchery game from Nashville and beyond. They stand behind their words, "if it's not raised right, it can't be delicious" working closely with local farmers and premium products. They'll be sharing their mastery on the Bourbon & Beyond stage using none other than the Big Green Egg.
5:50 – 6:20 PM: Antonia Lofaso x Hogslop String Band
Antonia Lofaso, chef, author, TV personality and mother has cooked around the globe. Her signature style blends different flavors, techniques and cuisines all while staying approachable, authentic and delicious! We can't wait to have Hogslop String Band join chef Antonia for some tasty bites!
Friday, September 16
2:30 – 2:55 PM: Ouita Michel x Tyler McNabb of Holly Hill & Co.
Famed chef and author, Ouita Michel will be joined by her right hand executive chef, Tyler McNabb to celebrate the bountiful produce of Kentucky. Maybe a lucky few will get to taste a bite or two?
4:35 – 5:05 PM: Damaris Phillips – Southern Girl Meets Vegetarian Boy
Southern darling, Chef Damaris Phillips will return to the Bourbon & Beyond stage to delight us with her amazing vegetarian dishes. This year her treat might be sweet! And for her biggest fans she'll bring her "thrift store finds" for a lucky one or two to guess just right!
5:30 – 6:00 PM: Ed Lee and Special Guest
The hometown author, TV personality and beloved Chef Ed Lee, is taking center stage. This year he'll be joined with a special guest. It's sure to be fun, festive and flavorful!
Saturday, September 17
1:30 – 2:00 PM: Sam Fore x Neil Finn
Sam Fore, a first generation Sri Lankan- American chef, hailing from Lexington, KY has created a beautiful (and delicious) blend of Southern classic dishes with her traditional family recipes. None other than Crowded House's Neil Finn will be joining her to taste test this firsthand!
2:55 – 3:25 PM: Tiffani Faison x "The Always Sunny" Podcast
"The Always Sunny" crew will meet their match with chef Tiffani Faison. Jokes will be shared over platters of bar classics and some show faves using The Gang's new Four Walls Irish American Whiskey. Rum ham meets Irish whiskey, anyone?
4:15 – 4:45 PM: The Battle of Bourbon & Beyond with Chris Santos x Greta Van Fleet
Greta Van Fleet will join rockstar in the kitchen, Chef Chris Santos for a battle of epic proportions. Sam and Jake Kizka go head to head in the ultimate burger showdown. Armed with weapons of choice – Bourbon, Bacon, Mac n Cheese, Avocado and more… Who will come out on top? This will be one not to miss!!
Sunday, September 18
3:00 – 3:30 PM: Amanda Freitag x Gin Wigmore
Amanda Freitag is back at Bourbon & Beyond to captivate our taste buds! We're excited to see what she "chops" up for the crowd with her sous side kick, Gin Wigmore.
4:25 – 4:55 PM: Northern Soul With Justin Sutherland
Justin Sutherland's signature style smoothly crafts Southern cuisine with Northern sensibilities. He'll share a dish from his new cookbook, that highlights his Northern Soul inspired by his southern roots.
6:00 – 6:30 PM: Dant Crossing, Dave Danielson | Better In The Bluegrass
Chef Dave Danielson has been at the helm of some of KY'S most memorable culinary moments. He'll give us a glimpse of what truly is better in the bluegrass!
—
In addition to more than 80 music acts over 4 days, attendees at Bourbon & Beyond can enjoy some of the best food and drinks that the Louisville area has to offer, as well as various sponsor activations and experiences.
● Boone's Bourbon Speakeasy: Expect the unexpected and escape from the crowds when you step into our very own drinking den that's serious about cocktails. Tell any of our down-home deft bartenders what kind of flavors you fancy and they'll make you a custom creation unlike any other. While of course we feature the classics, don't pass by our long list of spirits or seasonal house cocktails that changes by the day without missing a beat. 21+
● Brother's Bond: Stop by the Brother's Bond pergola for a break from the sun and a #TimeToBond with your fellow festivalgoers! While bartenders mix up custom cocktails you can take a photo in our photo booth or lounge in our seating area before the next set. 21+
● Bulleit Arcade: Enjoy some 80's nostalgia in the fully immersive Bulleit Bourbon Arcade. Featuring newly restored classic's to brand new state of the art games this Free Play palace is the place to be all weekend long.
● Four Walls (Always Sunny in Philadelphia): The Gang's all here! Members of "It's Always Sunny in Philadelphia" have come together to create a classic bar brand, a whiskey blended for bartenders and built to be a tribute to the barroom itself – to the Four Walls that hold our good times in and keep our troubles out. The initial limited-edition blend is an Irish American Whiskey. Fans can get their lips on some of this rare liquid at the Four Walls activation at Bourbon & Beyond to go alongside Glenn, Rob & Charlie's The It's Always Sunny Podcast Live debut on Saturday, September 17th. 21+
● George Dickel Flight School: Take Flight and discover the Art of Bourbon when you take flight with George Dickel at Bourbon & Beyond's Flight School during Bourbon and Beyond! Chat with Master Distiller Nicole Austin and find your favorite expression. Stop by The George Dickel Flight School experience where guests will receive a flight of Bourbons and a 15 minute interactive educational session to pair! 21+
● Kiamichi: Bourbon & Beyond is all about family, and so are Kings of Leon and Willett Distillery. This year at Bourbon & Beyond, you can get your hands on the limited-edition 'good stuff' with Kiamichi during Kings of Leon's headlining performance and all weekend long. Named after the river the Followill family has gathered along, year after year to party and generate their family's best memories, stop by the Kiamichi activation so you can celebrate your best memories with Bourbon & Beyond. 21+
● Pegasus Distilled: Kentucky's Bourbon experiences don't just stop at the festival. Pegasus Distilled takes on Bourbon & Beyond to bring you elegant chauffeured services, customized tours, and luxury event transportation to elevate your bourbon experiences to the next level. Visit them to find experiences that'll continue the magic beyond the festival! 21+
● Rocks Room: presented by Zelle® Louisville just got a little more… purple. Welcome to Rocks Room presented by Zelle®, Bourbon & Beyond's first premium restaurant, bourbon tasting, and intimate performance experience all in one place. By transacting with Zelle®, festival ticket holders can unlock expedited entry and one elite perk. From Fred Minnick's Blind Bourbon Tasting to Chef Anthony Lamas 4 Course Dining, intimate artist performances including, Shakey Graves, Courtney Barnett, St. Vincent and Caamp, you won't want to miss this culinary experience of a lifetime.
● T-Mobile: Chill out and charge up all weekend long at T-Mobile Club Magenta – the ultimate FREE viewing deck experience. Score sweeping views, charging stations, a private bar and complementary lawn chairs for T-Mobile customers (first-come, first-serve; limited quantities). Club Magenta is open during festival hours, with expedited entry for T-Mobile customers.
Curated by Southern Hospitality Concessions LLC, DWP's affiliate concessionaire, selections from the following vendors will be available from Louisville's Finest: 502 Café, Big Momma's, Blackbeard Espresso, Caffe Classico Empanadas, Ehrler's Ice Cream, Fistfull Of Tacos, Gelato Gilberto, Happy Belly Bistro, Iroquois Grill, Longshot Lobsta, Pizza Lupo, Ramiro's Cantina, Red Top Dogs, Spinelli's Pizzeria, as well as festival fan favorites: Angry Bird Grill, Bangarang Bahn Mi, BBQ Highlife, Bru Bros Coffee, Burger Factory, Chicken Mac Truck, Da Big Show BBQ, Event Specialists, Funnel Cake Fantasy, Gary's Philly Cheesesteaks, Island Noodles, Jammin Concessions, Mac Attack, Food, Phat Daddy's Cajun, Pie Baby Pizza, Pizza Revolution, Rice Rice Baby, Spicy Pie Pizza, Stoked Poke And Açai, and Twisted Tots. Vegetarian, vegan and gluten-free options are listed here.
Bourbon & Beyond would also like to thank its 2022 Kroger Big Bourbon Bar Partners: Angel's Envy, Bardstown, Boone's Bourbon, Brother's Bond, Bulleit, Calumet Farm, Elijah Craig, Four Roses, George Dickel, Huber's Starlight Distillery, Jack Daniel's, Jefferson's, Kentucky Peerless, Larceny Bourbon, Legent, Maker's 46, Michter's, Middle West Spirits, Nelson's GreenBrier, Old Forester, Rabbit Hole, Red Line, Resilient, StoneHammer, Uncle Nearest, Wilderness Trail, & Wild Turkey. As well, Bourbon & Beyond would like to thank its 2022 KDA Craft Bar Partners: Bard Distillery, Blue Grass Distillers, Boundary Oak Distillery, Log Still Bourbon, and New Riff Distillery.
The COVID-19 policies for Bourbon & Beyond, will not require attendees to be masked, vaccinated or tested to attend Bourbon & Beyond. However, festival organizers do encourage fans to stay safe and will have increased sanitization stations throughout the festival. For more, go here.
Bourbon & Beyond thanks its premier and non-profit partners.