BOURBON NEWS & NOTES – for 19 November, by Susan Reigler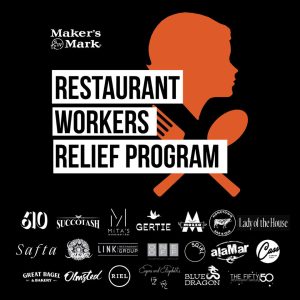 Release Party for the Latest LEE Initiative Maker's Mark CommUNITY Batch
During the months-long shutdowns of restaurants during the pandemic, The LEE Initiative (Let's Empower Employment) and Maker's Mark teamed up to raise money through the sales of specially chosen selections of Maker's, dubbed the CommUNITY Batch. The funds allowed the LEE Initiative to support the food, beverage, and hospitality industry with freshly cooked meals, much needed supplies, and more with 19 relief kitchens established across the country.
Restaurants still need support and so a second CommUNITY Batch has been created by using stave percentages from more than 20 Maker's Mark Private Selection expressions chosen by whiskey clubs working in collaboration across the country. That batch will be released during a special program on Tuesday, 30 November (Giving Tuesday). Each $100 ticket includes a barbecue box lunch for two prepared by The LEE Initiative's Women Culinary and Spirits Program current mentees, and one bottle of Maker's Mark CommUNITY Batch 2021. Additional bottles are available for add on purchases. Tickets are available at https://www.leeinitiative.org/makers-community-batch.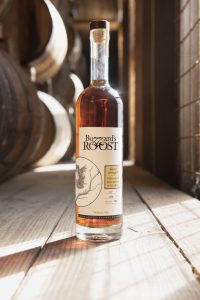 Buzzard's Roost Has Released a Bourbon
Buzzard's Roost Whiskey launched its first Bourbon on 9 November at its new home, Bardstown Bourbon Company where all of Buzzard Roost's products will now be stored and then bottled. The bourbon is the latest edition to the brand's portfolio of premium whiskeys that until now have exclusively been ryes – Very Small Batch, Single Barrel, Barrel Strength, Toasted Barrel, and Peated Barrel.
"We are very proud of our first Bourbon…  [Our] focus is on creating exceptional whiskies … and our team has used a great deal of finesse to create a Bourbon that is like no other," said company Co-founder and CEO Judy Hollis Jones in a prepared statement. The head of that team is master blender Jason Brauner who choses sourced whiskeys, combines when deemed appropriate, and sets them aside for additional aging in barrels that have had customized seasoning, toasting, and charring.
Buzzard's Roost Bourbon is a four-year-old barrel-strength (114.4 proof) blend of two rye-based mash bills distilled in Indiana. It features notes of caramel, dark chocolate, baking spices, orange peel, dark fruit, coconut, cherry, citrus, and aging tobacco. The suggested retail is $84.99.
Bamboozled from Wiltshire on Market
Among the earliest restaurants to open when NULU started to sprout fascinating shops and eateries was Wiltshire on Market, https://wiltshirepantry.com/wiltshire-on-market/. One of the establishments of restauranteur and caterer Susan Hershberg, it survived the pandemic and is still serving elegant, delicious, and eclectic fare, with a menu that changes every two weeks. Veteran mixologist Aaron Price's cocktail list is every bit as excellent as Chef Akeem Norris's creative menus. I enjoyed his Bamboozled on a recent visit and he has very kindly passed along the recipe.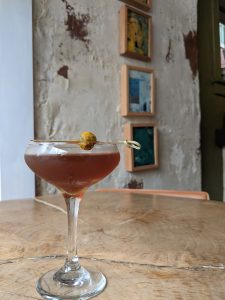 Bamboozled
2 ounces Bourbon (low rye style works best)
½ ounce Turmeric Pink Peppercorn Syrup*
½ ounce Averna
2 dashes Bitter Truth Aromatic Bitters
Stir all ingredients over ice. Strain and serve in a coupe glass with a turmeric dusted Luxardo cherry
*Turmeric Pink Peppercorn Syrup
2 cups Demerara Sugar
3 cups  Water
1 cup Turmeric (peeled & chopped)
4 tablespoons Pink Peppercorns
Thoroughly mix all ingredients in a pot. Bring to boil (stirring constantly) and immediately reduce to light simmer. Simmer for approximately one hour. Let cool. Strain out turmeric and peppercorns. Store in refrigerator.
This week's photo credits: LEE Initiative, Buzzard's Roost, Aaron Price. 
******************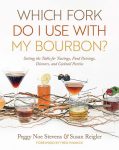 F&D Bourbon Columnist Susan Reigler is the author of several whiskey books, including Which Fork Do I Use with My Bourbon? –  Setting the Table for Tastings, Food Pairings, Dinners, and Cocktail Parties and Kentucky Bourbon Country: The Essential Travel Guide. Autographed copies are available from Carmichael's Bookstore. They can also be purchased on Amazon, or directly from the publisher: 
https://www.kentuckypress.com/9781949669091/which-fork-do-i-use-with-my-bourbon/
https://www.kentuckypress.com/9780813180311/kentucky-bourbon-country/