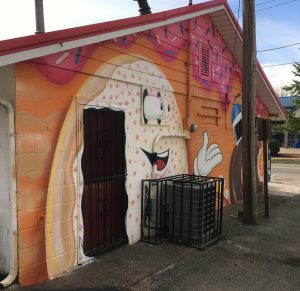 If you're a native New Albanian, Honey Creme Donuts feels like a civic birthright, but contrary to common assumptions the shop did not wash ashore with New Albany's founding Scribner family back in 1813.
It only seems like it's been that long.
The family-owned business actually dates to the late 1940s, making it one of the last remnants of New Albany's postwar food and drinks scene.
Today Honey Creme Donuts continues to defy the chain-happy Dunkin' Donuts-ization of the commercial landscape, still ensconced in its small, cozy (and since 2016, wonderfully repainted) building at 514 Vincennes Street, and still making customers like the Bakery Boy happy.
Honey Creme Donuts is a classic little old-fashioned donut shop that just happens to sit at the corner of Donut Alley and Vincennes Street in downtown New Albany. Well, not "just happens to," exactly. Four generations of loyal customers have patronized this long-operating shop, often parking in a narrow side street while running inside to grab some snacks, and people usually referred to that street as Donut Alley. Eventually, the city went ahead and made the designation official, with signs and all, since everyone called it that anyway.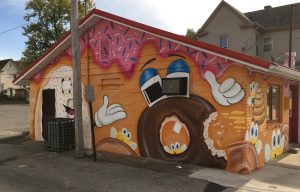 As most independent small business owners understand, longevity seldom accrues without a slow and constant process of reinvention. For those who didn't get the memo, the pandemic has proven to be an upper-level refresher course in strategy, tactics and execution.
In the case of Honey Creme Donuts, it recently became obvious that a previous effort to institute drive-through service was capable of being revived, via access provided by Donut Alley. This week the drive-through went live, and there's even a handy tutorial.

At the News and Tribune, reporter Makenna Hall has a deeper dive.
New Albany donut shop Honey Creme opens drive-thru
Now, the legacy continues with Andrea Van Horn, who married into the family and now owns the local business.
"Just being a part of it makes me feel like it's Christmas every day," Van Horn said of the business.
"It's the perfect season, it's the perfect opportune time with what's going on in the world to have a drive-thru. I think it's important," Van Horn said.
Honey Creme's hours are 4:00 a.m. to 1:00 p.m. from Sunday through Thursday, and 4:00 a.m. – 6:00 p.m. Fridays and Saturdays.