BOURBON NEWS & NOTES – for 27 November 2020, by Susan Reigler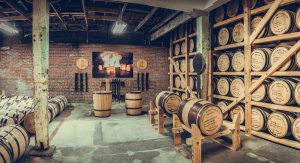 Kentucky Peerless's Latest Single Barrel Releases
Kentucky Peerless in Louisville is notable both for producing sweet mash bourbons and ryes and for a continuing program of single barrel releases. In case you are not a hardcore whiskey geek, know that most bourbon is made by the sour mash process, in which a portion of mash from one fermentation is added to the next fermentation batch, much like bakers save sourdough starter.  It helps maintain consistency from one batch to the next. Sweet mash is trickier because the fermentation process starts from scratch each time without the addition of that portion, called backset.
The very limited-edition single barrel releases out this week consist of three bourbons –  Double Oak III, The Beekeeper, Low & Slow – and three ryes – Wolf of Rye Street, Prickly Pear Manhattan, Smoked Chocolate & Cherries.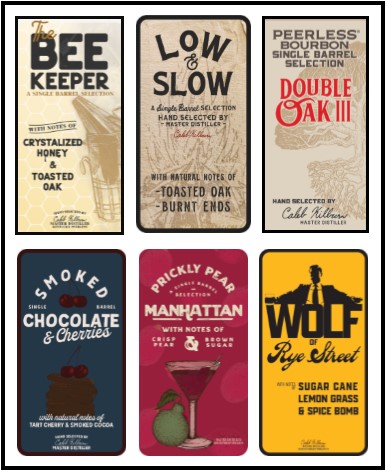 The characteristics of the individual barrels in which they were aged, such as variations in toast and char levels and secondary aging in another oak barrel, result in a medley of different flavor notes in the six different whiskeys including various fruits, brown sugar, honey, herbs, and spices.
You can shop for curbside pick-up at https://kentuckypeerless.com/online/. Each single barrel release retails for $124.
And while you are on the Peerless website, check out the short video on how to make a Smoked Peerless Orange & Sage Old Fashioned. Note: You will need a blowtorch. (This is not as dangerous as it sounds.)
In addition to the blowtorch, you will need:
Piece of wood to which to apply the flame
2 ounces Peerless Bourbon
½ ounce orange sage simple syrup (The video explains how to make it.)
2-3 dashes Angostura bitters
Orange peel  and sage leaf for garnish
You can watch the video of single barrel curator John Waddell making the cocktail at https://kentuckypeerless.com/cocktails/bourbon/old-fashioned/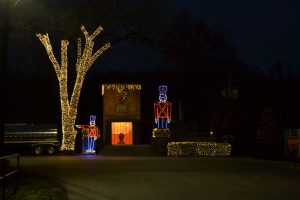 Tis the Season for the Buffalo Trace Distillery Light Display
Starting Thursday, 3 December Buffalo Trace Distillery in Frankfort will once again be decorated with some 150,000 tiny lights for its annual drive-through festive display. The free tour of the grounds runs from 5:30 to 9:30 p.m. each evening and includes four newly designed displays near the expanded Visitor Center.
From 5:30 to 7:30 p.m. on the 3rd, 10th, 11th, 12th, and 13th of December, Santa Claus will be stationed by the driving route where he will wave to visitors from behind the safety of Plexiglass.  Since Santa can't take live requests, there will be a squad of (presumably masked) elves on hand to take children's letters from their families' cars to a special North Pole mailbox, which Santa will be able to read on his way back to the Arctic. The Visitor Center and Gift Shop will not be open during these drive-through only hours, but shopping is available online. For shopping and more tour information, http://www.buffalotracedistillery.com.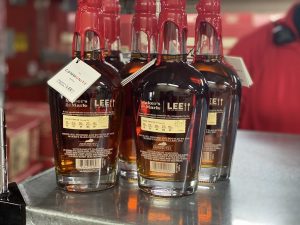 Addendum to Last Week's Maker's Mark/LEE Initiative Article
Last week I reported on the limited release Maker's Mark CommUNITY bottle created in partnership with the LEE Initiative to raise funds for restaurant workers in financial distress. In addition to the Kentucky restaurants that contributed – Jeff Ruby's Steak House, Keeneland, The LEE Initiative, Silver Dollar, and 610 Magnolia – the Bluegrass Hospitality Group that includes Drake's and Malone's in Louisville and Lexington also took part.
You can go to www.leeinitiative.org/makers to find out how to buy a bottle and participate in virtual events on #GivingTuesday (Dec. 1, 2020).
This week's photo credits: Kentucky Peerless Distillery, Buffalo Trace Distillery and Maker's Mark.
******************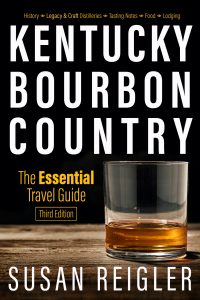 F&D Bourbon Columnist Susan Reigler is the author of several whiskey books, the most recent being Kentucky Bourbon Country: The Essential Travel Guide, 3rd edition.
Autographed copies are available from Carmichael's Bookstore. It can also be purchased on Amazon, or directly from the publisher at https://www.kentuckypress.com/9780813180311/kentucky-bourbon-country/