Summer in Louisville is a Vegan Paradise
Summer! What a wonderful time it must be to be a vegan in Louisville. I am not a vegan (one philosophically and morally committed to avoiding consuming any products, food or apparel derived from animals), but I often cook vegan meals, and look forward in the summer to eating lots of the excellent fresh vegetables and fruits grown by local farmers and sold at the burgeoning number of farmers markets in the area.

(Originally published in the Summer 2019 issue of Food & Dining)

I try to cook all-vegetable meals several times a week in the summer and find I don't miss meat or other animal products (cheese, yogurt or egg-based sauces) at all at such meals.
Now, I don't go long without eating meat, poultry, fish or dairy products, so I don't think I have experienced "meat hunger." But apparently, meat hunger is a thing, and one that local vegans seem to experience if the menu offerings of local vegan restaurants are a guide. Diners who don't want to actually consume animal products still seem to want the taste of meat and cheese—or as close as industrial food processing can get to the taste of meat and cheese by treating vegetable protein with texturizers and artificial flavorings.
Hence, local vegan diners can confront the ontological paradox of avoiding eating actual chicken, beef, pork, fish or cheese by ordering a chicken parmesan sandwich made with oyster mushrooms, a crab patty made with jackfruit, Buffalo chicken wings made with seitan (a product gluten-sensitive stomachs should avoid since it is processed wheat gluten), or a roast beef sandwich made with tofu and topped with cheese made from nuts.
The mystery for omnivores is why such items cannot be more honestly labeled as oyster mushroom sandwich, jackfruit patty, Buffalo seitan strips, and sliced roasted tofu sandwich with finely ground nut sauce.
I'm here to celebrate vegan cooking based on fresh vegetables and fruits, flavored with fresh or dried herbs and spices, and presented as what the food honestly is. For those who subscribe to "clean eating" in the best sense of that term, recipes such as these, made with ingredients that are fresh and locally produced as much as possible, are the best way to go.
During this part of the summer, area farm markets offer an enormous variety of beautiful, freshly-harvested produce – and many operate on the weekend. There is probably a market near you. Here are links to a few of the area's most popular markets:
The Original Bardstown Road Farmers' Market; Douglass Loop Farmers Market; St Matthews Farmers Market; New Albany Farmers Market.
---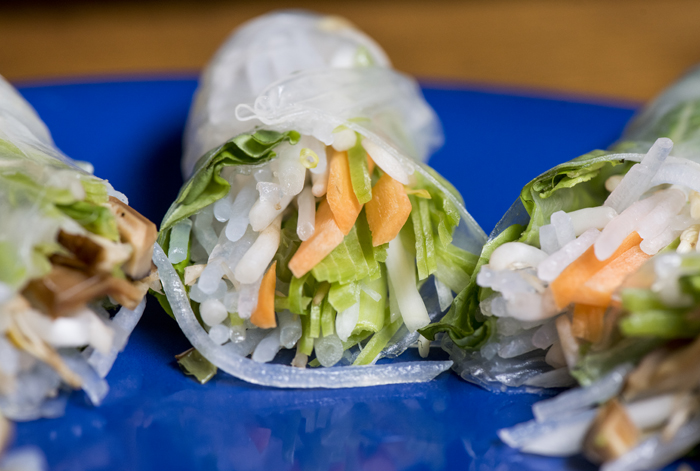 ---
Vietnamese Spring Rolls
(Makes 12 spring rolls)
3-4 dried shiitake mushrooms
2 1¾-ounce packages cellophane noodles, also known as bean thread noodles
2 carrots, scraped and cut into thin julienne
1 cup snow peas, strings removed and cut into fine julienne
1 cup bean sprouts
12 6- to 8-inch inch rice papers
12 large fresh basil leaves
24 fresh mint leaves
3 scallions, cut into thin slivers
Salt and pepper to taste
Boston or leaf lettuce for serving garnish
Peanut dipping sauce (recipe below)
Soak the dried mushrooms in hot water for 30 minutes. Drain, remove stems carefully and discard (or compost), and slice the caps into fine julienne. Set aside.
Soak the cellophane noodles in boiling water until soft, 5 minutes or so. Drain and set aside.
Bring a pot of water to a boil for blanching vegetables. Blanch carrots and snow peas separately, each for about 1 minute. Remove, drain and keep vegetables in separate bowls. For easiest construction of the rolls, arrange all ingredients in separate work bowls on the counter in front of you. (Here is where an orderly mise en place is essential.)
Lay out a clean kitchen towel on the counter. Fill a wide, shallow bowl half-way with warm water. Soak rice paper sheets one at a time until pliable, about 30 seconds or so. Arrange soaked rice paper as smoothly and evenly as you can on the towel, and place 2 mint leaves end-to-end across the lower third of the rice paper. On the mint leaves place about two tablespoons of the bean threads followed by about 1 tablespoon each of the mushrooms, carrots, bean sprouts and snow peas. Sprinkle with scallion and season lightly with salt and pepper. Fold the bottom of the rice paper over onto the vegetables, fold in the sides evenly and roll one turn. Add a basil leaf and continue rolling until you have a tight cylinder. Assemble the remaining spring rolls in the same fashion. Once assembled, the spring rolls will keep—covered with a damp towel and plastic wrap—for up to six hours in the refrigerator.
To serve, cut each spring roll in half. Arrange the rolls on a platter covered with lettuce leaves. Serve with a peanut dipping sauce.
For the Peanut Dipping Sauce
(Makes about 1 cup)
3 tablespoons chunky peanut butter
1 teaspoon finely grated fresh ginger
2 cloves garlic, peeled and grated
2 scallions, trimmed and very finely chopped
1⁄3 cup vegetable broth
3 tablespoons soy sauce
2 tablespoons rice wine vinegar
2 teaspoons sugar
3 tablespoons chopped fresh cilantro
1 teaspoon hot sauce of your choice
Combine all the ingredients in a bowl and whisk until smooth. Correct the seasonings, adding soy sauce, vinegar or honey to taste.
---
---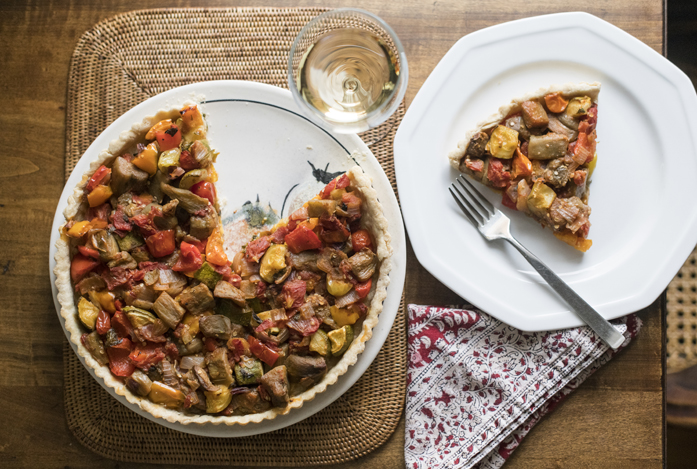 Ratatouille Tart
(Serves 6)
1 prepared pie crust
½ cup olive oil, divided
1 small onion, peeled and cut into ½-inch dice
1 large Japanese eggplant, trimmed, quartered lengthwise and sliced 1⁄3-inch thick
2 red bell peppers, cored, seeded and cut into 3/4 inch pieces
1 zucchini, trimmed, quartered lengthwise and sliced into 1⁄3-inch chunks
1 cup fresh tomatoes, seeds removed and chopped or 1 8-ounce can crushed tomatoes
2 tablespoons chopped fresh oregano or 1 teaspoon dried
1 teaspoon red wine vinegar
On a lightly floured work surface, roll out the pie crust so it fits into a 9-inch fluted tart pan with removable bottom. Press to fit with your fingers, trimming off any excess. Heat oven to 375 degrees. Line the dough in the pan with parchment paper or aluminum foil and fill with pie weights. Bake 15 or 20 minutes until edges of dough start to brown. Remove the weights and lining and bake until crust is light golden brown, another 8 to 10 minutes or so. Remove from oven and let cool.
While the crust is baking, make the ratatouille. In a large saucepan heat 2 tablespoons of the olive oil and when shimmery add the onion and cook, stirring, over moderate heat until softened. Add the eggplant and 3 more tablespoons olive oil, season with salt and pepper and cook, stirring occasionally, until starting to soften, about 5 more minutes. Add the red peppers, zucchini, and the remaining 3 tablespoons of olive oil and cook until soft, another 10 minutes or so. Stir in the tomatoes and oregano and cook until the vegetables are tender and the sauce is thick, about 20 minutes. Stir in the vinegar, season with salt and pepper and spoon into the tart shell. Return to oven until heated through, 15 minutes or so. Slice into wedges to serve as a main course.
---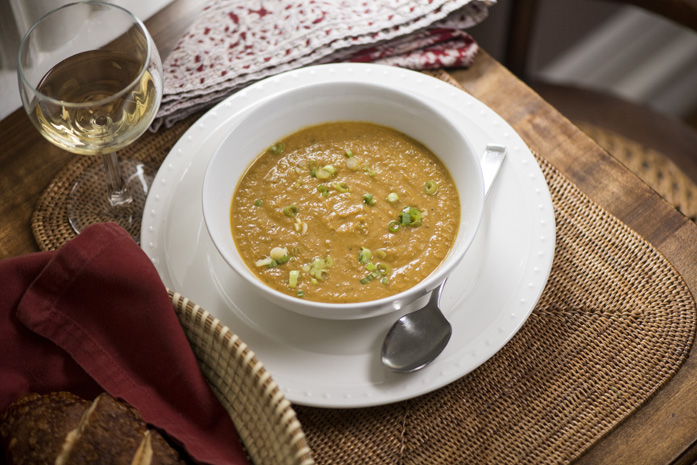 Spicy Asian Carrot Soup
(Serves 6)
Aside from salads, soups are probably the easiest dishes to re-conceive as vegan. It would be fun to start with something spicy and sort of exotic.
1 tablespoon olive oil
1 tablespoon vegetable oil
1 onion, peeled and chopped
1 stalk celery, strings removed and chopped
1 clove garlic, peeled and minced
3 cups vegetable stock
1 pound carrots, peeled and chopped
1 ¾-inch piece of ginger root, peeled and cut into thin slices
¼ teaspoon or more red pepper flakes
2 tablespoons fresh lime juice
1½ teaspoons soy sauce
1½ tablespoons smooth peanut butter
2-3 teaspoons of sugar
1 teaspoon sesame oil
1 cup coconut milk
Salt and pepper
Sliced scallions for garnish
In a large saucepan, heat oil over medium heat. Add onions, celery and garlic and sauté, stirring, until softened, 3 to 5 minutes. Add vegetable stock, carrots, ginger and red pepper flakes and bring to a boil. Reduce heat to low and simmer, covered, until carrots are very tender 20 to 30 minutes.
Purée with an immersion blender. Add lime juice, soy sauce, peanut butter, sugar and sesame oil. Stir in coconut milk and season with salt and pepper. Serve warm or chill in refrigerator at least one hour and serve as a cold soup. Garnish with sliced scallions.
---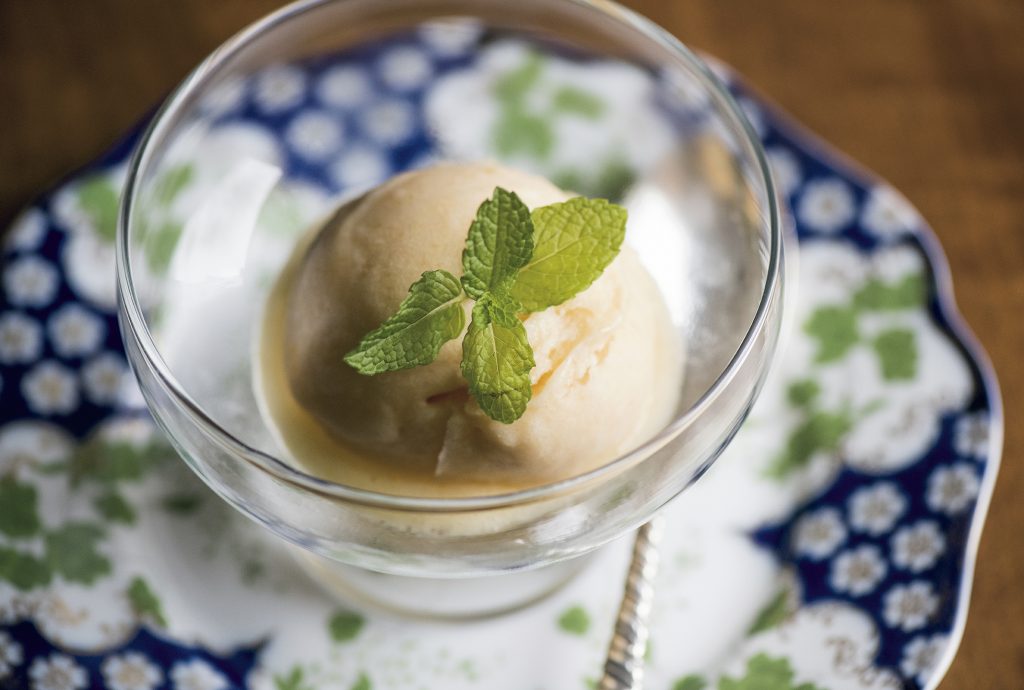 Summer Fruit Sorbet
(Serves 6)
Sorbets are the ideal summer dessert, adaptable to whatever is fresh, in season, and are able to be made a day ahead of time and are very easy to put together. This peach sorbet is a master recipe; use approximate amounts of other fruits (strawberries, raspberries, cantaloupe) as they come into season.
1 cup simple syrup
2 pounds ripe peaches
1 vanilla bean, split
2 tablespoons fresh lime juice
Blanch peaches in boiling water a minute or two. Cool, then peel peaches, and cut flesh into chunks. Measure out 3 cups of chunks, and simmer peaches, vanilla bean and 1 cup simple syrup in a saucepan until peaches are tender, 5 minutes or so. Remove vanilla bean and purée mixture in blender or food processor. Add lime juice and mix in well. Cool the sorbet mixture and then process in an ice cream machine, if you have one.
If not, pour puréed fruit into a shallow metal pan, such as a square brownie pan, and freeze. Thaw sorbet briefly so it can be easily scraped again into the blender or food processor. Puree mixture again, return to freezer and freeze. If the mixture sits too long in the freezer and begins to crystallize, repeat partial thawing and blending step. Before serving, place sorbet in the refrigerator for about an hour to make it easier to scoop out servings and to eat with a spoon. F&D