Tim and Lori Laird are Food & Dining Magazine's officially designated Entertaining Editors-at-Large, co-writers of our "Easy Entertaining" column, and in essence professional crowd-pleasers.
As we're all aware, at the present time the objective is quelling crowds to corral the coronavirus, but happily most of Tim's and Lori's tips are fully applicable to one's basic family unit, and their recipes no less tasty prepared for the few as opposed to the many.
After a beer and some thinking, the digital editor has chosen to rerun the piece as the Lairds wrote it five years ago. From our Fall 2015 (Volume 49) issue comes these ideas for pizza on the grill — and the focus is on the food.
—
Easy Entertaining — Grilled Pizza Party
We have thrown thousands of parties, and through them we have learned that the key to a great party is keeping it easy, keeping it entertaining and making it delicious. And in the right weather, an outdoor grilled pizza party meets all those criteria.
On keeping it Easy — There is nothing easier, or more delicious, than pizza on the grill. There is no need for an expensive wood-burning pizza oven when your grill can deliver great taste and an efficient cooking process. You'll be amazed how easy it is to make your own dough and how light, thin and crispy the crust gets when you grill it outside. Not only does grilling give the crust a hint of smoky flavor, but it also keeps your house cool by not having to heat up the oven in your kitchen.
On keeping it Entertaining — Guests love to get involved, and a backyard pizza party is a great way to get everyone to buy into contributing to the fun. Invite friends and neighbors over and have them bring their favorite pizza toppings. Let them top their own pizzas to share with others. As the host, you simply provide the dough, sauce and cheese and let your guests do the rest. A grilled pizza party is fun for all types of gatherings including a kids' birthday, a small family get together, or a large party with lots of friends.
On making it Delicious — Our secret to a good sauce is to simply use canned crushed tomatoes and add a little sugar and crushed garlic cloves. The dough can be made two days ahead of time and allowed to rest; this resting period makes the dough very easy to roll and just the right texture for a thin crust pizza.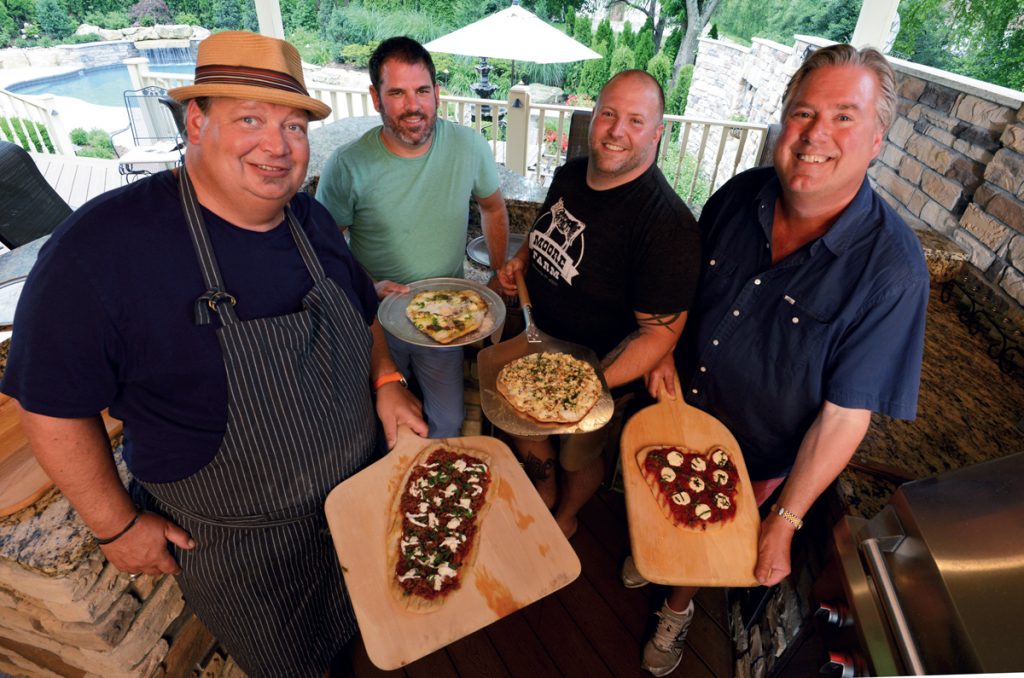 We invited some of Louisville's top chefs over to make their own special pizzas. See Chef Dave Danielson's (Churchill Downs) Grilled Peaches and Arugula pizza and a Spicy Moroccan Lamb pizza, Michael Crouch's (Eat Your Bourbon Marketplace) Ham and Egg pizza, Josh Moore's (Volare) Roasted Cauliflower pizza, John Varanese's (River House and Varanese) Pesto Pancetta pizza and our own Goat Cheese and Basil pizza. Take these recipes and topping combinations, add your own, and get grilling!
---
The Essentials
You will need pizza dough, a red sauce, and cheese (we recommend a variety, with fresh grated mozzarella as a must).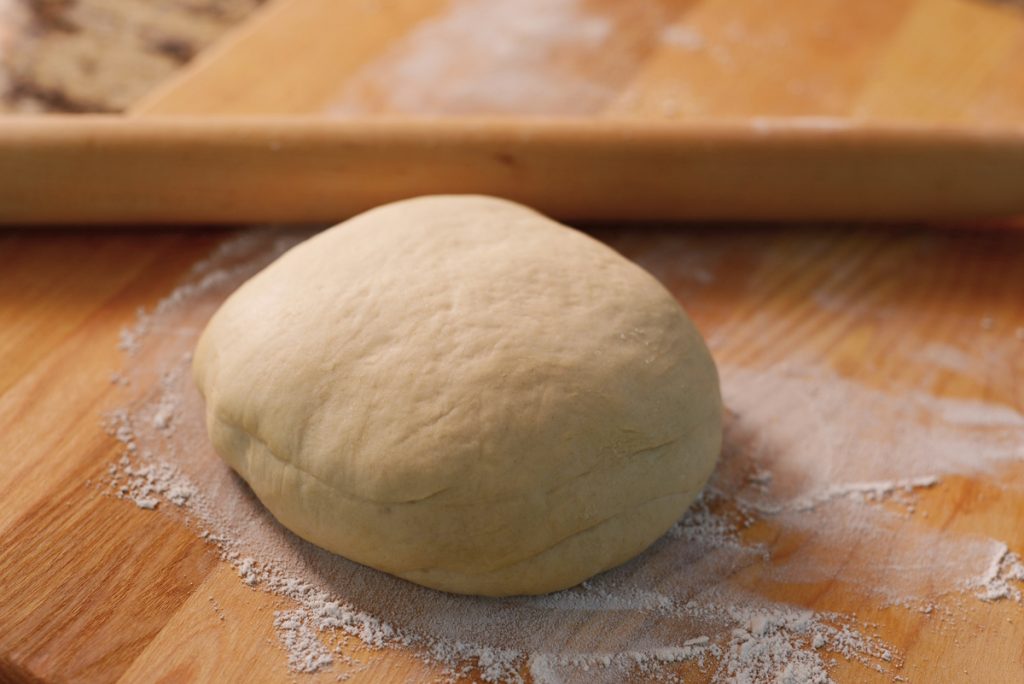 Here is a simple and delicious recipe for pizza dough. But if you want to save time you can buy it from your local grocery store, often in the form of frozen dough balls. Simply follow the directions on defrosting and you are ready to roll.
Pizza Dough Recipe
(Makes 4-5 10″ pizzas)
4 cups bread flour
1 teaspoon salt
1 teaspoon sugar
2 packages quick-rise yeast
1 ½ cups warm water (85-110°F)
2 tablespoon olive oil
Cooking spray
4 tablespoons cornmeal
Combine first four ingredients into a large food processor or bread mixer. Mix until dough forms a ball, about four to five minutes.
Place the dough in a large bowl coated with cooking spray, turning to coat top. Cover and let rise in a warm place (85 degrees), free from drafts, 45 minutes or until doubled in bulk.
Punch dough down; divide in half. Cover and let dough rest 10 minutes.
Working with one portion at a time (cover remaining dough to keep from drying out), roll each portion into a 10-inch circle on a lightly floured surface. Place dough on pizza pans each sprinkled with one tablespoon cornmeal.
Pizza Sauce
28-ounce can crushed tomatoes
4 garlic cloves, crushed
2 tablespoons sugar
Pour crushed tomatoes into a large bowl and add salt, garlic cloves and sugar. Mix and store in the refrigerator until ready to use.
---
Grilling the Pizzas

On medium heat, place dough on clean grill grates for only two to three minutes, check to make sure it has slightly browned.
Flip the doughs, brush with olive oil, then top with sauce, toppings and finally cheese.
Grill with lid down another 15 – 20 minutes or until cheese has melted. Check the bottom of the crust periodically to make sure it does not burn.
Grilling Tips:
Less is more — Don't overload your pizza with toppings. Too many toppings will cause your pie to get soggy and hard to remove from the grill.
Don't be in a hurry to turn — Once you place your dough on the grill, leave it alone until it's time to turn it, about 3-4 minutes.
Keep a lid on it — Every time you look under the lid, you lose heat and smoke which gives your food that grilling flavor.
Keep your grates seasoned — Brush with oil after each use.
---
PIZZA TOPPING IDEAS
---
Josh Moore | Volare

Roasted Cauliflower Pizza
Roasted garlic olive oil
Ricotta
White cheddar, mozzarella and provolone cheeses
Roasted cauliflower
Basil and parsley
Lemon
Bourbon and apple cider reduction
---

Pesto Pancetta Pizza
Basil-cashew pesto
Gorgonzola
Pancetta
Grilled chicken
Balsamic marinated onions
---

Spicy Moroccan Lamb Pizza
Spicy red sauce
Moroccan lamb
Goat cheese
Mint

Grilled Peaches and Arugula Pizza
Sour cream (as the base sauce)
Parmesan cheese
Arugula
Grilled peaches
Prosciutto
Balsamic syrup
Tip: Heat the sour cream and Parmesan on the pizza first, then add the rest of the ingredients
---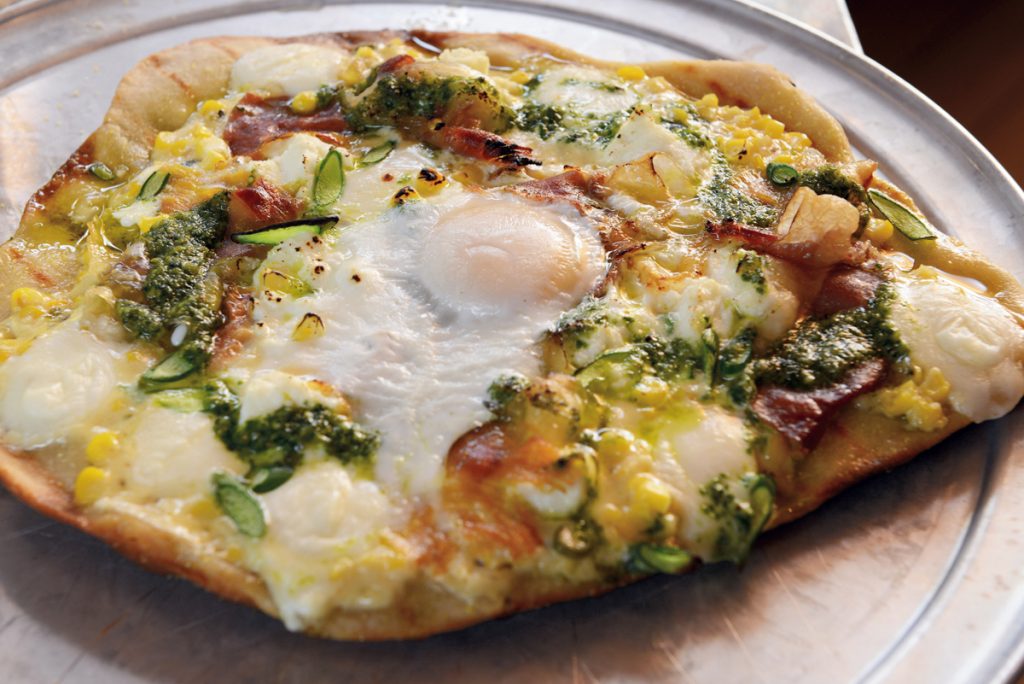 Ham and Egg Pizza
Ricotta creamed corn
Ricotta cheese
Woodland Farm ham
Arugula pesto
Mozzarella
Garlic scape
Egg
---
Tim and Lori Laird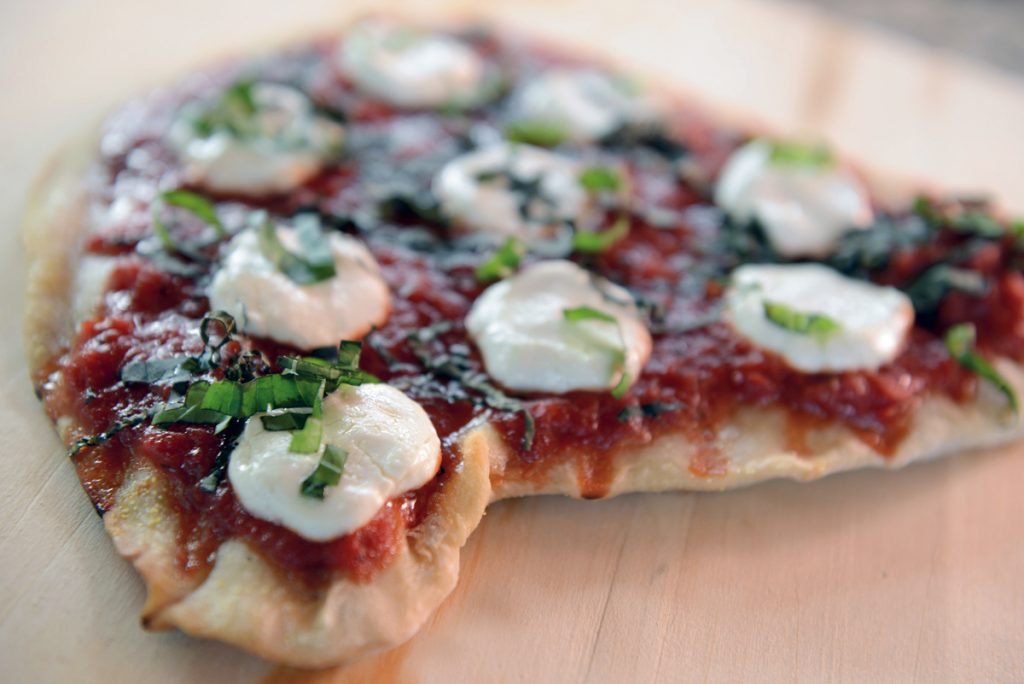 Goat Cheese and Basil Pizza
Red sauce
Goat cheese
Fresh basil leaves
---
MORE PIZZA TOPPING IDEAS
Olive oil with caramelized onions, blue cheese and rosemary sprigs

Pesto sauce with chicken (buy rotisserie-cooked chicken, remove the skin and shred) and mozzarella cheese

BBQ sauce with grilled chicken, diced green onions, crumbled bacon and mozzarella cheese

Red sauce with crisp bacon, smoked mozzarella cheese and onions

Pesto sauce with shrimp, Parmesan cheese, roasted red and yellow peppers

Red sauce with roasted eggplant, sweet peppers, caramelized onions and mozzarella cheese

Olive oil with fresh mozzarella, sliced tomatoes, Parmigiano-Reggiano and basil

Thai peanut sauce with chicken, stir fry veggies, cilantro and mozzarella cheese

Red sauce with sausage, caramelized onions and dollops of ricotta cheese
The variety of pizza toppings and combinations are endless. A rule of thumb for an evenly cooked pizza is to limit the toppings to three or four. Use your imagination and the freshest available ingredients and your pizza party will surely be a hit. F&D