Tim and Lori Laird are Food & Dining Magazine's officially designated Entertaining Editors-at-Large, the writers of our "Easy Entertaining" column, and in essence professional crowd-pleasers.
At the present time America is quelling crowds to corral the coronavirus, but happily most of Tim's and Lori's tips for entertaining are just as effective for your family of four as presented for a dozen neighbors or more.
From our Summer 2016 (Volume 52) issue comes these diverse ideas for grilling, featuring three Louisville-area chefs and their recipes, and with luscious photography by Dan Dry.
—
We love the grilling season, which we extend beyond the summer into a year-round cooking experience. But for most, summer is the time to break out the grill. No matter whether you are a traditional charcoal griller or a fan of the quick-starting gas grill, a balmy summer evening is the best time to be outside enjoying a cocktail and savoring the aroma as the food begins to cook.
Often, though, grillers can fall into a rut, putting the same things onto the fire, like burgers, hot dogs or the occasional steak — not that there's anything wrong with that. But there are a lot of other dishes to grill that lend themselves to easy spring entertaining.
We invited three of Louisville's top chefs over to show the versatility of fare beyond the same old, same old.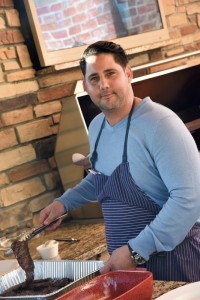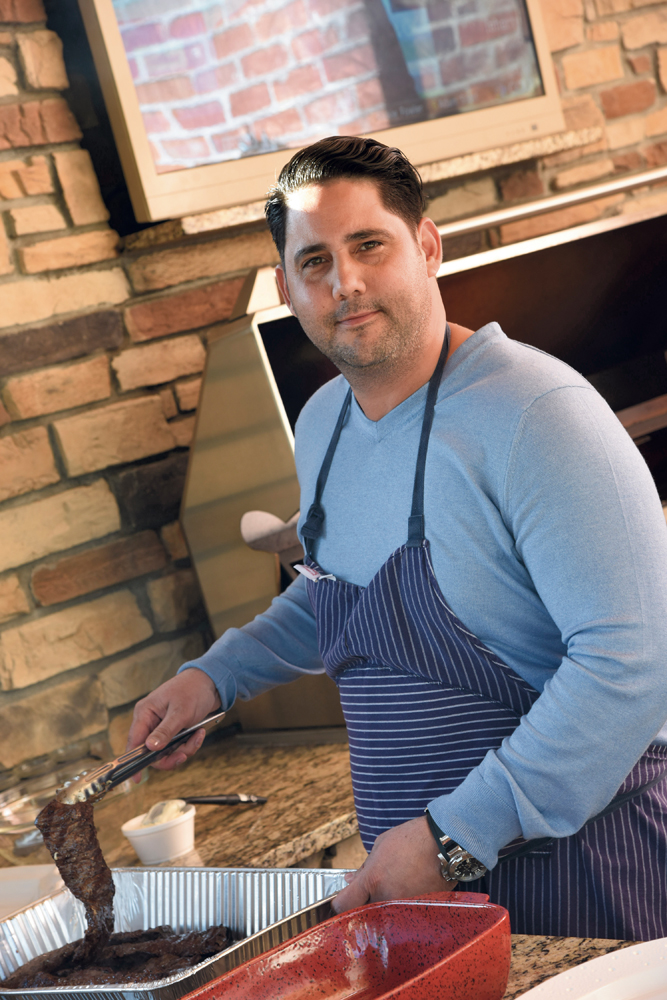 Chef Fernando Martinez, the driving force behind the hot Olé Restaurant Group (El Taco Luchador, Steak & Bourbon and Guaca Mole), still finds time to grill up some Latin-inspired favorites for his friends. His ideas for boosting flavors are simple and effective. Grill some ears of corn, brush them with mayo and sprinkle with cheese, and you elevate ordinary corn on the cob to something familiar enough for kids to enjoy, and sophisticated enough for adults to savor. Dates are rich in themselves. Stuff with goat cheese, wrap in bacon and grill, and you have an appetizer to remember. Skirt steak grills rare in a flash; a chimichurri sauce adds a lot of bright flavor from very little effort.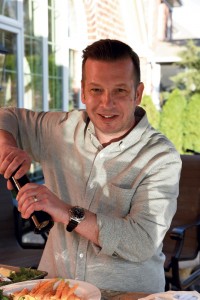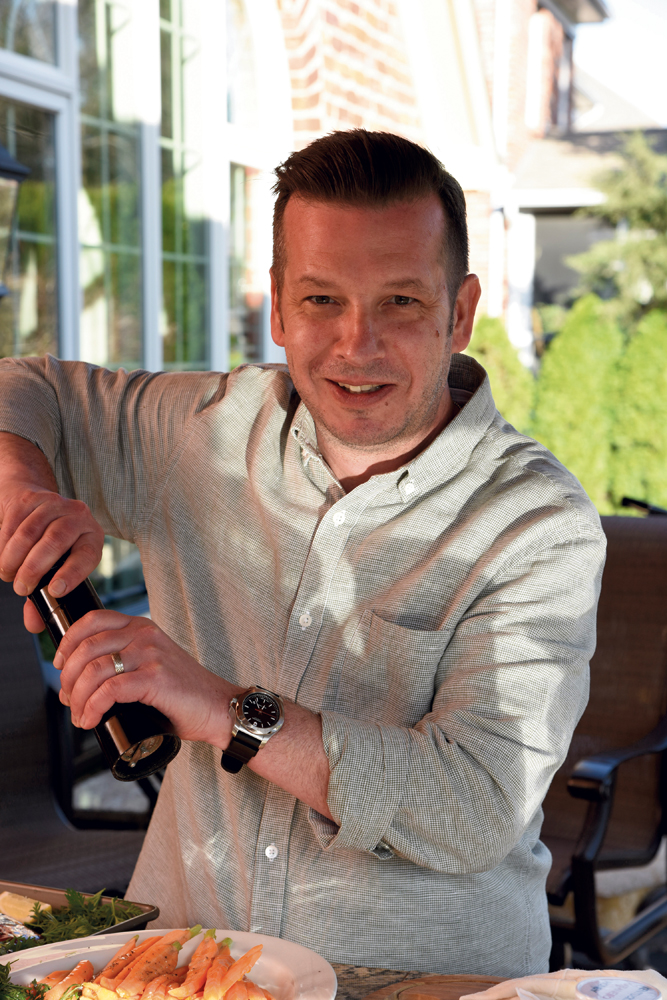 Patrick Roney, the executive chef at Ashbourne Farms, was inspired by the flavors he found when he was a private chef on a yacht, sailing from southern Turkey to Italy. "One night," he said, "our boss took the crew to dinner where they had just slaughtered a lamb that was spiced with this amazing rub that you could smell from miles around." His Bharat spice mixture requires a lot of ingredients, and some unusual ones, but it results in a shelf-stable mix that works wonders on butterflied leg of lamb — and on almost any other grilled or roasted meat and vegetables, too. His wheat berry salad is a hearty side dish that is easy to put together and not commonly seen on picnic tables.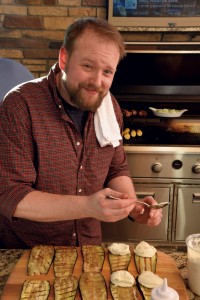 Dallas McGarity, chef/owner at The Fat Lamb and Portage House, is noted for the meat dishes on his menu, but at home, he has a vegetarian wife and kids. "I cook vegetarian for them all the time," McGarity said. "My cooking for them was the inspiration for my two grilled vegetable dishes." Grilling the eggplant for the involtini softens the vegetable so it can be easily rolled around the cheese filling, and grilling over charcoal imparts a smoky richness to the sauce. And grilling several different fresh seasonal vegetables adds a savory sweetness to a meatless Vietnamese-style sandwich that will make vegetarians kids and friends look with pity on their fellow carnivores.
And, of course, cooking out on the patio or deck talking with friends is a perfect excuse to pour a fun cocktail or two to enjoy outdoors during the grilling process. As usual, we have a few ideas for cocktails to enjoy while tending that grill.
---
Fernando Martinez | Olé Restaurant Group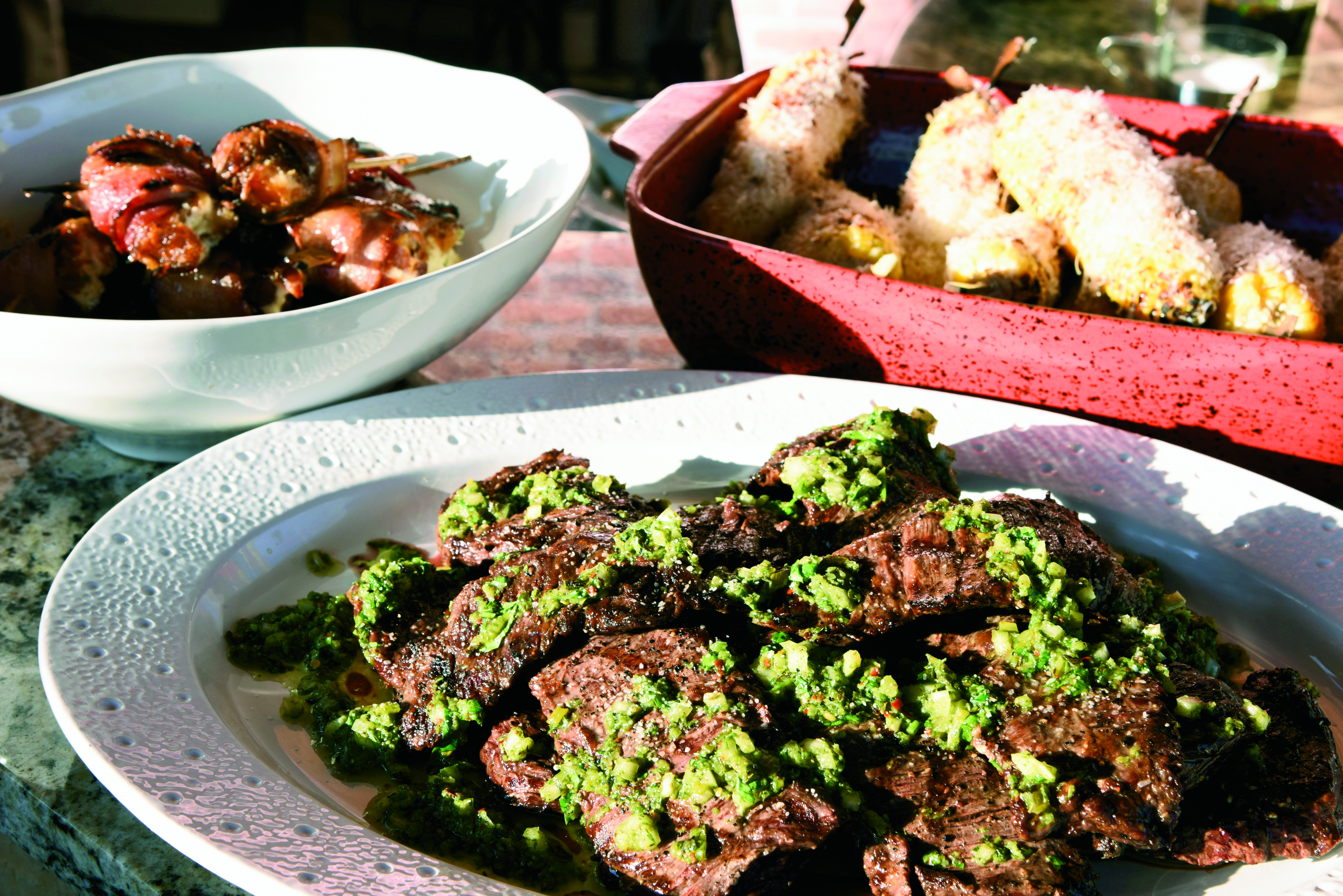 Carne Asada with Chimichurri Sauce
(Serves 6)
For the Carne Asada
6 8-ounce skirt steaks
Salt and pepper
Season the meat with salt and pepper and grill to the desired temperature. Drizzle the chimichurri sauce over the meat.

For the Chimichurri Sauce
1 bunch of cilantro, rinsed well and dried, big stems removed
1 bunch of parsley, rinsed well and dried, big stems removed
½ cup of white vinegar
2 cups of olive oil
3 limes, juiced
1 grilled jalapeño
½ tablespoon red
crushed pepper
4 garlic cloves
Salt and pepper
Place all ingredients in a blender and pulse until all the ingredients are blended.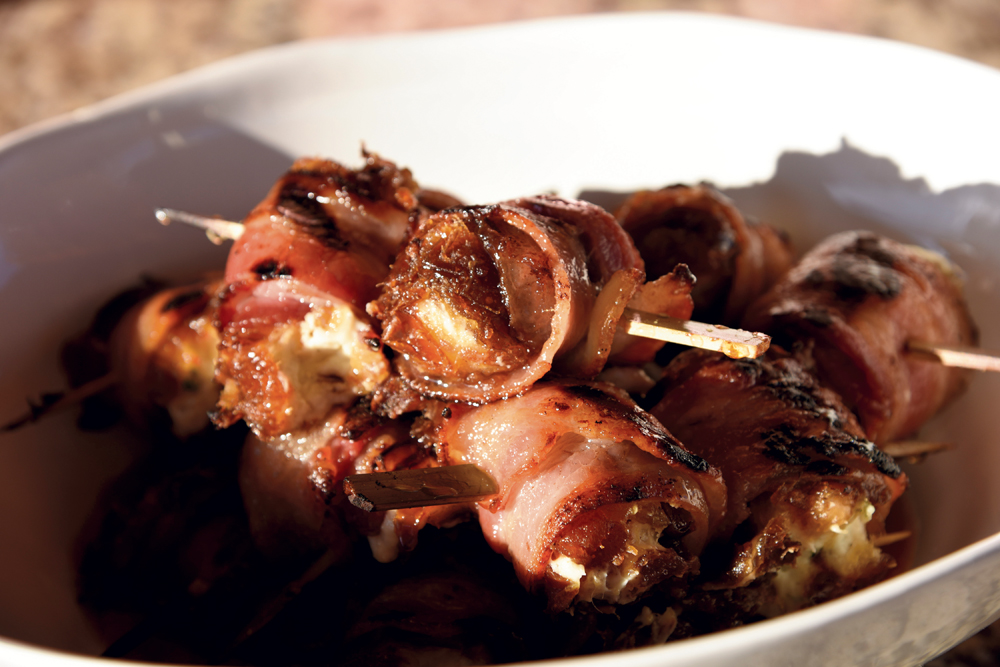 Stuffed Dates
(Serves 6)
12 Medjool dates (pits removed)
6 ounces goat cheese
12 slices thick-cut bacon
Honey (for drizzling)
Salt and pepper
12 wooden skewers
Place the goat cheese in a bowl, soften with a fork, and season with salt and pepper. Open each date and stuff with about a tablespoon of goat cheese, then wrap in bacon, securing with a skewer. Grill until the cheese is melting and the bacon is crispy.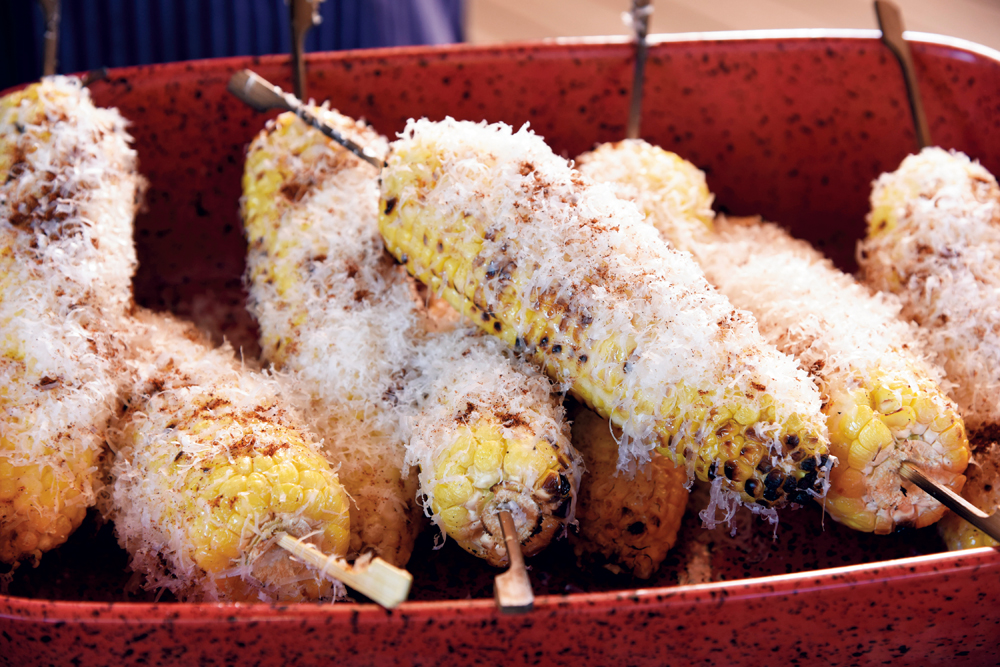 Mexican-Style Corn on the Cob
(Serves 6)
6 ears of corn, peeled and cleaned
1 cup of your favorite mayonnaise
1 cup of Mexican grated cotija cheese or freshly grated Parmesan
2 tablespoons of chili powder
½ bunch of cilantro, finely chopped
6 skewers
Place skewers firmly in each ear to make it easy to turn the corn on the grill. Grill the corn evenly on all sides until it's nicely grilled and charred in spots. Remove from heat. Using a brush, cover the corn with the mayo, and sprinkle the cheese, chili powder and cilantro over all sides of the corn.
---
Dallas McGarity | The Fat Lamb and Portage House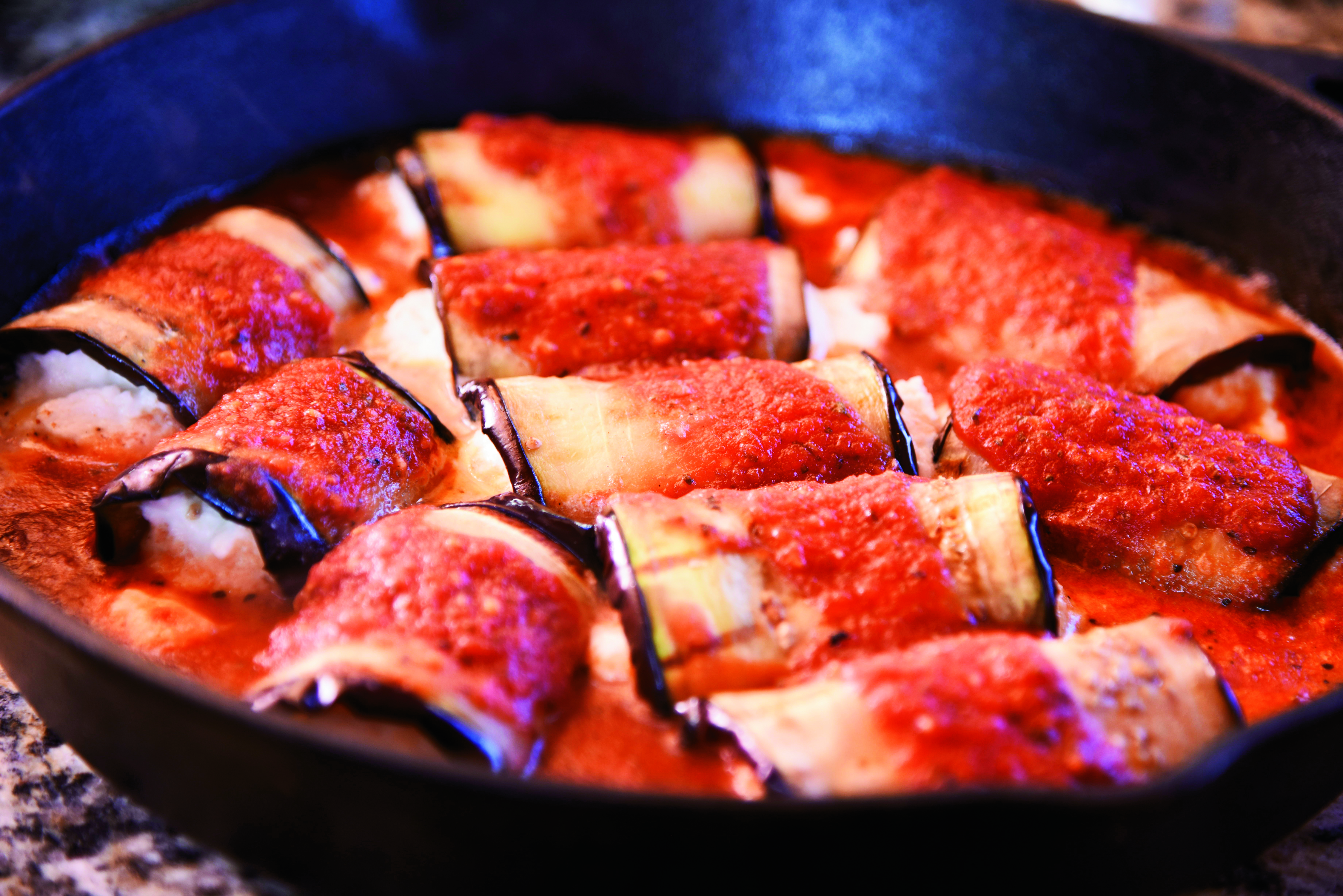 Eggplant Involtini
(Serves 6)
2 large eggplants, tops trimmed off and eggplant thinly sliced lengthwise
1 clove of garlic, peeled and minced
1 quart ricotta cheese
1 cup grated Parmesan cheese
1 quart tomato sauce of your choice
Additional Parmesan for topping
Parsley or basil for garnish
Olive oil for grilling
Salt and pepper
Brush olive oil on eggplant slices and season with salt and pepper. Grill until tender, 5 minutes or less each side. Remove and allow to slightly cool.
Mix the ricotta, garlic and Parmesan and season with salt and pepper. Place a dollop of ricotta mix on one end of each eggplant slice and roll into little logs. In a cast-iron pan, put a nice layer of tomato sauce on the bottom. Add in the involtini and put more tomato sauce over the top. Place the pan on the grill for about 12 minutes to heat everything through. When it is bubbling and hot, remove from the heat, grate some fresh Parmesan over the top, and garnish with parsley, friseé or basil.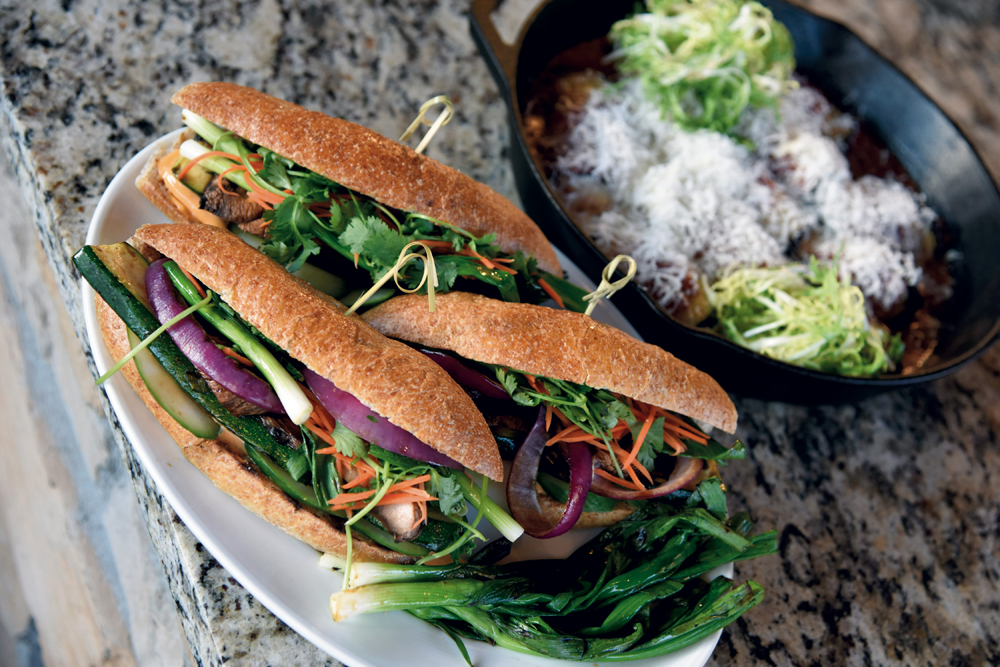 Grilled Vegetable Bánh Mi
(Serves 6)
1 tablespoon minced ginger
3 tablespoons soy sauce
3 zucchinis, tops and bottoms trimmed off and zucchinis thinly sliced lengthwise
4 large portabello mushrooms
1 red onion, peeled and sliced into thick rings
1 seedless cucumber, thinly sliced on the bias
1 bunch of cilantro, leaves picked off stems
1 bunch of fresh mint, leaves picked off stems
1 tablespoon minced garlic
1 tablespoon sesame oil
2 tablespoons rice vinegar
1 cup spicy mayo (recipe below)
1 cup pickled carrots (recipe below)
Oil for grilling
Salt and pepper
2 large loaves of good French bread
In a large, shallow bowl, mix together soy sauce and ginger and marinate the mushrooms and zucchini 15 to 20 minutes. In a separate bowl, brush the onion slices with oil and season with salt and pepper. Grill the onion, zucchini and mushrooms and set aside.
Cut the bread in half and slightly toast on the grill. Smear spicy mayo on the bottom half and place the sliced cucumber down first. Season the cucumber with salt and pepper. Next place the grilled vegetables on top of that with some pickled carrots, mint and cilantro. Top with the top half of the bread and serve warm or at room temperature. This is a fun dish that can be done in many different ways. Experiment and enjoy!
For the Spicy Mayo
(*recipe can be made up to 2 weeks in advance)
3 tablespoons sriracha
1 cup Duke's mayonnaise
1 teaspoon sesame oil
Juice of 1 lemon
Salt and pepper
Mix all ingredients together.
For the Pickled Carrots
(*recipe can be made up to 2 weeks in advance)
1 carrot, peeled and julienned
1 cup rice vinegar
3 tablespoons sugar
1 cup water
1 tablespoon kosher salt
Heat the vinegar, sugar, salt and water and pour over the carrots in a shallow, heat-resistant dish. Let them sit for about 30 minutes before serving. If made in advance, store carrots in the brine in the refrigerator, covered.
---
Patrick Roney | Ashbourne Farms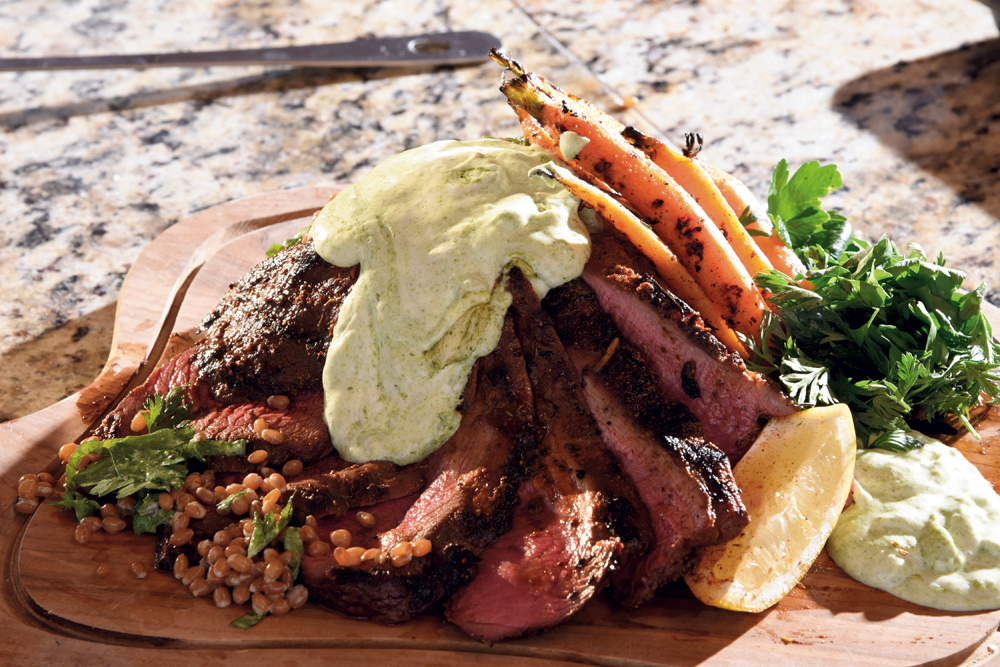 Baharat Spiced Leg of Lamb
3-pound leg of lamb
(boneless, silver skin
removed and butterflied)
¼ cup extra virgin olive oil
2 tablespoons sea salt
¼ cup Kentucky Honey Farms
Habanero Honey (or add
1 teaspoon cayenne pepper
to regular honey)
2 fresh lemons
Baharat seasoning (recipe to follow)
Pat the leg of lamb completely dry with paper towels. Then rub with olive oil to coat. Drizzle honey over lamb and massage into flesh, and season lamb with sea salt. Generously sprinkle Baharat seasoning all over lamb and massage again.
Place lamb on a very hot section of the grill. Cook 2 minutes and rotate the meat 45 degrees. Grill for 2 more minutes and flip meat over. Repeat the rotations as on the first side.
Place a thermometer in the center of the thickest part of the lamb and cook until temperature reads 125 for medium-rare, or 130-135 for medium, about 10 minutes. If the meat needs more time it should continue cooking off of direct heat. Let lamb rest for 15 minutes.
Slice lamb against the grain and serve with goat cheese fondue, wheat berry salad and grilled carrots.
For the Baharat Spice
(Note: Quantities below will make about 1 pound of spice mixture, which can be used on any grilled meat or even grilled vegetables. Store extra spice mixture in a clean jar with a screw top.)
2 tablespoons cinnamon
1 tablespoon nutmeg, grated
¼ cup cumin
¼ cup black peppercorn
2 tablespoons pink peppercorn
2 tablespoons fennel seed
2 tablespoons Coleman's dry mustard
1 tablespoon ground clove
1 tablespoon cardamom
2 tablespoons smoked paprika
1 tablespoon dried oregano
2 tablespoons sumac
1 teaspoon dill pollen
1 teaspoon fennel pollen
Toast all the spice ingredients at 350 degrees for 5 minutes. Blend all the spices together in a spice grinder, in batches if necessary, to a fine powder. Set aside.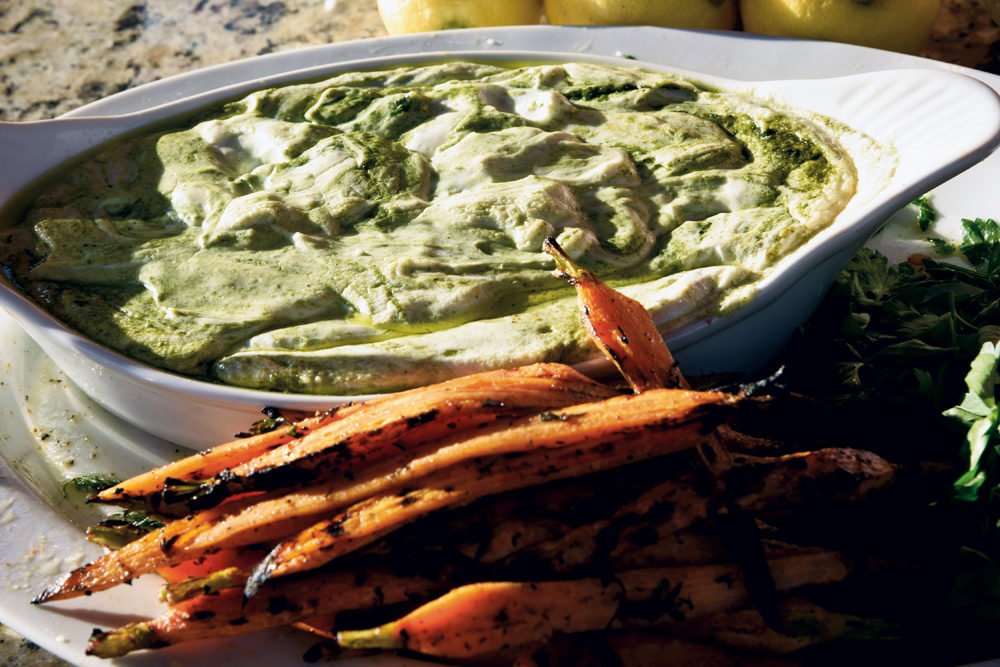 Grilled Carrots and Goat Cheese Fondue
For the Goat Cheese Fondue
1 cup Capriole goat cheese
½ cup cream cheese
½ cup crème fraîche
1 cup carrot tops (the feathery green leaves), loosely packed
½ cup extra virgin olive oil
2 tablespoons sea salt
Salt and pepper to taste
Have all dairy ingredients at room temperature. Blend together the goat cheese, cream cheese and créme fraîche in a food processor or KitchenAid with the paddle attachment until smooth.
Blanch carrot tops in salted boiling water for 30 seconds and refresh them in ice water. Drain, then puree carrot tops and ½ cup olive oil in a blender until smooth. Fold carrot top oil into the cheese mixture and season with salt and pepper.
Warm fondue on the grill as well. A cast-iron pan or a small casserole dish works well.
For the Grilled Carrots
20 baby carrots, peeled
Extra virgin olive oil
Sea salt
Kentucky Honey Farms Habanero Honey (or add 1 teaspoon cayenne pepper to regular honey)
Rub carrots with equal parts honey, Baharat seasoning, salt and olive oil. During the rest time for the lamb, cook the carrots directly on the hottest part of the grill until desired tenderness.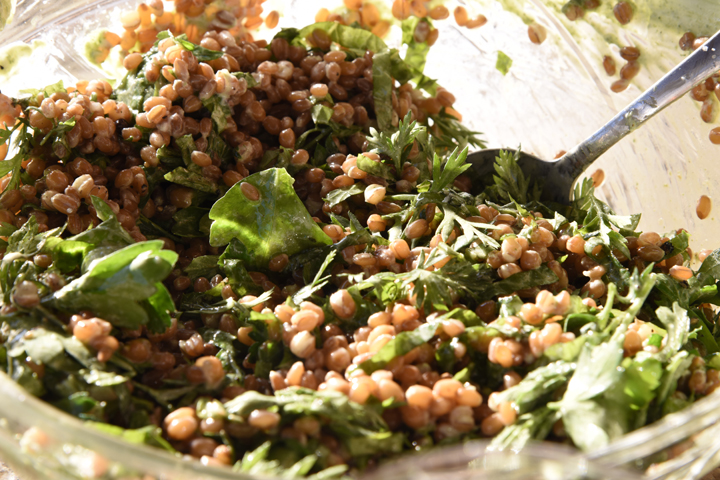 Wheat Berry Salad
2 cups wheat berries
½ cup extra virgin olive oil
½ cup fresh carrot top leaves, chopped (loosely packed)
½ cup fresh parsley leaves, chopped (loosely packed)
½ cup fresh mint leaves, chopped (loosely packed)
¼ cup goat cheese fondue
¼ cup fresh-squeezed lemon juice
Salt and pepper to taste
Cook wheat berries in boiling salted water until al dente tender, just as you would pasta. This will take 45 minutes to 1 hour. Drain well. Toss together wheat berries with all other ingredients just before serving. F&D