There have been hundreds of lovely and utterly unconnected beer vignettes amid my wanderings, when there was time to indulge a genuine feeling of timelessness. One of them came in June of 1989.
It was a sunny, lazy aimless lunchtime somewhere southeast of Prague amid the bucolic Bohemian countryside southeast of Prague. My genial hosts were the aunt and uncle of a Czech émigré friend from back home. They'd both started the day puttering around their "weekend" house ("rekreační dům" in Czech; the Russians would say "dacha"), tending the garden, cleaning and making minor repairs.
Later, green peppers and onions would be chopped and cooked in a heavy iron skillet with big, fat pork sausages, alongside a salad of shredded cabbage, onions and homemade pickles. There was a football-sized crusty loaf waiting, and plenty of butter.
Uncle V. was the quintessential example of a Czech country boy made good. He was a proud Communist middle-tier administrator who had adroitly played the hand he was dealt, rising through the ranks to enjoy a solid, respectable career and an unpretentious life.
During that seemingly placid summer of '89, there was little reason to believe the domestic scene would change any time soon. It was entirely unimaginable that a non-violent "Velvet Revolution" freeing Czechoslovakia from its Warsaw Pact orbit – and abruptly rendering Uncle V. prematurely unemployed – would occur at all, much less six months hence.
But it did, although that's another story.
Uncle V. and his family spent their everyday working weeks residing in a comfortable, albeit unadorned apartment located in a comparatively upscale, 1960's-era suburb in Prague. However, their obvious pride and joy was the A-frame weekend house.
It had cold running water and a toilet. There was no phone or television. Any excuse to exit the capital city for a few days of peace in the groves and meadows celebrated musically by the composers Smetana and Dvořák was seized with excitement and vigor, and I was delighted to function as their present-use excuse.
The previous day, we'd taken a day-long, whirlwind tour of Southern Bohemia, the family's beloved powder blue Škoda loaded down with supplies. We visited historic towns, sprawling castles and even a hydroelectric dam that Uncle V. had helped to construct in the 1960s as a youthful Community party hopeful.
There were multiple mugs of locally brewed beer, platters of roasted pork, sauerkraut and steamed dumplings, and a steadily encroaching exhaustion. We finally arrived at the family's weekend house long after dark, and after a few minutes of housekeeping and light snacks, everyone fell fast asleep.
Next morning after breakfast I embarked on an orientation stroll in the nearby woods, returning to find a dirt-smudged and grinning Uncle V. waiting for me. He held up two oversized brown earthenware pitchers and motioned for me to follow him.
We exited the front gate and walked along the rutted road, our ultimate purpose lost to me owing to our language differences.
After a quarter-mile or so, we came to a battered, 1930s-era building clad in chipped stucco, residing in the shade of old, leafy hardwoods. It stood next to the terminus of a single rail line, one that seemed to exist solely for use by the many holiday weekenders in the vicinity.
It became clear that the structure tripled as railway ticket office, grocery store … and pub.
Although diabetic and generally teetotaling, Uncle V. had been dutifully forewarned by his nephew back in New Albany that Roger was an ardent beer lover, and accordingly, throughout my three-week stay, he enthusiastically volunteered to introduce me to various classic pubs for sampling the many brands of golden, hoppy pilsner for which the Czechs remain justly famous.
Soon after my arrival, he taught me a critical phrase in his native language: "Czech beer is better than American beer." He would drill me on pronunciation just before entering a tavern, and then introduce the visiting foreigner to tavern staff and nearby regulars. I'd smile and utter the words aloud as best I could remember — and the free beers would begin materializing in front of me.
Uncle Vlasta would shrug, beam with evident satisfaction and drink his apple juice, and while I wasn't sure whether it was the capitalist novelty of my presence or his "fix-is-always-in" ruling party credentials that caused such a reaction, I opted to make like the elegant Vltava River and happily drink with the flow.
Consequently, spying the tap inside the rural railway station pub, it made perfect sense to me to have a creamy draft lager and quench my thirst after the morning walk, but as an inexperienced American accustomed to cans and bottles, I still couldn't quite fathom why we'd lugged the pitchers along.
But my host chatted with the friendly barman, who began filling them with cool beer for the journey back … or growlers, the old-fashioned way.
Some of the liquid didn't make the trip home. Imagine that.
—
Here's a quick four-pack of interesting beer reading.
I like the way these guys think. While most breweries are launching their lighter, crushable summertime beers, Gravely Brewing Company has a Baltic Porter on tap and in bomber bottles (no growlers fills for this one).
Baltic Porters are somewhat the oddball (and delicious) hybrids, probably originating in much the same vein as strong top-fermented Porters and Imperial Stouts — brewed in England and exported to Russia via the Baltic Sea.
Seaside brewers in these northerly climes embraced their own versions, and later in the nineteenth century when bottom fermentation (lager brewing) became the norm, the recipes were modified. In many cases these "Baltic" Porters began to be hewed more toward what we'd now recognize as Doppelbocks.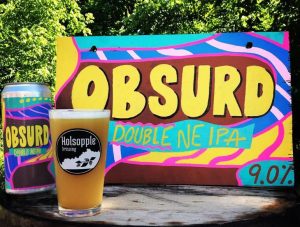 Holsopple Brewing has returned to taproom service seven days a week, and also has debuted a heavy hitter for warm weather: Obsurd New England-style hazy IPA.

Ranging north to Hoosierland, there's an interesting story out of Kokomo involving a brewery there that began as an independently-owned spin-off of a different brewery in Evansville, itself purchased by a Louisville company and promptly shuttered, leaving the Kokomo branch to go it alone until a deal came along … from Indianapolis.
Sun King buys stake in Tin Man Kokomo, brewery to undergo rebranding, by Tyler Juranovich (Kokomo Tribune)
Indianapolis-based Sun King Brewing has bought a minority stake in the Kokomo Brewing Company, which operated under the name Tin Man Kokomo, for an undisclosed amount, according to a press release from the company.
To conclude this week's report, let's observe the time-honored dictum of taking the bad with the good. In this specific instance, at least the bad is occurring in North Carolina and not Louisville. Good luck to all in sorting it out — and I'll be back next Monday with more beer views.
Fall From Grace — Staff's Stories of Racism, Sexual Assault at Brewery Bhavana, Bida Manda Prompt Co-Owner's Exit, by Kate Bernot (Good Beer Hunting)
This month, former employees of renowned Raleigh, North Carolina brewery and restaurant Brewery Bhavana, and its sister restaurant Bida Manda, have alleged a pervasive culture of racism, incidents of sexual assault, and ongoing sexual harassment within the company. On June 9, the company launched a third-party investigation led by an employment attorney.