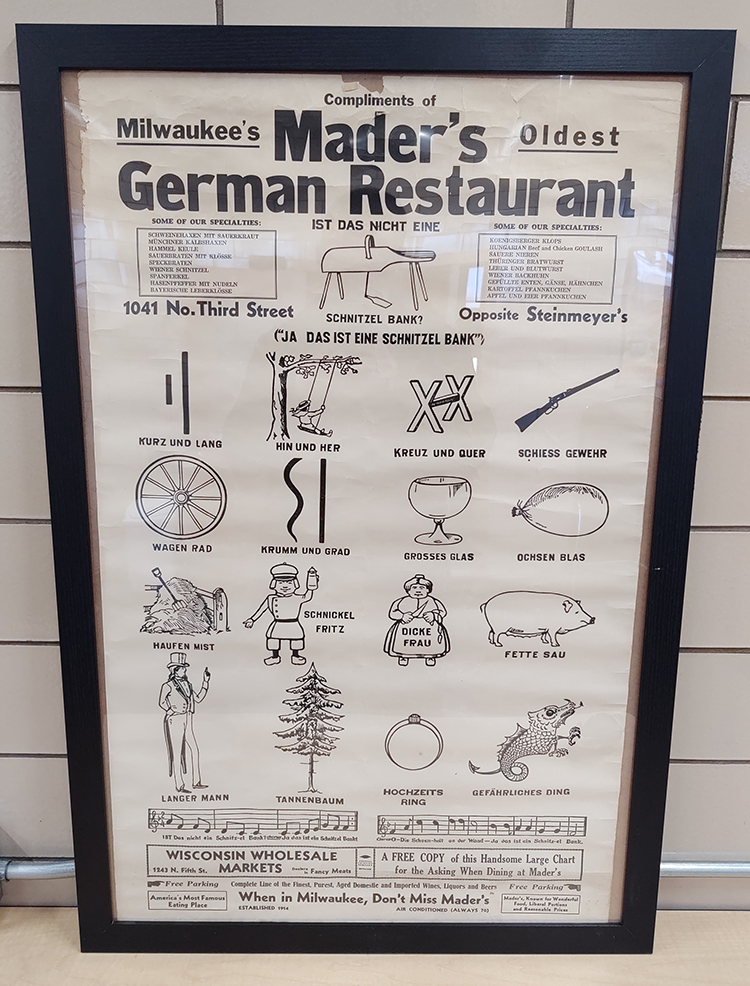 Are there questions about "The Schnitzelbank Song"?
If so, you'll find answers here.
We translated the Mader's "Schnitzelbank" poster, by Josh Hoppert (Milwaukee Record)
"The Schnitzelbank Song" is a silly song that was written and passed along by German immigrants in the United States in the 1800s. It's simple and repetitive and has a variety of basic terms, making it great for teaching German to children. It also makes for a tremendous drinking song.
Which is to say that conventional wisdom is a variable concept. Two consecutive Facebook posts by Mile Wide Beer Co. might illustrate this point, unless they don't.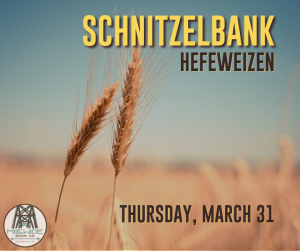 March 24: "You folks are in for a treat! You've tried several variants in our Frivolous Ideation series of Pastry Stouts. But, now are you ready for Fruit-olous Ideation? It's an Imperial Stout aged in Castle & Key Rye Whiskey barrels with raspberries and marionberries!"
March 25: "Ahh, Schnitzelbank, our light and refreshing Hefeweizen returns. Schnitzelbank is easy-drinking, bright, and effervescent with notes of clove and banana. If you're a fan of German-style wheat beers, put your rejoicing pants on because this should make you very happy."
One brewery, two different ideations (yes, it's a real word). If I may be so bold, "creativity" and "tradition." Some readers might see it as frivolity versus stick-in-the-mud, but that's what a marketplace does. It lets you, the consumer, decide.
Hip Hops: Mile Wide Beer Co. and the localizing of New England-style IPA
The theory and practice of Fruit-olous Ideation summarizes craft beer as we've come know it these past two decades. On the other hand, Hefeweizen (or Hefe-Weizen, or Hefeweissbier) represents a brewing tradition far more venerable than the lagers we associate with Germany and Central Europe.
Taken together in Hefeweizen, the chosen wheat ale yeast and a high fermentation temperature produce spicy phenols and fruity esters. In short, fruitiness without fruit. The brewing methodology is forgiving, and the production cycle short.
Craft brewers tend to treat Hefeweizen as a seasonal release in warm weather, which I find puzzling; granted, not the sexiest choice, and yet in my own experience, Hefeweizen sells year round. It's been about a year and a half since we installed Paulaner Hefe-Weizen as a permanent tap at Pints&union in New Albany. It has been the top seller for most of those 18 months.
This is not to be construed as criticism of Mile Wide, or the brewing schedule of any other local brewers. I began by saying that conventional wisdom can be unconventional, and while I count myself among the stodgy traditionalists these days, I'm the first to concede that if not for beers like Fruit-olous Ideation, there likely wouldn't be 9,000 (?) breweries in America these days.
But the crazier that beer becomes overall, the larger and more secure my own chosen "old school" niche on the neglected periphery becomes.
You know, the marketplace, and all.
—
Speaking of marketplaces, and like I was saying just the other day, there is no future for Russian-brewed Baltika brand beer in America.
Since the outset of the Russian invasion of Ukraine, many of us have been wondering what the crisis would mean for Russian beer, which is most often isrepresented outside its home country by the Baltika line. Baltika dates only to 1990 and has arrived at its present position of Russian market dominance through post-Soviet cash (best not to ask the source), internal mergers and external alliances.
Of course, there were similar questions about the viability of Stolichnaya, a far better known Russian intoxicant, except that it is primarily distilled outside of Russia.
Edibles & Potables: Globalism makes boycotting vodka quite difficult
From the moment international economic sanctions were rolled out against Russia, I've assumed that it would be a long while before we see Baltika again; if I were a cynic (insert leering smiley face) I'd add the adjective "fresh" to the noun "Baltika" in the preceding.
Earlier in the week a measure of clarity came with the announcement by the Carlsberg Group that it would be completely vacating the beer business inside Russia. The Carlsberg Group, which quaintly originated as the Carlsberg brewery in Copenhagen during the mid-1800s, controls Baltika via its Baltic Beverages Holding subsidiary, and 21st century Russia is a sizeable market, which wasn't always the case.
Naturally, this move by Carlsberg would seem to indicate the imminent withdrawal of Baltika from America, at least until Vladimir Putin returns to room temperature and/or his war (read: atrocity) is resolved.
To reiterate, this much was already obvious. What I find fascinating are the comments of the Carlsberg Group's CEO, here: The business "will be treated as an asset held for sale until completion of the disposal."
Heineken made an similar announcement shortly after Carlsberg's: It said it is seeking an "orderly transfer of our business to a new owner in full compliance with international and local laws."
Surely they understand what's about to happen in Russia, because Uncle Volodya, famed consumer of Radeberger during his KGB tenure in Dresden 30-odd years ago, is poised to become a born-again beer baron.
When the Soviet Union collapsed in 1991-92, there were no privately owned breweries in what became the stand alone Russian state. I haven't done a deep dive into this, but some were sold quickly to western brewing companies for hard currency, and others handed for a pittance to the emerging class of oligarchs, who in turn flipped them for sums closer to their real value, or grew them into behemoths with the help of preferential treatment from Putin's emerging kleptocracy.
Some of these oligarchs remain in Putin's good graces, while others, like Stolichnaya's owner Yuri Shefler — who acquired the international rights to Stoli during the Yeltsin era for less than a million dollars — moved production to places (the EU) with more predictable legal systems, and themselves promptly vacated Mother Russia.
It is highly unlikely that either Carlsberg or Heineken will experience any particularly "orderly" or lawful outcome to abandoning their considerable Russian investments. Putin likely will re-nationalize them, or transfer ownership to whichever oligarchs remain seated in the Kremlin's star chamber, or become the master brewer himself, thus accruing the benefit of the billions spent by brewing giant to modernize and upgrade their plants.
Putin's no commie. He's KGB to the core, which means authoritarian, not pie in the sky; still, ask the United Fruit Company about its investments in Cuba (seized by Fidel Castro in 1959, and as yet un-seized 63 years later).
Beers like Baltika #6 Porter are great, but there are numerous others. It will go away, and so it goes. There are far more important things for us to think about, of course. As for Carlsberg and Heineken, there are risks and rewards, and we can be sure they'll be reconciled by creative accounting methods, with or without esters or phenols.
The same cannot be said for Mariupol, alas.
Photo credit: Author's collection; Passau, Germany in 2003.
---
Roger Baylor is an entrepreneur, educator, and innovator with more than 35 years of hands-on experience and expertise as a beer seller, restaurateur, and commentator. As the co-founder of New Albany's Sportstime Pizza/Rich O's Public House (which later became New Albanian Brewing Company) in the 1990s and early 2000s, Baylor played a seminal role in Louisville's craft beer renaissance. Currently he is the beer director at Pints&union in New Albany. Baylor's "Hip Hops" columns on beer-related subjects have been a fixture in F&D since 2005, and he was named the magazine's digital editor in 2019.