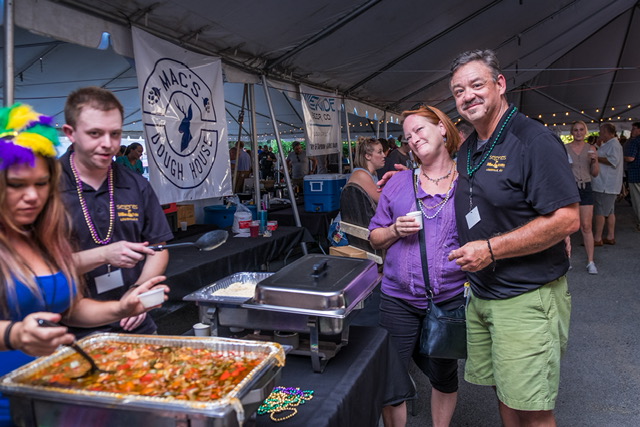 The Kentucky Restaurant Association's annual Taste of Louisville dates to 1974, making it by far the most enduring of food tasting events in the city's modern history.
A moveable feast over the years, the 49th edition of Taste of Louisville remains at the Mellwood Art Center (1860 Mellwood Avenue) for a second consecutive year on Wednesday, October 11.
The event is two months away BUT today's early notification is because there's a sale on tickets running right now: Early Bird Ticket Sale $65 General Admission until August 31. On September 1, general admission tickets will be $85.
Following is background culled from the information release.
—
The Kentucky Restaurant Association (Louisville Chapter) Presents the 49th Annual "Taste of Louisville"
Wednesday, October 11, 6:00 p.m. – 9:00 p.m.
Mellwood Art Center – 1860 Mellwood Avenue
A 21 & over event, benefiting Frankie's Family
The Taste of Louisville is BACK and ready to tempt your tastebuds! More than 40 chefs will be ready to greet, meet, and serve you while coming together to celebrate the fabulous Louisville food & drink scene! 20 or more different libations and non-alcoholic drinks will be served.
Besides being an epic night of tasting and sipping, there will be lots of giving back. Frankie's Family, a local non-profit, is again the beneficiary for 2023. The organization was started by one man who dared to care for kids in need, especially during the holidays. Frankie Hilbert and his team have helped hundreds of "adopted angels."
Frankie's Family Mission Statement: Frankie's Family is coming together to assist the families in our community that are in need the most. Our goal with Frankie's Family is to help bridge the gap for families who are most in need of food, clothing, toys & everyday personal care items. Frankie's Family Involvement Programs will consist of multiple projects a year to collect & distribute supplies needed. We treat everyone like their family, opening our hearts we extend this kindness to everyone, forming lifelong connections and a community that can see impact for years to come. The total raised from Taste of Louisville 2022 was $15,000.
WHO: Participating chefs, Frankie's Family, the Kentucky Restaurant Association (Louisville Chapter) and YOU!
WHAT: The 49-year-old taste tradition involving local and regional restaurants bringing people together to eat, drink and enjoy life!
WHEN: Wednesday, October 11 … 6:00 p.m. – 9:00 p.m.
WHERE: Mellwood Arts Center … 1860 Mellwood Avenue
WHY: To gather together with old friends and meet new friends while tasting more than 25 signature dishes, creative cocktails and mocktails.