The noted spirits writer Lew Bryson once pondered whether it was something in Kentucky's water that caused distillers to put down roots in the vicinity. Bryson spoke to Denny Potter, distiller at Heaven Hill.
Potter, like the other distillers, noted the chemical benefits of limestone water: elevated pH levels, beneficial mineral content, low or nonexistent iron content. But Kentucky's distilling history goes back centuries; did people stop here because of the water? "Back in the day, people were migrating east to west, and distillers landed in Kentucky," said Potter. "They didn't know all that about the minerals and pH, but they realized that the water didn't taste metallic, and it didn't discolor the whiskey."

That abundance of good distilling water allowed farm distillers to ultimately evolve into large whiskey producers.
Water is only one reason why Locust Grove has a still. Today's mansion and remaining estate acreage at 561 Blankenbaker Lane is a National Historic Landmark, but two centuries ago it was a sprawling farm, as well as a reminder that in the overall context of mankind's history as fermenters and distillers, large-scale industrial production is a relatively recent phenomenon.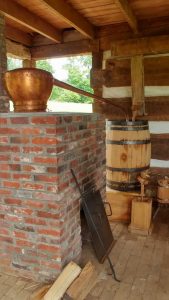 In the beginning, and for long time after, humans made alcohol right there on the farm near the barley fields, corn patches, grape vines and fruit trees. It was a way of preserving crops and adding value to them as a finished item suitable for sale or barter.
Situated on 55 rolling acres just six miles upriver from downtown Louisville, this circa 1792 Georgian mansion tells the story of its owners, William and Lucy Clark Croghan. William Croghan arrived in the Kentucky territory with George Rogers Clark, his future brother-in-law, in order to survey the territory. William Croghan and Lucy Clark were married in 1789, and construction began on Locust Grove around 1792. The house was built by enslaved workers, and the farm was cultivated by some 30 to 45 enslaved workers through the Croghan family's tenure.
Locust Grove's Farm Distillery Project opened in May, 2017.
Locust Grove's farm distillery uses a period-style log building to demonstrate the role of distilling in early Kentucky through exhibits, first-person interpreter programs, and demonstrations. Distilling was often the work of enslaved workers, especially women, and this part of the story will be explored as well.

The exhibit is educational in nature, and will not produce spirits for consumption.
Spirits produced at Locust Grove in the distant past might have included fruit brandies as well as liquor distilled from corn and grain. In those days the latter was not aged in charred oak barrels, and so George Rogers Clark's chosen tipple would have been clean and clear white lightning.
The Farm Distillery Project at Locust Grove has been a community effort, with much of the funding coming from the Commonwealth's founding families of bourbon. Louisville's world-renowned Vendome Copper & Brass Company fabricated the 66-gallon copper still and recreated the equipment.
As a closing note, the Carillon Brewing Company in Dayton, Ohio promises "historic beer recipes, brewed historically," as brewed using 1850s brewing techniques — and the results can be consumed.