Think of it as the "former" Mac's Dough House in Jeffersontown (10509 Watterson Trail), which ownership is transforming into an almost entirely different idea: Gaslight Diner.
The pizza is out, although some of the mac 'n' cheese bowls will remain (as a side note, Mac's at Mile Wide is unaffected by the changeover).
All-day breakfast is to be the new normal at Gaslight Diner, along with burgers, family-oriented comfort food and milkshakes. Draft beer stays, and cocktails will be involved.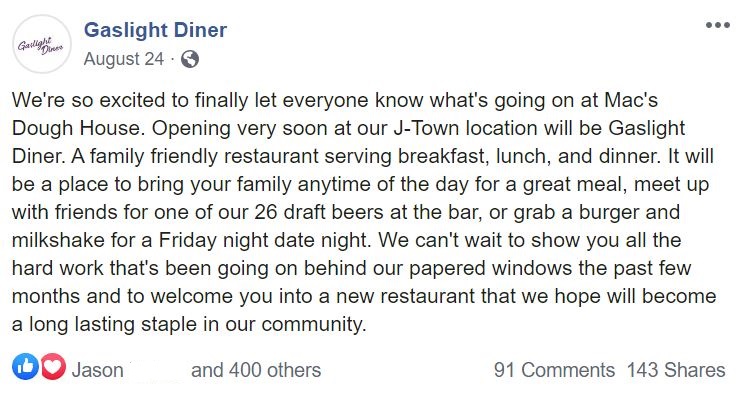 For a deeper dive, read Dahlia Ghabour's story in the Louisville Courier Journal: "Why this pizza place just rebranded to a breakfast and burgers retro diner."
In early July, Mac's Dough House in Jeffersontown shut its doors and prepared for a rebrand. Paper went up over the windows, hiding the total renovation process for nearly two months.

Now, it's almost complete. Mac's Dough House,10509 Watterson Trail, which was known for its loaded mac and cheese bowls and gourmet pizzas, will become Gaslight Diner with a grand reopening set for mid-September.
Gaslight Diner's exact opening/reopening schedule has not been announced, so be sure to visit the restaurant's Facebook page.