[adrotate group="3"]
The sign outside says Main Street Deli, but inside and on the menu, the name is Main Street Café. That discrepancy is a sign—literally—that this East Main dining spot is evolving along with its neighborhood.
"We were one of the first down here on Main, but things are coming to Main Street now," says Chef Laurence Agnew, mentioning the soon-to-be-constructed Ice House Lofts as an example. "In the years to come, you'll see more restaurants down here. Kind of that NuLu feel."
The establishment opened unassumingly in March 2012 in the Ice House as a walk-up deli counter, but within six months, the concept changed. The first step was to shape it into a café with lunchtime table service, open seven days a week. Next came breakfast, served daily and offered all day Saturday and Sunday. By late summer 2013, they'd gotten their liquor license, opened a bar, and as of October were moving toward evening service on Thursdays, Fridays, and Saturdays. Clearly, there's a vision at work here, and a zeal for reinvention.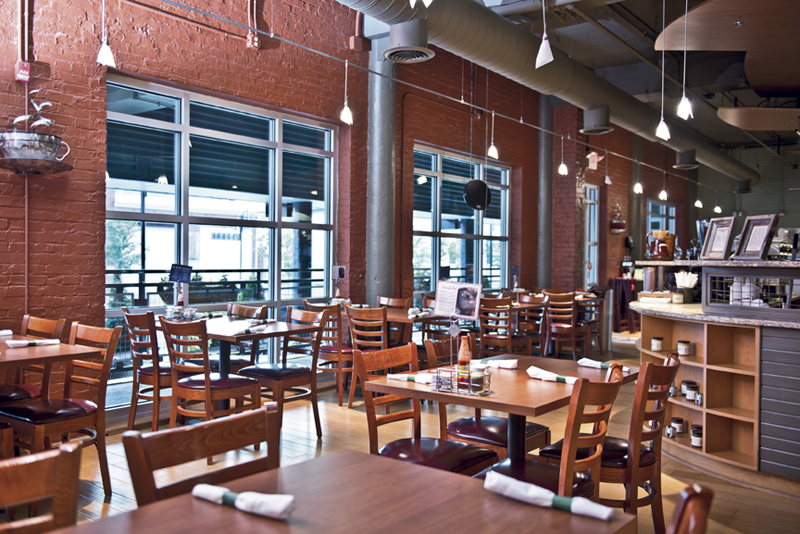 Agnew, a 34-year-old Louisiana native, manages it all using skills he picked up during his years in the hotel restaurant business. In addition to his role as chef for the café, he's the man in charge of the kitchen at Crushed Ice Events, the catering arm of the Ice House. After the more corporate hotel world, this new dual role is "a nice balance. I enjoy this more because I get to cook more. I get to be in the kitchen, which is where it counts."
The evening menu Agnew is developing features smaller plates and boutique wines. A new downstairs space will add a cellar feel, cozier than the current window and outdoor seating. As far as dinner, "we really want it to be approachable and fun," Agnew says. "Refined but relaxed. We're not trying to get too chef-y with it."
High on the dinner menu is an octopus pastrami, brined, crusted in black peppercorn and coriander, and smoked on the café's smoker. Octopus pastrami may sound exotic, but it's a natural extension of what Agnew is already doing with his lunch service, and it's pure deli at heart. He makes his own cured meats, including corned beef, pastrami, and two types of bacon (savory—which is cured with star anise, black pepper and coriander—and sorghum).
"That's the backbone of our menu," he says. The meats are available on sandwiches, as a platter, or by the pound.
Even in their lunchtime iterations, meats and other items are presented creatively. The B.A.T.S. sandwich ($8.50; it's named for Main Street neighbors the Louisville Bats) includes savory bacon, smashed avocado, tomato, and Serrano pickles on sourdough. The keep-it-interesting approach carries through even to the grilled cheese, a top seller at $7.75: It's creatively constructed with provolone, mozzarella, and two housemade condiments — basil pesto and tomato jam — on sourdough.
"Our philosophy is to stay seasonal, to pay attention to the small detail," Agnew says. The customer base tends to be downtown professionals during the week; on the weekends, it's Highlanders and East Enders looking for a new breakfast spot. Weekday or weekend, Agnew theorizes, what brings customers back is "great food, great service, and having a little more of an interesting menu. They'll think: Oh, next time I'll try that."