While we love entertaining and food prepping for our parties ourselves, we never turn down the chance to have chefs join us.
Easy Entertaining By Tim & Lori Laird | Photos by Dan Dry Winter 2018 Print Issue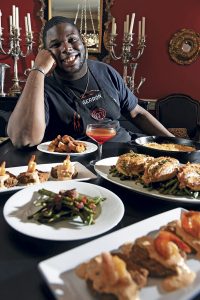 When season 9 of MasterChef began on Fox, we really enjoyed the article about Louisville native contestant, Gerron Hurt, on the F&D website by our editor, Jessica. As we watched him cook his way through to being the champion, we thought he'd be a really fun person to collaborate with on a party.
Turns out we were right. A few emails later, we loved meeting Gerron and his fiancée Brandi. It was as if we were old friends getting together to cook dinner even though we had just met.
"I love to entertain!" Gerron admitted. "My busy schedule only allows me to entertain around the holidays!"
His busy schedule is that of a teacher at LEAD Academy, a charter school in Nashville, but he took on cooking for his seven siblings when his mom passed away. Non-professional home cooks compete on MasterChef in front of celebrity chef judges, and he was one of the 24 televised contestants selected from thousands of hopefuls. Episode by episode, the others were eliminated until he beat two other finalists to win the 2018 champion title and the $250,000 grand prize. He and the two other Season 9 finalists (who also have education backgrounds) will teach campers hands-on cooking skills and techniques at Camp MasterChef.
We're happy to admit that Gerron taught us a few things in the kitchen, too. For our party, Gerron said he "wanted to share dishes that serve as staples in the Hurt household every holiday." He dipped into his Southern heritage to come up with fried green tomatoes topped with Cajun remoulade and a butterflied shrimp, corn-bread-stuffed chicken breasts, and green beans cooked in bacon fat. We supplemented the menu with Southern-inspired dishes of our own: spoonbread cooked in a cast-iron skillet, plus bourbon, butter and bananas for dessert — a twist on Bananas Foster that uses bourbon instead of rum. The bourbon complements the brown sugar and bananas, which adds a wonderful new dimension to this dessert. We served the warm concoction over pound cake, but you can also use ice cream as the base.
The Rise and Shine cocktail we served is a refreshing citrus drink that has a hint of spice thanks to the rye whiskey and pairs wonderfully with the fried green tomato appetizer. The name Rise and Shine is a play on the ingredients: the "rise" is the rye whiskey, and the "shine" is the orange juice.
Impress your friends and family by inviting them over to enjoy this menu. Or better yet, involve them, you can invite them to make dinner together as we did with Gerron.
Who knows? Maybe one of you will be the fourth MasterChef contestant from Kentucky.
_______________________________________________________________________________________________________________
Cajun Fried Green Tomatoes and Shrimp
(Serves 6)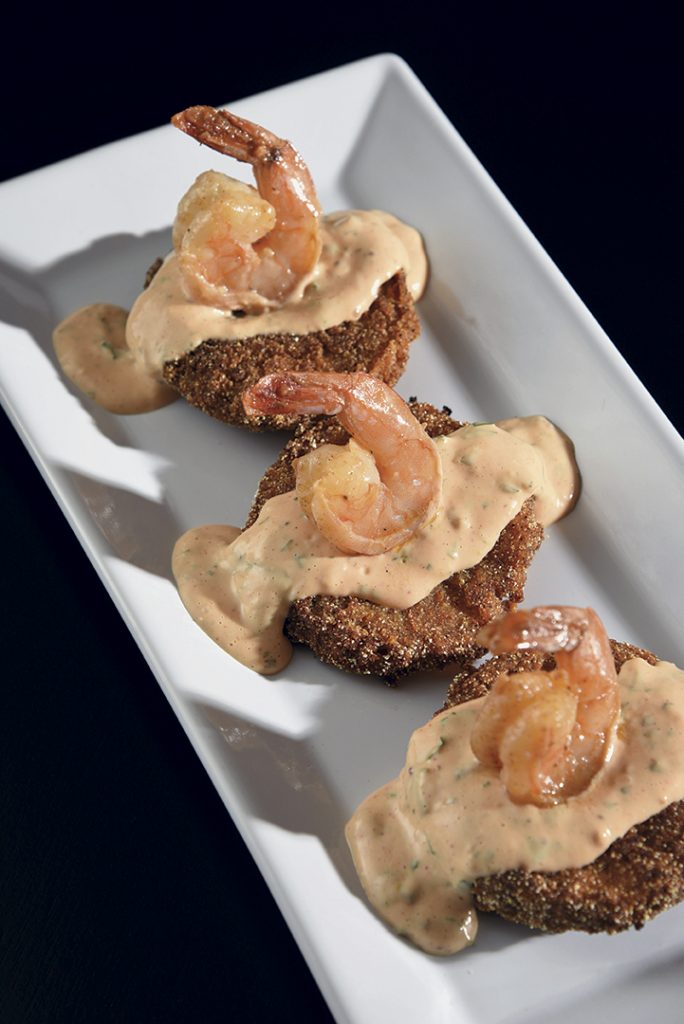 For the Fried Green Tomatoes:
2 green tomatoes, each sliced into 6 even portions
Kosher salt
Fresh cracked pepper
½ cup buttermilk
1 tablespoon onion powder
Canola oil for frying
1 cup flour
1 cup cornmeal
6 jumbo shrimp
1 tablespoon butter
2 cloves garlic, peeled and minced
1/2 cup fresh parsley, chopped
2 teaspoons Old Bay seasoning
1 lemon, juiced
Cajun remoulade (recipe below)
Chopped chives for garnish
Lightly salt and pepper tomatoes. Combine buttermilk and onion powder in a shallow bowl and add tomatoes. Let tomatoes soak for about 5 minutes.
Mix flour and corn meal in a bowl. Dredge tomatoes in flour-meal mixture to coat, return to coat again with buttermilk, then dredge again in flour-meal to insure good coating. In a frying pan heat about 1/2-inch of canola oil to 300 degree – oil should come just a little more than halfway up the sides of the tomato slices. (Note: if oil is too hot, crust will overcook and tomatoes will still be hard.) Fry until golden brown on both sides (about 3- 5 minutes). Remove tomatoes, drain on a paper towel and reserve.
Rinse, peel, devein, and butterfly shrimp. In a skillet, melt butter on medium heat. Add, garlic, chopped parsley and lemon juice. Toss shrimp in Old Bay seasoning and add to skillet and sauté until shrimp are bright pink and opaque (about 2 minutes). Remove shrimp from skillet and let stand.
*Save the reduction (the butter and seasonings in the pan) for remoulade.
For the Cajun Remoulade:
1 cup mayonnaise
1 tablespoon of sautéed shrimp reduction (from above)
1 tablespoon stone-ground mustard
2 tablespoon horseradish
1 teaspoon smoked paprika
½ teaspoon of cayenne pepper
2 tablespoon of sweet relish
2 tablespoon hot sauce of your choice
1 tablespoon parsley, chopped
1 lemon, juiced
1 teaspoon of sugar
In in bowl, whisk to combine all ingredients.
To Plate: Place tomatoes on center of the plate and spoon sauce attractively on top of tomatoes. Top with butterflied shrimp and garnish with chopped chives.
_______________________________________________________________________________________________________________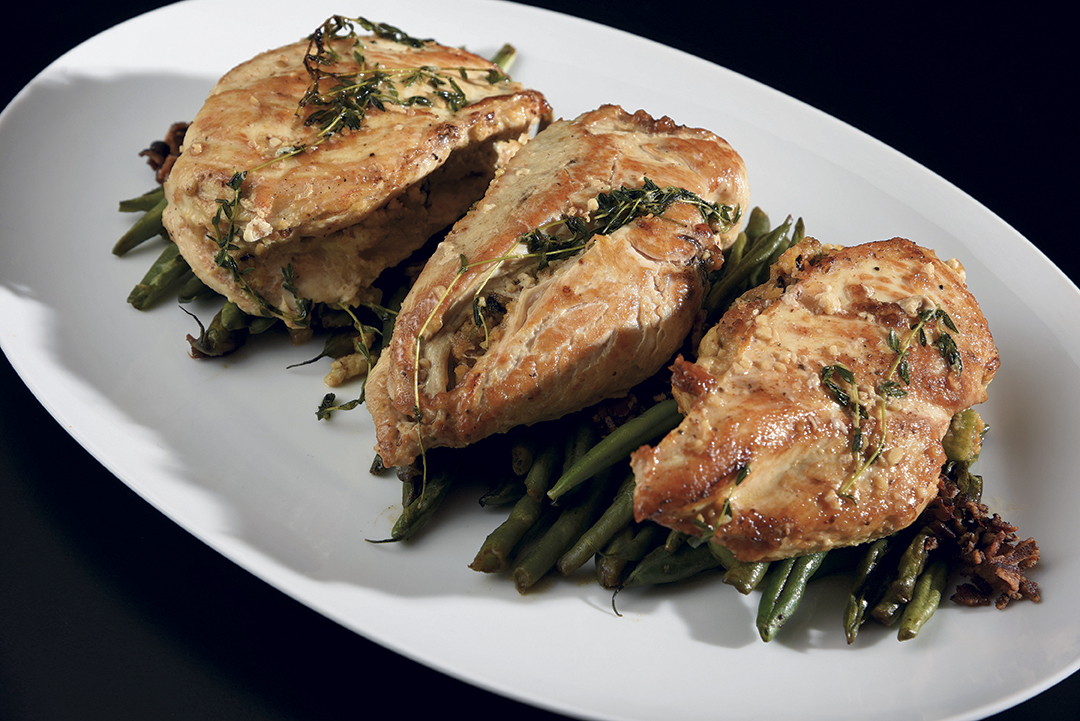 Southern Stuffed Chicken Breast
(Serves 6)
For the cornbread stuffing:
1 box of Jiffy cornbread mix
2 eggs
⅓ cup milk
Non-stick cooking spray
½ stick butter
1 tablespoon olive oil
1 rib celery, chopped
1 onion, peeled and chopped
1 carrot, scraped and chopped
1 tablespoon fresh sage, chopped
1 ½ cup of fortified chicken stock (Recipe below. You can substitute with regular chicken stock in a pinch)
In a large mixing bowl, combine cornbread mix, 1 of the eggs lightly beaten, and ⅓ cup of milk. Whisk until wet and dry are combined. Spray muffin pan with non-stick spray and pour in batter. Bake cornbread for 15 – 20 minutes at 400 degrees until muffins test done in the middle and the sides pull away slightly from the pan.
While muffins are baking, melt a ½ stick of butter and 1tablespoon of olive oil in a skillet. Add onion and celery, garlic and sage to sauté. Cook till tender and onions are just beginning to brown lightly. Remove and reserve.
Take out finished corn muffins and mash in a large bowl. Add reserved sautéed vegetable mixture, the other egg. beaten and 1 cup of fortified stock and combine. Set aside to stuff chicken breast.
(Note: You want the mixture to be wet. If it's too dry, add additional fortified stock 1 tablespoon at a time.)
For the fortified stock:
1 32-ounce box of chicken broth
1 rib celery, chopped
1 onion, peeled and chopped
1 carrot, scraped and chopped
⅓ cup of any white wine (Pinot grigio preferably)
Salt and pepper
In a large saucepan, bring chicken broth to a boil. Add onions, celery, carrots and wine to broth. Add salt and pepper. Simmer for 15 minutes, uncovered.
For the Chicken Breast:
6 boneless, skinless chicken breasts
1 tablespoon Old bay seasoning
Kosher Salt
Cracked pepper
1 tablespoon olive oil
3/4 stick of butter
6 fresh rosemary sprigs
6 fresh thyme sprigs
6 lemon wedges
½ cup grated parmesan cheese
Wash and trim gristle from chicken breast. With a sharp knife, butterfly chicken breast. To do this, lay breast flat on a board and with a sharp knife, little by little slice breasts in half horizontally, but stop when about 3/4 the way through. Open the breast like a book. Repeat for all 6 breasts. Lightly season all sides of the chicken breast with Old Bay seasoning, salt and pepper. Divide the reserved cornbread stuffing between the 6 breasts, fill each breast with stuffing and seal the edges with toothpicks.
In a frying pan, on high heat, add olive oil and butter. When butter is sizzling, add chicken breasts, rosemary sprigs, thyme sprigs and lemon wedge. Sear each side of chicken breasts about 4 minutes, all the while spooning the butter bath – the herbs, butter and lemon mixture – over breasts.
Transfer to a sheet tray, sprinkle lightly with grated Parmesan and finish in oven preheated to 350 degrees. Bake for 8-10 minutes or until chicken reaches internal temperature of 165 degrees.
_______________________________________________________________________________________________________________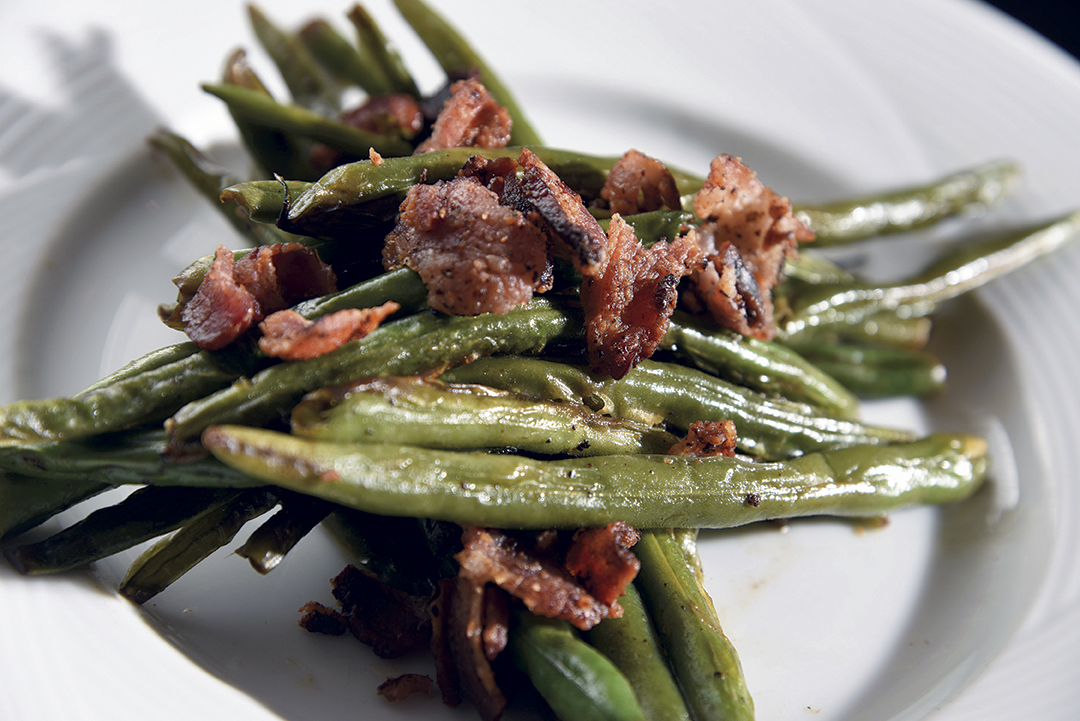 Simple Green Beans with Bacon
(Serves 6)
2 pounds of fresh string beans
6-10 slices of thick cut bacon
1 stick of butter
3 cloves garlic, diced
1 lemon, juiced
Salt and pepper to taste
Wash green beans and remove unappetizing stems and trimmings from both ends of beans.
Sear bacon in a skillet until crispy and golden brown. Remove bacon and drain on a paper towel.
Add to the skillet (with rendered bacon fat) the butter and diced garlic. When butter is melted, add the string beans to the skillet, stirring occasionally. Cook beans until tender but still bright in color, 10-15 minutes.
Remove beans from skillet and place in a serving bowl. Toss beans with fresh lemon juice and salt and pepper to taste. Roughly chop reserved bacon and scatter on top of string beans.
_______________________________________________________________________________________________________________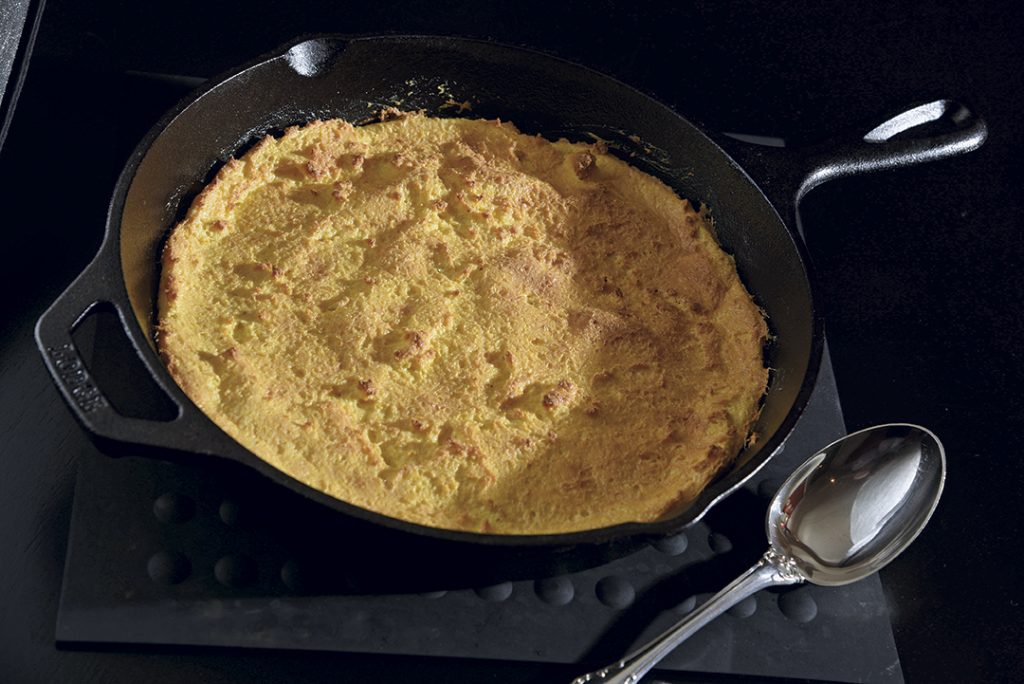 CAST IRON SPOONBREAD
(serves 6)
2½ cups whole milk
¾ cup yellow cornmeal
1 teaspoon sugar
1 tablespoon unsalted butter
1 teaspoon kosher salt
½ teaspoon ground white pepper
2 large eggs, separated
Preheat the oven to 325 degrees. Grease a 9-inch cast iron skillet and set it aside.
In a medium saucepan over medium heat, bring the milk to a boil. Whisking constantly, gradually add in the cornmeal. Cook for 10 to 12 minutes, until the mixture thickens. Add the sugar, butter, salt, and pepper, stirring until combined.
Remove from the heat and stir in the egg yolks one at a time. Set aside and let cool for 15 to 20 minutes.
Place the egg whites in a large bowl and whip with a whisk or electric hand mixer until stiff peaks form. Fold one-third of the egg whites into the cooled cornmeal mixture. Repeat until all the whites are incorporated and the mixture is smooth.
Transfer the mixture to the prepared cast iron skillet and bake for 45 to 60 minutes, until the top is golden brown and the middle is set. Serve warm.
_______________________________________________________________________________________________________________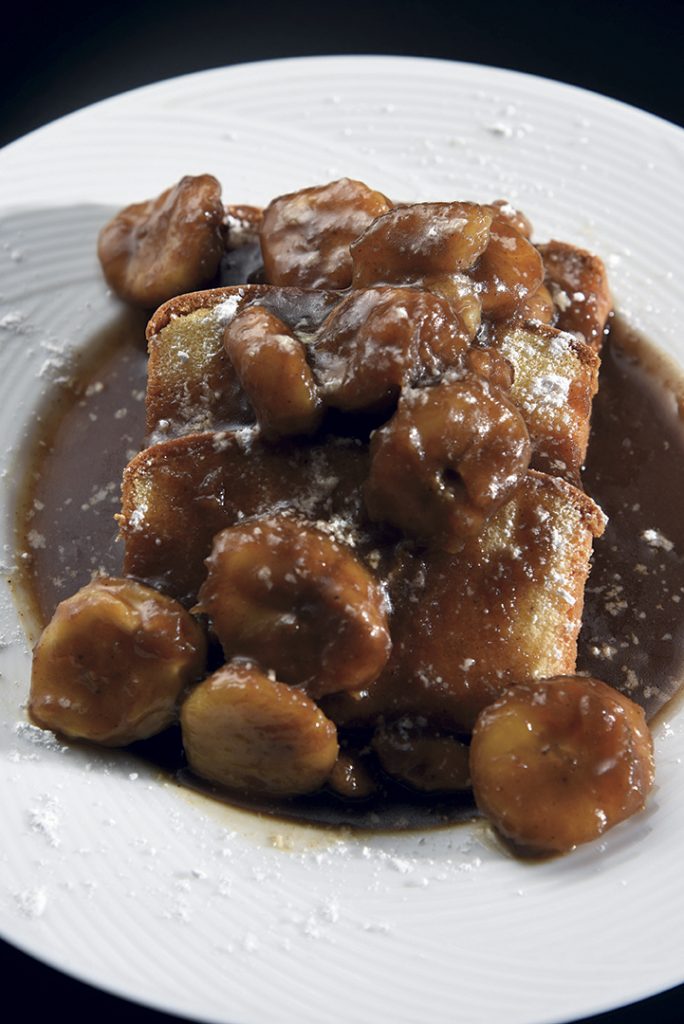 Bourbon, Butter and Bananas
(serves 6)
¼ cup butter
1 cup brown sugar
½ teaspoon cinnamon
¼ cup banana liqueur
5 bananas, cut in ½-inch slices
¼ cup Old Forester bourbon
1 pound cake, sliced, or vanilla ice cream
Powdered sugar, for garnish
In a medium skillet, over low heat combine the butter, brown sugar, and cinnamon. Cook, stirring, until the sugar dissolves. Stir in the banana liqueur and then add the bananas. When the bananas soften, carefully add the bourbon. Continue to cook the sauce and when it becomes very hot, tip the pan slightly to ignite or ignite with a lighter. When the flames subside, generously spoon the bananas and warm sauce over two slices of pound cake or ice cream. Sprinkle with powdered sugar and serve immediately.
_______________________________________________________________________________________________________________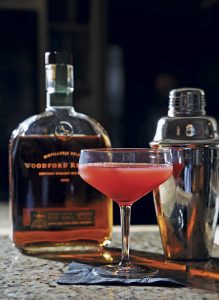 Rise and Shine Cocktail
(Makes 1 cocktail)
The rise is the rye whiskey and the shine is the orange juice. You will rise and shine any time to day with this great cocktail.
2 ounces Jack Daniel's Tennessee Rye
2 teaspoons grenadine
½ ounce orange juice
½ ounce lemon juice
Shake and strain into martini glass. Top with a cocktail cherry. F&D
advertising content
advertising content