The Myriad Hotel is coming to Louisville in August. It's a 65-room boutique hostelry in the Highlands (900 Baxter Avenue), and also the answer to a future trivia question: Which Louisville hotel is located on the former site of a disco ball factory?
(Omega National Products; cue up the Bee Gees.) 
Myriad Hotel arrives courtesy of local developer Weyland Ventures, as one component of its expanding and evolving Common Bond Hotel Collection, which is responsible for the Bardstown Motor Lodge and its on-site eatery, Toogie's Table.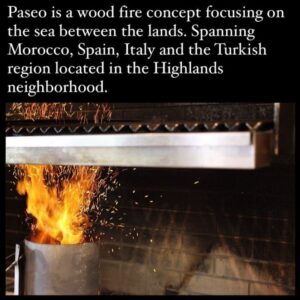 Paseo is to become the signature restaurant at The Myriad Hotel, and it is slated to open in June. F&D received an information packet about the hotel and restaurant, and highlights follow. You can survey Paseo's menu here.
They had me at "harissa."
—
Paseo
Paseo, a wood-fired cookery featuring thoughtfully sourced dishes from local purveyors that are inspired by the flavor profiles of Southern Europe. The 154-seat metropolitan-styled restaurant is set in an indoor/outdoor environment in Louisville's lively Highlands district. The culinary team is led by Jeremy Frederiksen, who serves as Executive Chef, and is supported by Chef Mike Wajda, the Director of Culinary at the Common Bond Hotel Collection. The creative partnership between the two Chefs has existed for seven years and is the backbone of the Common Bond Hotel Collection culinary program.
Chef Wajda graduated from the Pennsylvania Culinary Institute in 2007. As Chef de Partie at Restaurant Gordan Ramsey in New York City, Chef Wajda spent three years developing his craft alongside the world-renowned celebrity chef. With subsequent stints at East Coast hot spots including Craige on Main in Cambridge, Massachusetts, Chef Wajda was offered the coveted spot as Corporate Sous Chef for the Michael Mina Group in San Francisco. At Michael Mina, Wajda assisted in the management of 23 restaurants and over 1500 employees, as well as launching seven restaurants around the world in a single year. Chef Wajda and Chef Frederiksen have collaborated for the past seven years.
About Myriad Hotel
Located in Louisville's iconic Highlands district, the Myriad Hotel is a revitalized urban oasis crafted for the urban nomad seeking a lively retreat. Featuring a labyrinth of surprising spaces that reflects the eccentric signature style of the neighborhood; travelers will learn to expect the unexpected. Myriad Hotel's accommodations provide a fun yet cozy haven for guests after a busy day of exploring the city's notable attractions all located just steps from its doors. This captivating refuge comprises 65 guest rooms, including 15 different room styles and two bunk rooms. Amenities include Myriad Swim Club, Paseo, Switchboard and Bar Keep. The property boasts three distinct spaces for private events and groups, with the most significant space hosting up to 30 guests.