An article in Forbes about Nobel prize winner Shuji Nakamura claims that anger is the mother of invention.  One might not compare the blue light emitting diodes he created that made possible every flat screen television to the crystal clear ice that has been popping up in premium drinks around Bourbon Country with heavy hitting brands like Maker's Mark, Rabbit Hole, and Jim Beam, but the beginning of both stories is similar.
If you've been to a bourbon tasting lately, or have ordered a premium cocktail at places like Meta or 21c Hotel, you might have taken a moment to admire the "stunningly clear" luxury ice or even the bourbon's brand that is seemingly "carved" into it. These rocks come from Kentucky Straight Ice, a small local business founded by Rich Finck.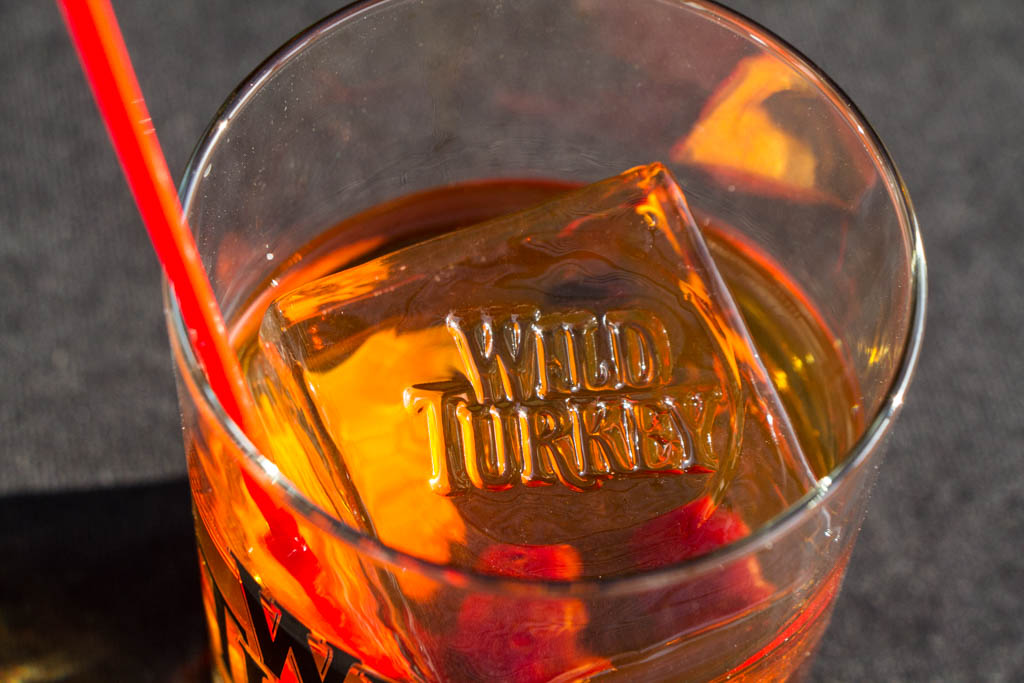 Finck says the company was born out of his love for drinking bourbon on the rocks and the way his friends admonished him for it. He was out with his wife and friends for a Luke Bryan concert in 2015 in the aftermath of what many bourbon lovers will remember as "Pappygate" – about $100,000 in theft of the coveted brand's barrels. His friends wanted to buy a flight of Pappy Van Winkle to try and each planned to throw in about $30 to share the flight of half-shots. Rich said he would do it if he could put it on ice, which led to outrage amongst his friends.
"About the time they were telling me they didn't want my money, a guy came with an ice bucket and parted our group," Finck recalled. "He went and dumped it in the ice vat, where it just dripped and dripped; it was gross. Who knows where that bucket came from? It could have been propping open the bathroom door. So, I admitted my friends were right. Who would want that ice in Pappy?"
"So, I sampled it warm. I don't know what I expected it to do. I didn't get taller or smaller.  It was just good bourbon. I was disappointed. I think I would have liked it better on ice. I think you should drink bourbon exactly how you want it."
"I think you should drink bourbon exactly how you want it."
He may have admitted defeat in the moment, but he went home and started a note file on his phone, making arguments for why his love for bourbon on the rocks could be a viable business.
This business would work because no one is doing it.
This business would work because this is Bourbon Country.
This business would work because…..
The list grew until it pushed him into research. Finck referred to pop psychology writer Malcom Gladwell's rule that says you have to do 10,000 hours of work to become world class in a field, and that's what Finck set out to do. He spent hours upon hours and many late nights at his computer, researching everything he could about premium ice. He toured a facility in Chicago. He interviewed people. He discovered he was not the first to think of distilling premium ice, but that he was the first to offer it in Kentucky – and the first to use limestone water, the very DNA of bourbon.
As his frustration with his friends grew into a vision, Finck planned to leave his job at Samsung, where he was 16th in the country for sales. He began to put away all of his bonuses to launch his company, but his friends thought he was nuts.
"My friend said to me,'You have a one-year old daughter ,and you're leaving a great paying job. Being a semi-professional alcoholic doesn't give you the right to start a business in the bourbon industry,'" Finck said,  relaying the joke with a laugh.
But he says he knew the company has to exist. His financial adviser told him to create and plan his budget twice and, when he got to a point where he thought he couldn't spend any more, double it. So, he did, and then he began to trade his life savings for pieced together second hand kitchen equipment, an ice maker, a chainsaw with FDA approved soy lubrication, an engine hoist, a band saw and a giant freezer among other tools. He made the transition to working Kentucky Straight Ice full time last fall, and his transformation from tech nerd to ice nerd was complete.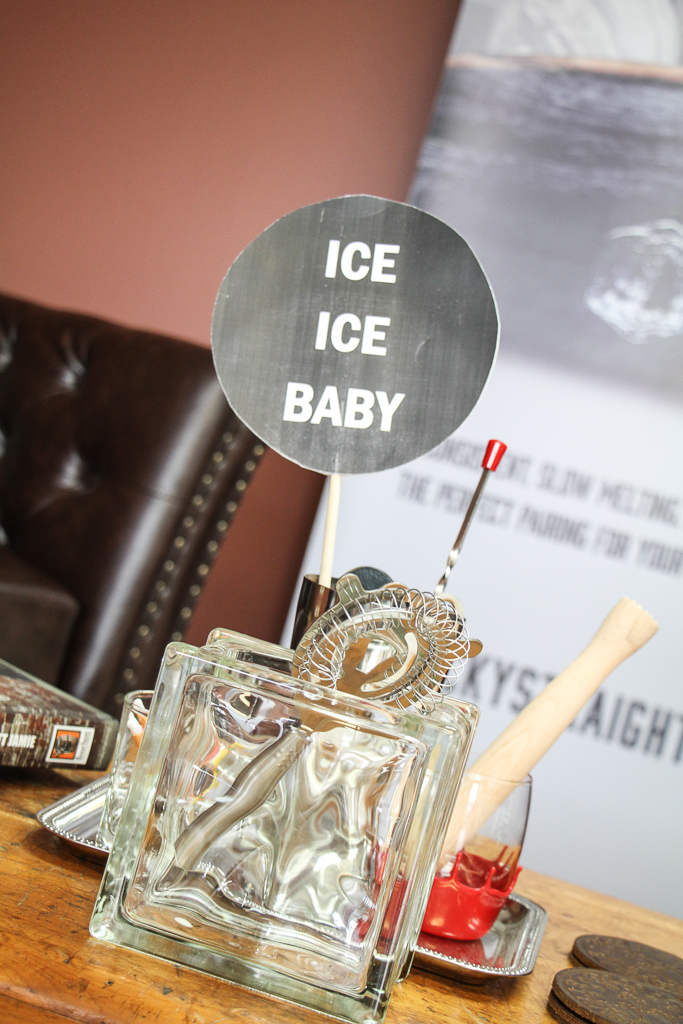 The Ice Process
While making the transition, Finck befriended Eugene Bell, who teaches at Sullivan University and has been sculpting ice since the 80s. The two ran a test market out of Sullivan to see if bars would buy the ice. After giving away tons of free ice, Finck found his first customers: Mr. Lee's Lounge and Rabbit Hole.
The company now operates out of a humble commercial space with just enough room for Finck to do what he needs to, and there is absolutely no automation. Water spends four days in the ice maker, which keeps the water moving. The movement is what causes bubbles and impurities to rise to the top, where they can be removed. Then, Finck uses an engine hoist to remove the 300 lb block of ice to the freezer, where it is stored (on the floor for sculptures and on shelves for drink rocks.) Then that block of ice will be cut up and carved using the chainsaw, a bandsaw, and shaped with aluminum and other tools. Rich has a row of different types of bar glasses sitting near his workspace to make sure he can accommodate the various sizes of diamonds, cubes, spheres, skinny Tom Collins ice sticks or even cubes encasing edible flowers that a client may want. The rocks are stored in plastic bags, because they will need to tempur at the bar before being put into a drink or they will spider crack.
One of Finck's favorite memories so far is getting to work with a different type of rock. He was asked to encase an engagement ring in a cube of ice for a proposal to a lady who loved bourbon.
"I was so excited, but then I realized I didn't want to risk ruining the ring. So, I headed off to the novelty store to find a plastic ring that looked similar. He got down on one knee and presented a glass of bourbon to her. At first, she looked at it like 'what the heck is in my drink?' But, then she saw he was on one knee and got super excited, and she said yes."
Although luxury ice and premium drinks are a natural marriage, the company also receives requests for ice sculptures (like a rabbit that bourbon could flow through for Rabbit Hole), which Finck leaves mostly to Bell and Ft. Knox Executive Chef Joshua Perry to create.
As an added bonus to his customers, Finck locally sources aluminum "brands" to put logos or names into the surface of the rocks. These stamps do not have to be heated. Ice reacts to aluminum by melting, so the stamp only has to be pressed onto the ice to leave an impression — and looking down to see the name of a bar or bourbon on your large 2-inch cube makes quite an impression indeed. Some guests even try to pick up the ice, mistaking it for glass.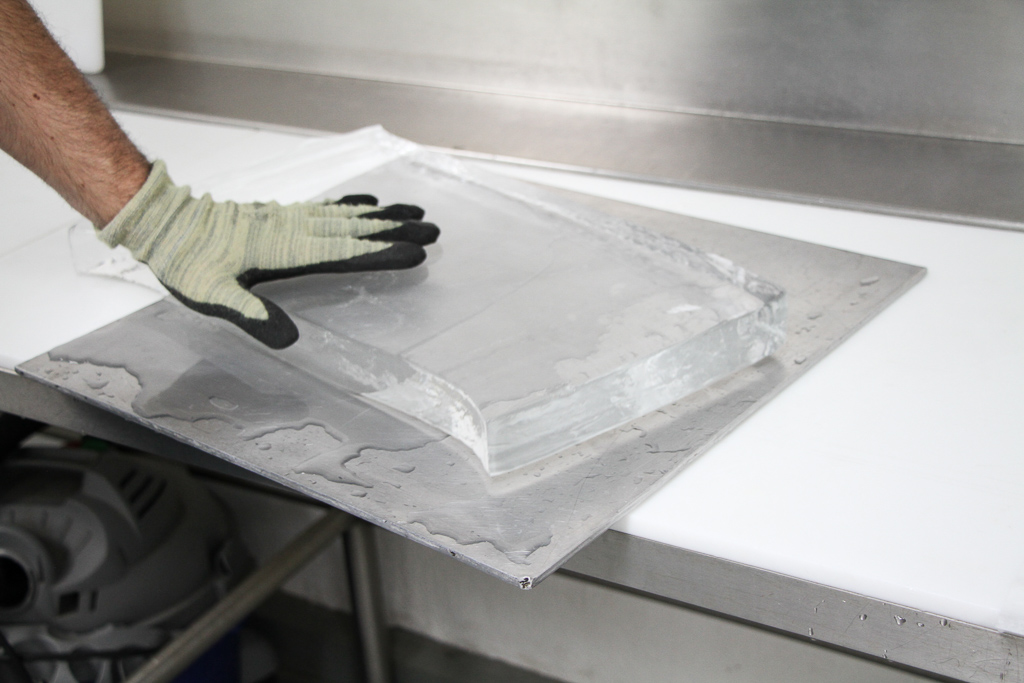 It's Science!
Great bourbon is distilled in Kentucky for the same reason great race horses are raised here: the limestone in the ground — or as Finck calls it, the DNA of bourbon. The limestone minerals like calcium give horses stronger bones, and the high pH of limestone promotes fermentation and filters while filtering out impurities like Iron, which gives liquor a bad taste. It's clear (all puns intended) why this colder denser ice would be preferable after he told me air bubbles are like heat trapping insulation in regular ice, but a question arose as I listened to Finck tell me his product melts three to four times slower, which means far less dilution of the drink.
What is the benefit of premium ice over whiskey stones?
He was excited to tell me more about why his rocks beat stones or regular ice. He explained that whiskey stones will always retain a bit of flavor, no matter how well you wash them and that barrel proof bourbons are a perfect example of when the ice is definitely preferable.
" …no matter how much of a hard ass you think you are …you're lying to yourself…"
It is recommended to open up the flavor by adding drops of water when tasting any bourbon over about 90 proof. A proof that high will actually burn the taste buds to an extent, which means you won't be able to taste all of the flavor points or nuances of that bourbon. Since his ice melts slowly, it is essentially adding those drops for you before each sip and opening up flavor.
"A lot of barrel proof bourbons are 120 proof, which is insanity. So, if you're drinking these — no matter how much of a hard ass you think you are — and think you're experiencing everything those bourbons have to offer, you're lying to yourself, because your genetics are not stronger than your ego."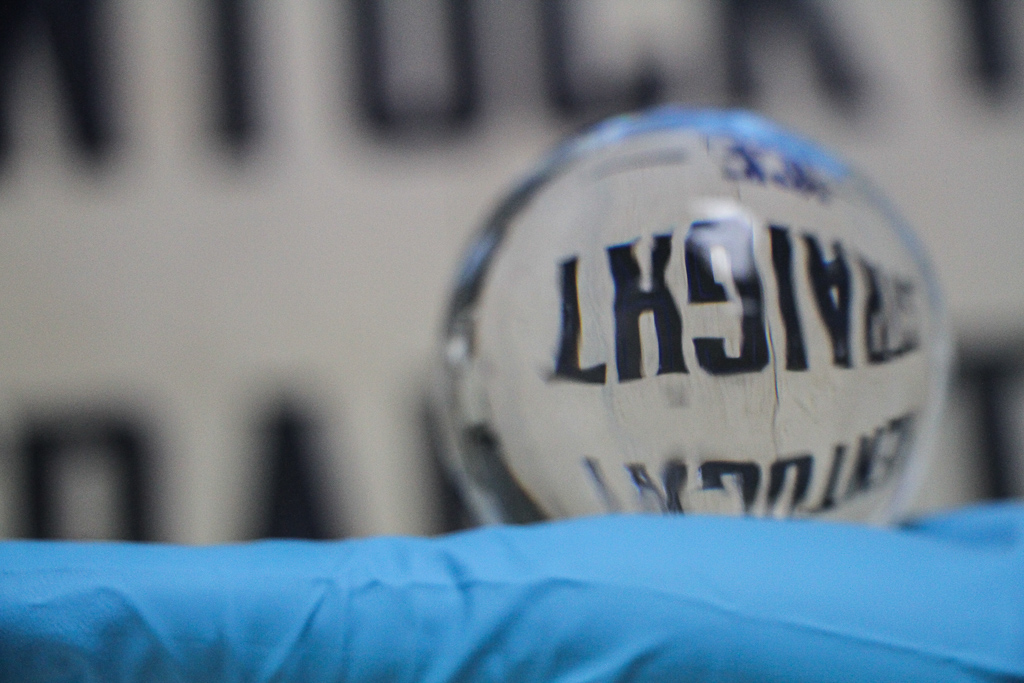 Cheers to the Future
Kentucky Straight Ice is a Kentucky Proud family owned operation. Finck takes on most of the work himself, but he has occasional help from his father, wife, sister and cousin. He has plans for growth that would require additional employees, though and says he is working to create a company that will hopefully support his grandkids.
In addition to the current products he offers, he is very close to having a packaged product that would be available at liquor stores so people could easily pick it up on their way to a party or bourbon tasting. For now, he sells it right out of his workspace.
Those sales might be delivered to big clients like Bulleit, Heaven Hill, Maker's Mark and venues like 21c Museum Hotel, Jeff Ruby's and  The Speakeasy in the Omni Hotel in Louisville or Versailles venues like The Castle, but Finck also sells small quantities to individuals who want to entertain their guests with custom cubes or a punch bowl diamond. Those individuals can buy a small foam cooler from him or even borrow it and bring it back.
"I'm selling frozen water for a living now, so anyone who wants to give me money for frozen water —  I will take that money. No one needs luxury ice, and I know that. This is a product that exists because this community cares so much about bourbon, and we're riding the coattails of all these huge companies."
If you want to buy ice, you can call 502-408-2ksi (2547) or email sales@kentuckystraightice.com. You will always need an appointment, because this do-it-yourselfer  is often out delivery ice to their clients.