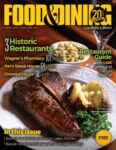 The Spring 2023 issue of Food & Dining Magazine is now available in all the familiar places: Louisville area eateries and food shops, newsstands and online.
There is exciting news to report about the immediate future of a dormant church at 601 E. Market in NuLu, but first, the answer to the lingering question of what became of the project previously proposed for the site.
In December, 2018 the Courier Journal's Maggie Menderski introduced readers to the ChurchKey project slated for the corner of Market and Hancock.
NuLu joint will be part sports bar, part bocce ball, part Cajun-creole
(Scott Smith) knows the folks behind Rhein Haus, the German-inspired bocce, beer and brats concept that has locations in Denver, Seattle and Tacoma.
The (Weyland) development team, too, took some inspiration from Pinewood Social in Nashville. That restaurant hotspot is rigged out with bocce ball, two dipping pools and bowling.
These aren't just places that people go to eat. They're places people go to be together. And that's the vision for ChurchKey when it opens next year.
Obviously ChurchKey never opened in 2019. The most recent post at its Facebook page appeared more than three years after Menderski's initial preview.
Fortunately we're not here to adjudicate disputes, so let's turn to the news of a brand new plan, as revealed last November at Men's Journal during the course of explaining Heaven's Door Whiskey's acquisition of a Kentucky distillery to serve as its home base.
But if Pleasureville (the distillery) is too far for folks to get to, not to worry: Heaven's Door is opening a second location in the heart of Louisville in the NuLu district. Appropriately, the mixed-use venue, coined The Last Refuge, is a former church. Once renovated, it will offer a brand experience that incorporates art, music, and way more whiskey than you might expect
For those previously unaware, Heaven's Door Whiskey is the brainchild of none other than Bob Dylan.
Of all the celebrity whiskeys that have buoyed to the tops of our social media feeds and newsletters, few have made a mark quite like Heaven's Door. Backed by Bob Dylan, with bottles that sport his steampunk metalwork designs, Heaven's Door has established itself as a serious whiskey in its own right—beyond the star-powered affiliation.
Yesterday at WDRB, Joel Schipper got down to details.
Historic Louisville church to house whiskey bar, art gallery from Bob Dylan's Heaven's Door Spirits
A 144-year-old church in Louisville's NuLu district could soon be home to a bourbon tasting room, art museum and live music venue.
"The Last Refuge" will be a brand center for music legend Bob Dylan's Heaven's Door Spirits, complete with a whiskey bar and restaurant, two-story art gallery and live music space.
There isn't a paywall at WDRB, so please peruse the proposal at your leisure. For me, this part struck a chord.
Attached to the back of the church is an old gymnasium with a raised walking track, an area that, as part of Phase 1, will be transformed into a whiskey bar and restaurant "with the largest selections of American whiskey anywhere," Heaven's Door said.
"This is really going to be the high church of bourbon," (CEO Marc) Bushala said.
Ironically, the planet's largest American whiskey bar already is located in Norton Commons. Watch Hill Proper has 1,600 unique American whiskeys in stock, as discussed in F&D's profile of the Norton Commons destination last year.
This could be interesting, but as Schipper reveals, The Last Refuge isn't the only happening to be happening in NuLu.
There are currently more than $300 million in projects in the works in the area, including plans to turn the former Joe Ley Antiques site into a hotel, an expansion to Rabbit Hole Distillery on East Jefferson Street and several others. A $78 million project was announced in 2021 on a 2-acre plot between South Clay and South Shelby streets. Called NuLu Crossing, it will have 284 residential units and include a grocery store as part of 85,500 square feet of commercial space.
The Last Refuge buildout will come in stages, with the first aimed at completion in September 2023.