Louisville's older-school establishments and their veteran operators embody the Cheers ethos, the sheer genius of which was at last putting into words the desire we all harbor, at one time or another, to be Norm:
Sometimes you want to go
Where everybody knows your name
And they're always glad you came
You want to be where you can see
The troubles are all the same
You want to be where everybody knows your name
Of course we do, and if you're like me, being unable to experience it (on both sides of the bar) is one of the biggest morale-sapping aspect of COVID-19.
Coping with the pandemic means giving up one's seat at the bar, where you'd customarily go to make sense of a crisis alongside friends, and finding that Zoom isn't quite the same. It's also the sad recognition that many of our longest-tenured dining and drinking favorites are the most vulnerable to these new, viral vicissitudes.
This, then, is a long-winded way of saying goodbye to Spring Street Bar and Grill, which has occupied the corner of Spring and Payne since 1987. Owner David Clephas explained last week at Facebook.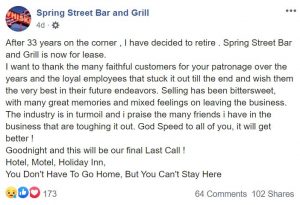 "After 33 years on the corner , I have decided to retire. Spring Street Bar and Grill is now for lease.

"I want to thank the many faithful customers for your patronage over the years and the loyal employees that stuck it out till the end and wish them the very best in their future endeavors. Selling has been bittersweet, with many great memories and mixed feelings on leaving the business. The industry is in turmoil and i praise the many friends i have in the business that are toughing it out. God Speed to all of you, it will get better!

"Goodnight and this will be our final Last Call!

"Hotel, Motel, Holiday Inn,
You Don't Have To Go Home, But You Can't Stay Here"