BOURBON NEWS & NOTES – 14 August, 2020, by Susan Reigler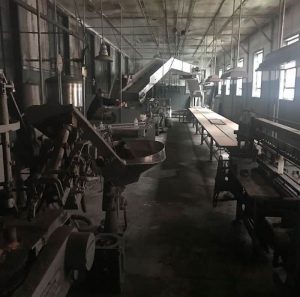 New Life for the T.W. Samuels Distillery
Close observation through a line of trees set back from the north side of KY-245 west of Bardstown will be rewarded with the sight of the tops of several uniquely shaped bourbon warehouses. Still used by Heaven Hill for aging whiskey, they originally belonged to the T.W. Samuels Distillery, which made bourbon on the site from 1933 to 1952.
The Nelson County Economic Development Agency has just announced that a consortium that includes Georgia-based developer Rick Puig and business partner Ryan Mollenkopf, are leading reopening of the property as a museum and visitor attraction. In a prepared statement, Puig noted, "One of many things will make touring Old Samuels so amazing is how much of what was used to make whiskey back then still remains. The first time we came here, the lab, where grain and new make and whiskey were analyzed for quality, we found beakers, test tubes and electronic devices from that time just left in place as if workers would return the next day. It's this incredible snapshot in time, and that's only part of what visitors will see."
T.W. Samuels was the father of Maker's Mark founder Bill Samuels, Sr. The site will be renamed Old Samuels Distillery. Plans include a retail shop, restaurant, bar, and tasting room. Eventually 40 to 50 cottages that can be rented for overnight stays will be built on the 44-acre site. Parts of the experience may be ready later this year. To follow progress, go to https://oldsamuels.com.
Elijah Craig Toasted Barrel Release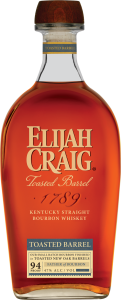 Elijah Craig is adding a new expression to its line-up of premium whiskeys. Elijah Craig Toasted Barrel Kentucky Straight Bourbon will be released nationwide (on an allocated basis) in September. The bourbon has the same mashbill as Elijah Craig Small Batch (78% corn, 10% rye, 12% malted barley) and is also 94 proof. The Small Batch is aged in a new white oak barrel that has Char #3, the second deepest char level.
The Toasted Barrel differs in that after initial aging, the bourbon is transferred to a second barrel which has been given the lightest Char #1 after receiving a custom toasting, which involves heating the wood to release the vanillin from the lignin in the wood. This gives bourbon its characteristic vanilla and caramel flavor notes. Toasted Barrel is then bottled after additional time aging in the second barrel. Elijah Craig already has a notable caramel base and this process really amplifies the caramel, enriching it to toffee and adding sweet oaky notes to Toasted Barrel. Suggested retail price is $49.99 per 750 ml bottle.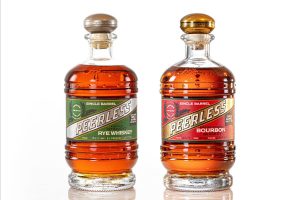 New Peerless Single Barrel Releases
Starting Friday, August 14th four new Kentucky Peerless single barrel whiskeys – two bourbons and two ryes – are available for online purchase and curb side pick-up. According to the distillery, Savory Oak Bourbon "offers natural notes of sweet oak and molasses" and Walnuts Old Fashioned Bourbon's notes are "roasted nuts, fruit bitters, and leather."
Endless Orchard Rye's flavors are "fruit and florals, honey, and sweet oak. Found in Toffee & Tobacco Rye are "toasted brown sugar, citrus, and sweet pipe tobacco." All retail for $124 per bottle. To purchase, go to https://kentuckypeerless.com.
******************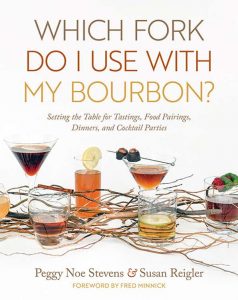 F&D Bourbon Columnist Susan Reigler is the author of several whiskey books, the most recent being Which Fork Do I Use with My Bourbon? Setting the Table for Tastings, Food Pairings, Dinner, and Cocktail Parties, co-written with Peggy Noe Stevens.
Autographed copies are available from Carmichael's Bookstore. It can also be purchased on Amazon, or directly from the publisher at https://www.kentuckypress.com/9781949669091/which-fork-do-i-use-with-my-bourbon/.
Photo credits: Old Samuels Distillery, Heaven Hill, Kentucky Peerless.