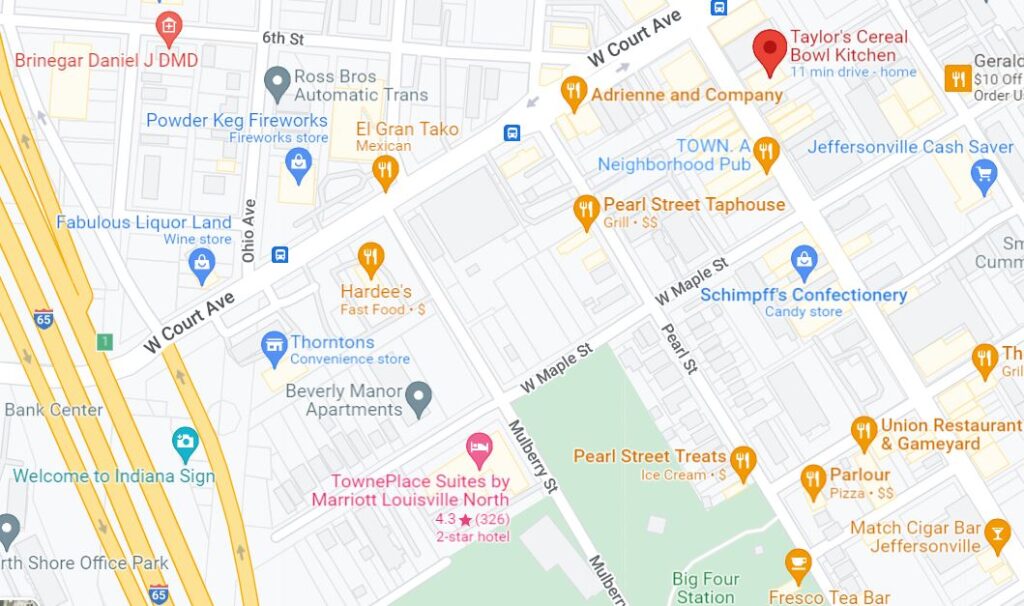 The latest issue of Food & Dining Magazine (Winter 2022; Vol. 76; Dec/Jan/Feb) is out now and can be snagged in all the usual physical locations, as well read at issuu. 
Food & Dining Magazine received a message last week from the owners of Taylor's Cereal Bowl Kitchen (438 Spring St. in Jeffersonville), an ice cream shop "with more than just sweet treats, an environment for kids and a safe space for neurodivergent children," seeking inclusion into our quarterly print listings.
Of course, but kindly allow this confession: I work right down the street from Taylor's, and until recently somehow missed seeing it even though I've driven past numerous times. So, let's put this right and cover an opening that occurred a year ago.
Taylor's is pursuing an utterly unique mission among area sweets shops, as explained in this story by Dakota Sherek at WDRB-41.
(Owner Marshall) Pence and his wife Donique's vision goes beyond unique ice cream flavors — their main goal is to provide a sensory-inclusive space for kids with autism or neurodivergence.
"My son, and I also have a nephew that's autistic," said Pence. "And playing with this technology has brought them out of their shell."
An interactive floor features a number of scenarios and games. There's also sensory toys and 3D printers. Plus, a machine that can take a picture of child's drawing and insert it as a 3D animation on a projected screen. That feature is what Pence believes will be the big draw.
"Living animation," Pence said. "You know, I think that's what's going to take everyone by storm."
Pence says during tests, the technology has gone over well so far. "When you see the children interact with this technology, it's just unbelievable," Pence said. "It just melts your heart. You just don't know what to do because they get so engaged with it."
Each week the local business press lauds the latest "new to market" chain or franchise. I won't apologize for my indifference, when Taylor's Cereal Bowl Kitchen is proving yet again that independent small businesses are the real innovators.
View this post on Instagram
Our kids had so much fun playing at Taylor's Cereal Bowl Kitchen in Jeffersonville, Indiana. This is an ice cream parlor like no other!
They are neurodivergent friendly, because people with sensory sensitivity often don't like smooth textures on their palate. So at Taylor's Cereal Bowl Kitchen they can have a variety of textures added to their ice cream through cereal and crushed candies. 🍬
When you go ask about their special tech games and 3-D printer play!🍦