Over the weekend this message appeared at the web site of the venerable Cafe Mimosa.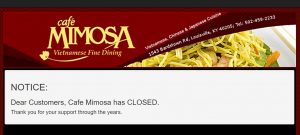 NOTICE: Dear Customers, Cafe Mimosa has CLOSED. Thank you for your support through the years.
Cafe Mimosa and its counterpart Egg Roll Machine had been doing business at 1543 Bardstown Road ("where Lentini's used to be") since late 2009. As one of Louisville's first Vietnamese eateries, later incorporating Chinese cuisine and sushi, Cafe Mimosa perhaps was remembered most fondly from the restaurant's previous long-term location at 1216 Bardstown Road, three-quarters of a mile to the northwest. That building was destroyed by fire in January, 2009, after which the business relocated.
No further information was provided.