It's mid-June and the Peach Truck is returning to Metro Louisville this month and next. For 2019 there's a helpful how-to bonus: The Peach Truck Cookbook, with "100 delicious recipes for all things peach."
You'll be needing these peach tips, because each summer Stephen and Jessica Rose's Nashville-based Peach Truck goes on tour, bringing half-bushel boxes of fresh Georgia peaches (25 pounds for $45) straight from the Deep South to selected locations in metropolitan Louisville and surrounding states.
Peaches originated in China and were brought to the New World by the Spanish. Thomas Jefferson raised peach trees at Monticello, but Georgia is the state widely renowned for its annual crop. The Peach Truck's fuzzy bounty comes from Fort Valley, Georgia, home of the world's largest peach cobbler, which measures eleven feet long, five feet wide and eight inches deep, baked annually for the Georgia Peach Festival.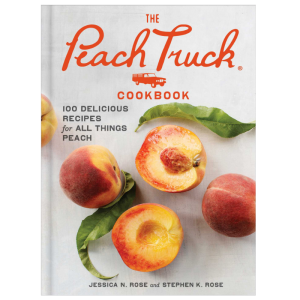 The Peach Truck Cookbook provides diverse instructions on how better to enjoy your haul, from peach-candied bacon to pickled peach deviled eggs. "Sure to be one of the summer's standout cookbooks," states a press release, "The Peach Truck Cookbook features 100 easy, attainable recipes inspired by Stephen's childhood in rural Georgia and Jessica's upbringing in the Pacific Northwest that, together, present a completely original peach perspective."
The Roses will be at Carmichael's Bookstore (2720 Frankfort Avenue) at 7:00 p.m. on June 27 to sign and discuss The Peach Tree Cookbook, which retails for $28.00. Attendees are encouraged to RSVP for the cookbook signing by visiting the Facebook events page.
For the Peach Truck's complete summer touring schedule, which includes stops in Louisville, Jeffersonville IN and many other cities in the region, visit the company's web site.