The Grady Hotel opened in May at 601 West Main in downtown Louisville. As with most historic buildings, there are back stories, and Jason Thomas at Louisville Business First notes two of them.
The name Wild Swann pays tribute to the classic styles of the Swann-Abram Hat Co., an original resident of the building and designer of the world-famous Kentucky Derby hats, a news release stated. Another previous tenant of the building, J.B. Wilder, was the owner of the apothecary and bourbon distillery located in the building's basement.
Hence the name chosen for The Grady's house bourbon bar: Wild Swann, which is open for business, offering small plates (menu here) and unique cocktails.
Follow the LBF link for a photo gallery. Wild Swann's hours are Sunday – Thursday, 3:00 p.m. to 11:00 p.m.; Friday and Saturday 3:00 p.m. to midnight.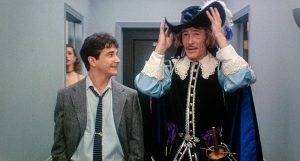 An addendum by your digital editor…
When I first learned of the new Wild Swann bar, immediately the name Alan Swann popped into my mind. It's Peter O'Toole's character in the wonderful 1982 film My Favorite Year, which I unreservedly recommend.